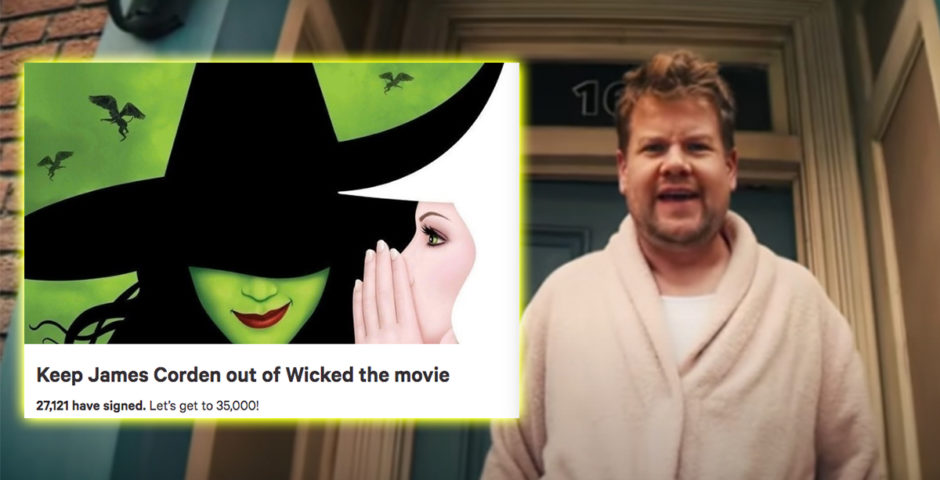 Petition to keep James Corden out of Wicked musical movie has over 25,000 signatures
A fan-made petition to try and stop James Corden from being cast in the new film version of Wicked the musical has reached over 25,000 signatures.
The description of the petition says: "James Corden in no way shape or form should be in or near the production of Wicked the movie." Over the years James has firmly placed his finger in many musical pies and clearly people are getting sick of it. He's had roles in Cats, The Prom and Cinderella, all three of which have been annihilated by critics and fans.
With James Corden's track record, it's easy to see why fans are trying to keep him away from the new movie. Wicked is a universally loved musical and the newly announced cast of Ariana Grande and Cynthia Erivo is iconic – fans don't see a need for Corden's presence.
Thanks to the petition, people on Twitter have been airing their anxieties over the thought of James Corden being casted in the musical version of Wicked. "Keep James Corden" has even been trending over the weekend. One person tweeted a clip of someone shouting "Not on my watch" with the caption: "They better not cast James Corden in this Wicked musical".
And it's not just on Twitter too, people signing the petition have been sharing their reasons for signing and they are not holding back. One person left a comment under the petition bluntly saying: "We've suffered enough".
Another person admitted: "James Corden is the worst and ruins every musical he's in. I'm literally begging don't let him anywhere near Wicked."
If you would like to contribute to the cause and keep James Corden out of Wicked the musical then you can sign the petition here. But in the meantime, vote in the poll below:
Related stories recommended by this writer:
• Okay but am I a bad person for actually liking The Prom?
• How much more do we have to endure as a nation before James Corden just stops?
• Every cursed James Corden film, ranked by how pure evil they are