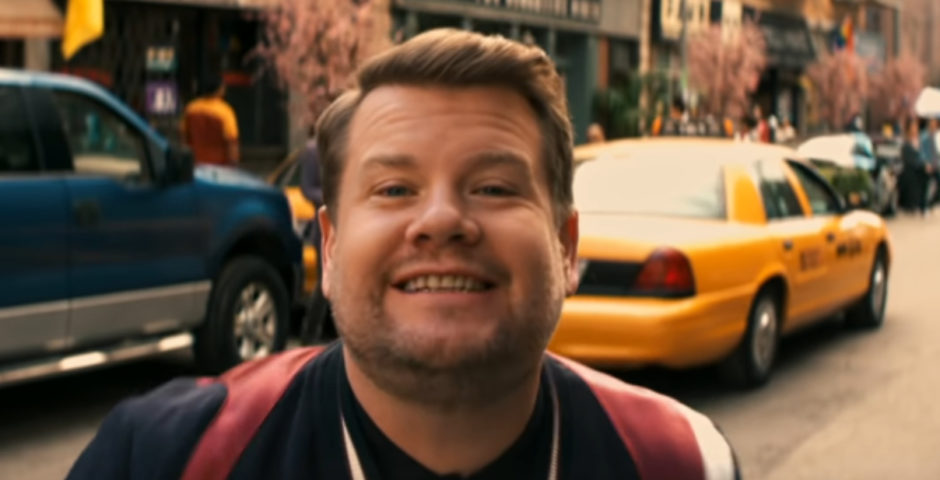 How much more do we have to endure as a nation before James Corden just stops?
We have surpassed a need for James Corden
I know I speak on behalf of the entire nation when I say I am sick and tired of James Corden – he needs to stop. It's like every morning he wakes up and chooses chaos – he's relentless. He won't stop singing no matter how many times we say he's awful. Genuinely, this man is one of the most annoying people in televised history.
Even after all this time, he's still knocking about. He keeps getting cast in musicals despite often not being appropriate for the role or because, oh yeah, he can't actually sing. He's fronting reunion shows despite having nothing to do with them and even though he's lived in America for years it's like he's never left. He's like a bad rash that won't go away.
Everytime I see his name trending on Twitter I get something I can only describe as "war flashbacks". It's like my mind travels back to every traumatic show I've had to sit and endure him in. Into The Woods the Disney musical? Hated it. Cats the musical? Loathed it. His entire performance in The Prom on Netflix? Haunted by it. When will he stop?! He's had so many chances to throw in the towel but the man keeps coming back like a fucking boomerang.
Here are all the times when James Corden should've just stopped:
His entire appearance in The Prom on Netflix was horrifying
James Corden is the straightest man on earth. His whole performance in The Prom is the reason why I lose sleep at night. This is the man who green-lighted the Gavin and Stacey cast singing the f-slur during Fairytale of New York in the Christmas special, and yet he was casted to play a gay character?
His performance was abysmal. He just played on all the stereotypes associated with being a gay man, like having a bent wrist, feminine voice and acting really camp.
The most insulting part is that he was nominated for a Golden Globe award for his performance.
He sings over everyone in his Carpool Karaoke
Look, I don't enjoy his Carpool Karaoke as much as the next person but sometimes I watch it so I can listen to my favourite celebrities sing. NOT so I can hear James Corden babble over them.
Who is he trying to fool here? His singing has the same energy as going on a night out and documenting the whole thing on your fake Instagram only then to play it back the next morning and get the ick over how bad you sound singing American Boy.
Cats was so bad that even James Corden himself couldn't watch it
Who let Cats go ahead?? It's almost been two years since this tragedy was released and it still lives rent free in my mind. The whole film was horrifying, even James refused to watch it.
It's time to stop casting James Corden just for the sake of casting James Corden because him as a black and white cat gives me night terrors.
James was called out for mocking popular Asian cuisine on his show
More recently, James has been accused for making fun out of Asian and Filipino cuisine on a segment titled "Spill your guts or fill your guts" which he filmed with Jimmy Kimmel on his talk show back in 2016.
This clip resurfaced on TikTok and people are calling James out for it.
In the video, James and Jimmy are heard to describe foods found in Chinese restaurants and staples of Filipino cuisine as "terrible" and "disgusting". The LA Times reported that there is even a petition going around with over 35,000 signatures, requesting James either changes the name of the segment or stops filming it altogether.
Let's not forget the time James Corden sang the 'Titanic' soundtrack
The more I read about Ariana Grande involving herself with James Corden, the more I'm tempted to boycott her as well.
Here they sing 13 famous songs such as Just Dance by Lady Gaga and Steal My Girl by One Direction and James butchers them all. He also does a little dance where he taps his foot (1:55 for those wondering) and it's disturbed me.
There was no need for James to get involved in the Friends Reunion, but he did
I'm sorry but why in the fresh hell did James Corden have to stick his finger in the Friends Reunion pie? WHY??? The man is in everything. He's so cursed.
Oh and NOW he's singing Hairspray with Ariana Grande
He's unbearable and people on Twitter are once again tearing him to shreds because he has released yet another SINGING video.
This is the clip I'm talking about in particular. He's singing with Ariana Grande again, who has now been seriosuly knocked down a few pegs thanks to her collabing with the most jarring man on earth.
A lot of people on Twitter are questioning the same thing as Bottleshop Dave, "What the fuck is this shit?"
Apparently it is a parody of Hairyspray's Good Morning Baltimore and it's meant to signify the end of lockdown. Well, thanks a lot James, us lot over here on this silly little island who made you famous have just had our lockdown extended for another month.
Look, James can't really sing and now because someone told him once that he might have a little bit of talent, he's not stopping. Yeah sure, he's good enough for his talk show where he drives around singing along but I think this has somehow convinced people that he's actually good? And because of that he's now bagged himself a role in everything musical related and it makes no sense. I respect that he's worked hard to get to where he is but it's boring now. He's been cast in stuff and proved to us he can't act for shit.
We  have all surpassed the need for James Corden, he peaked in 2012 and it's been downhill from there. He needs to stop.
Related stories recommended by this writer:
• Actually, James Corden has always been a dickhead
• Okay but am I a bad person for actually liking The Prom?
• Teens are acting out Gavin and Stacey scenes word for word on TikTok and it's hilarious