Every cursed James Corden film, ranked by how pure evil they are
Why was this man allowed a career after a film called LESBIAN VAMPIRE KILLERS?
When will the government announce a national lockdown from the James Corden pandemic the film industry has found itself in for the best part of 10 years is a question I find myself pondering more often than I ever should. There is no vaccine from James Corden. There is no respite. We endure his buffoonery day in, day out. Symptoms include annoyance, migraines and an uncontrollable urge to smash up your telly. The onslaught of James Corden visual media has been on an upwards incline of recent, with the projects spiralling further into deeper and more unhinged territory. Here are the most terrifying and emotionally draining James Corden films, ranked by how much I want to poke my eyes out when watching them.
7. Ocean's 8
You know what? I loved Ocean's 8. I thought it was an absolute blast. A romp of a heist with an iconic all female cast that I cherished every second spending time in the company of, even if the film was derivative and not exactly reinventing the wheel. That's until we get to the final act and have to endure James Corden as an insurance investigator. Not even playing for laughs, he's just simply… there. Why? Why was he cast? Why is he tainting my wonderful all-female film with his evil? When he bumbled onto the screen the cinema erupted in groans. We're so tired.
6. Peter Rabbit
I'm sure that when Beatrix Potter sat down in 1902 to pen The Tale of Peter Rabbit, an all time literary great in children's fiction, what she really was envisioning was a hamfisted 2018 animation disaster where her most famous protagonist would be voiced by Smithy from Gavin & Stacey. That was her plan all along!
5. Cinderella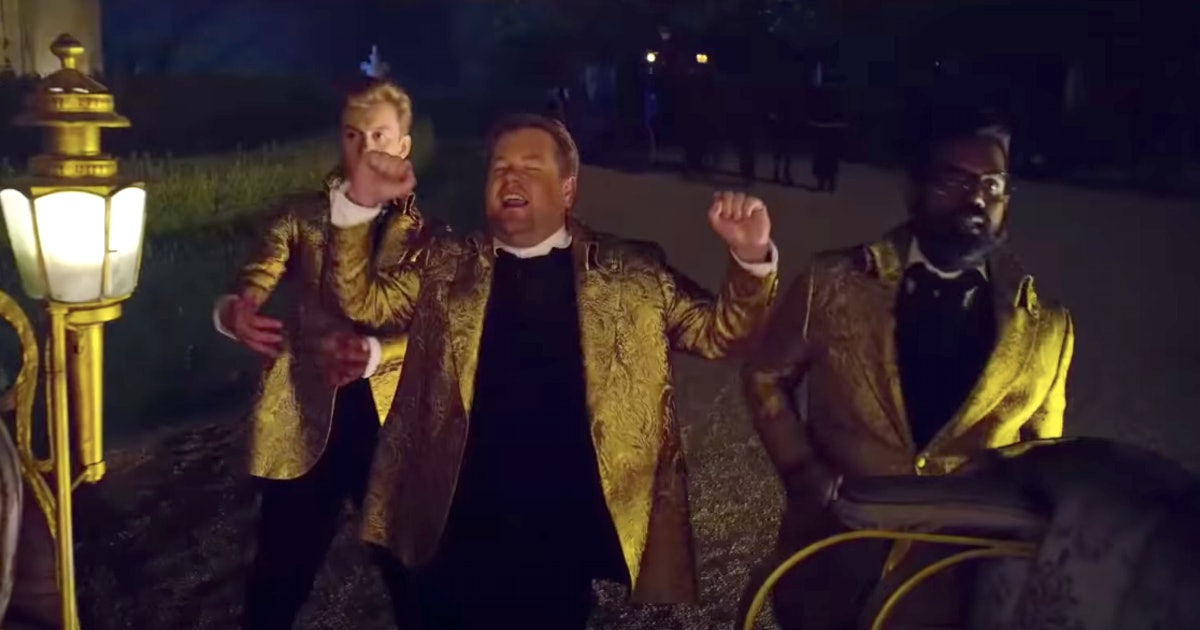 The worst thing about James Corden's presence in the recent Camila Cabello nightmare that is Amazon's Cinderella, is the fact he's dragged down actually funny British exports James Acaster and Romesh Ranganathan with him. They didn't deserve this. We don't want to see these three bumbling around as mice transformed into footmen. Nobody asked for it and I wouldn't wish it on my worst enemy. Everything here made worse by that violent video of James Corden dressed in the cheapest looking mouse costume you've ever seen as he thrusts at traffic and holds up the roads. Dreadful. Should have gone to prison for it!
4. One Chance
I just think it's the funniest thing to ever happen in the history of film that Paul piggin' Potts from Britain's Got Talent got a full, major studio biopic made about him? Sorry… What? How did this happen? Was there demand? Where was the Susan Boyle biopic, or the Diversity biopic? Where was the Little Mix biopic? Where is the Molly-Mae and Tommy Fury biopic? PAUL POTTS? James Corden cast here for no other reason than the fact that him and Paul Potts are in a similar weight bracket, and a dismal entry to his ranked films. Death to the British film industry I say!
3. The Prom
Not only is the portrayal of someone flamboyantly camp by James Corden offensive, it is also deeply shit. The Independent headlined people's reactions to this monstrosity as "James Corden's presence in Netflix musical described as 'worst nightmare'", which I think was quite kind. More apt was Richard Lawson of Vanity Fair branding it "one of the worst performances of the 21st century." Stop casting straight men in gay roles because our culture is not your costume. Unbearable and unforgivable.
2. Cats
Nightmare fuel of the highest order. Cats is exactly the kind of film a villain like James Corden was always going to put his cursed name to. I have put myself through Cats, and can validate that it is James Corden at his most vehemently unlikeable. His role consists of talking about how fat he is and gorging himself on food waste from bins. It's actually sickening how much money was spent on this film when all it has caused is misery and dismay. Should never have been seen in public again after this, but one of the films of James Corden has been ranked higher on the evil scale. And with good reason.
1. Lesbian Vampire Killers
I feel like until TikTok reminded us of recent, the whole world collectively somehow forgot this film was ever made. Now, all we can do is wonder why it was made. The word why is one that I think of a lot when I ponder the existence of Lesbian Vampire Killers. First of all, why are the vampires lesbians? I've watched the majority of this film and read the plot in depth (unsurprisingly not much depth to explore) and I'm still not quite sure why the lesbian aspect is needed. Until it becomes apparent quickly that the vampires are lesbians both to arouse a straight male audience and make people laugh. Great!
James Corden quips a line about being "bummed by a gay werewolf" in the midst of this cultural regret. We then get to see the gay werewolf in question as the film ends. I am tired. We are tired. This man does not deserve to be one of the highest paid personalities on television. James Corden has said he thinks this film is an abomination, but I don't care. If he wants my forgiveness, he can fund himself a time machine and go back and sort the errors of his ways.
Recommended stories by this writer:
• Every song in the dreadful new Cinderella film ranked from least to most cursed
• How much more do we have to endure as a nation before James Corden just stops?