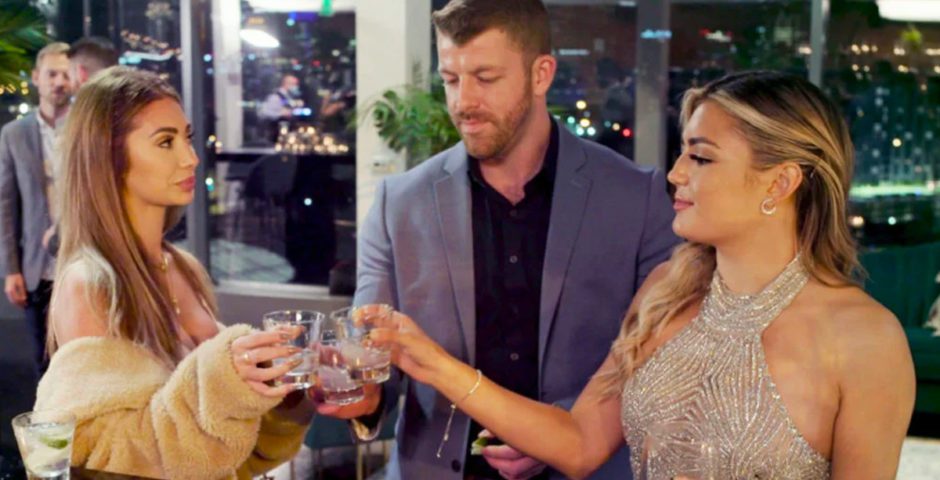 Ok here's exactly all the drama that's gone down between Damian, Francesca and Gigi
People thought Damian and Francesca were dating when they were pictured together last year
| UPDATED
Netflix has just dropped three reunion episodes of Love Is Blind, called Love Is Blind: After the Altar. Now, we expected this show to bring a lot of drama – but wow, it truly does deliver. But one aspect of it has left us with a huge question: What the hell has gone down between Damian Powers, Francesca Farago and Giannina Gibelli?
For some context: Giannina "Gigi" Gibelli and Damian Powers nearly got married in season one of Love Is Blind. They made it up the aisle, Gigi said yes and then Damian confessed he couldn't marry her. Gigi then stormed out the venue, fell down a hill, got mud all up her amazing dress, came back and ripped the dress in Damian's face. After all of that, they decided they did still have feelings for each other, they just couldn't rush into marrying one another. In the initial Love Is Blind reunion they said they were dating and things were going well.
But fast forward, and now Francesca from Too Hot To Handle is crashing the Love Is Blind anniversary party and rumours that she's previously dated Damian whilst he was with Gigi are surfacing again?! What about Gigi? No wonder she's livid! Here's a full explainer of all the drama, and you're going to need to sit down for this one.
How did Damian Powers and Francesca Farago even meet and what the hell happened between them?
Damian seems pretty confident that everything between him and Francesca is on a friendship level, despite in the reunion episodes of Love Is Blind it looking very flirty between them and Francesca suggesting she comes to the reunion party as his date. It looks like the pair met through a shared attorney, and that's when the rumours of them dating began to circulate.
In August 2020, Too Hot To Handle star Francesca Farago was spotted holding hands with Damian Powers and Gigi was nowhere to be seen. The pair were spotted together looking very cosy leaving a swanky LA restaurant. They were pictured holding hands and linking arms as they walked around West Hollywood together. This came two months after Francesca had split up from her fellow Too Hot To Handle star, Harry Jowsey.
At the time, Damian told Entertainment Tonight: "Over the past week, I have been in L.A. with my attorney, Alex Ion, pursuing new projects and business ventures. Francesca and I both share the same attorney. Alex arranged for both Francesca and I to meet with him for dinner at the Eveleigh in West Hollywood along with some of our other friends, including Mitchell Crawford and Raiane Macedo."
Afterwards, Damian released a further statement to E! News clarifying why he and Francesca had looked so cosy together. "Francesca grabbed onto me in an attempt to shield herself from the paparazzi as our entire group entered the car," Damian said. "Francesca and I are not dating or romantically involved but remain friends."
So, what now?
Remember, all of this was happening whilst Damian was said to be still together with Gigi. During the reunion episodes, we see Damian gushing over his and Francesca's friendship, calling her beautiful and talking about how much he values her as a person. Whilst Damian and Francesca meet for a drink, Gigi visits her mother and tells her she's "confident" in her relationship with Damian. "Cheers to where life takes us," says Damian to Francesca. He then tells the cameras: "Is she beautiful? Yes. Is it exciting? Yes."
Damian then invites Francesca to the anniversary party, which is weird move considering he's meant to be going with his apparent girlfriend, Gigi. Gigi appears to have been completely blindsided by Francesca's appearance at the reunion party."She's on the wrong Netflix show," she says. "He's mine." Damian then snaps: "You don't control me, you don't tell me what to do. I can handle my own."
Right now it kind of looks like Gigi and Damian are still together, but they haven't moved in together and there are no rings being thrown around. It looks like their relationship isn't as serious as we might have previously thought, and that Francesca is definitely a huge sticking point.
And obviously since the new Netflix episodes aired Twitter has been talking, with a lot of people standing up for Gigi.
Love Is Blind: After the Altar is available on Netflix now. For all the latest Netflix news, drops and memes like The Holy Church of Netflix on Facebook.
Related stories recommended by this writer:
• The 16 wildest and most shocking revelations and moments in Love Is Blind: After the Altar
• If you really love Love Is Blind, you'll get at least 10/13 in this trivia quiz
• When exactly was Love Is Blind: After the Altar on Netflix filmed?