Everyone's in love with the It's A Sin cast, so here are all their Instagrams
Their Instagram feeds are basically fan accounts for It's A Sin
It's A Sin dropped on All 4 on 22 January and has already had 6.5 million views across its five episodes. The show follows a group of friends in London during the 80s during the AIDS crisis. It has been praised for shedding light on HIV and AIDS and has led to some of the stars of the show talking about their own experiences with HIV.
The show has been a massive hit, not just because of the way it has handled sensitive topics surrounding HIV but also because of the cast. The It's A Sin characters are all friends who love and support one another, and judging by their Instagrams the cast are besties in real life too. Plus they're all FIT and post some great behind the scenes pics from the show. Here's all the Instagrams of the It's A Sin cast, so you can scroll to your heart's content.
Here are the Instagrams of the It's A Sin cast:
Olly Alexander – Ritchie Tozer
Instagram handle: @ollyyears
Followers: 583k
Olly Alexander plays Ritchie Tozer, the main character in It's A Sin.
Olly Alexander is the leader singer of Years & Years (which is probably why you recognise him). The band also covered the song It's A Sin by Pet Shop Boys and a portion of the profits from the release will be donated to George House Trust, a charity that supports people living with and affected by HIV.
Lydia West – Jill Baxter
Instagram handle: @lydiawestie
Followers: 57.1k
Lydia West plays everyone's favourite friend and ally, Jill Baxter. Her Instagram includes behind the scenes pictures of It's A Sin and magazine photoshoots.
Omari Douglas – Roscoe Babatunde
Instagram handle: @marsdoug
Followers: 30k
Omari Douglas plays Roscoe who in the first episode leaves his family house after fearing he will be sent back to Nigeria because of his homosexuality.
Like his It's A Sin cast mates Instagrams, Omari Douglas also posts lots of pictures with the cast as well as lots of selfies.
Callum Scott Howells – Colin Morris-Jones
Instagram handle: @callumhowells
Followers: 50.9k
Callum Howells plays Colin who works in as a sales apprentice at a Saville Row tailors. He moves into the Pink Palace and shares a room with Ash.
Callum Howells' Instagram is very different from his character Colin in It's A Sin. It's full of pictures of his friends, family and the It's A Sin cast. He graduated from the Royal Welsh College of Music and Drama with a first in 2020.
Nathaniel Curtis – Ash Mukherjee
Instagram handle: @nathaniel.curtis
Followers: 27.6k
Nathaniel Curtis plays Ash Mukherjee who is in an on-again, off-again relationship with Ritchie throughout the series.
Nathaniel Curtis' Instagram bio says "I'm taller than I look", which, if you've seen It's A Sin, you know is true. According to IMDB, he is 6 foot 5 inches!
David Carlyle – Gregory/Gloria
Instagram handle: @davidcarlyle_
Followers: 4,706
David Carlyle plays Gregory, affectionately named Gloria by Jill and the boys. David Carlyle doesn't seem to use his Instagram as much as his co-stars but has mainly posted about It's A Sin as well as Joe Biden's victory and some family pictures.
Neil Patrick Harris – Henry Coltrane
Instagram handle: @nph
Followers: 8.5 million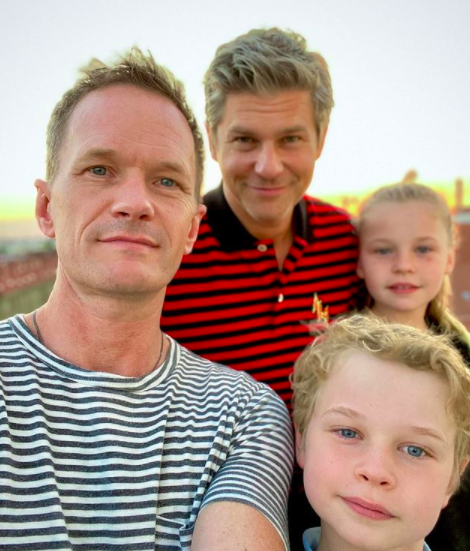 Surely everyone knows who Neil Patrick Harris is right? If you don't, he plays Mr Coltrane in the first episode and befriends Colin.
His Instagram mainly consists of his husband David and their twin children Gideon and Harper. He hasn't posted about It's A Sin on his Instagram, but considering he was only in one episode I guess we can forgive him.
Stephen Fry – MP Arthur Garrison
Instagram handle: @stephenfryactually
Followers: 564k
Stephen Fry's Instagram mainly just consists of pictures of ties. Which, when you think about it, is exactly what you would expect Stephen Fry's Instagram to be about. He plays Arthur Garrison, an MP in the fourth episode.
Toto Bruin – Lucy Tozer
Instagram handle: @totobruin
Followers: 2,292
Toto Bruin plays Lucy Tozer, Ritchie's sister, who is moody most of the time she is onscreen. Her Instagram is full of arty vibes and film pics.
Shaun Dooley – Clive Tozer
Instagram handle: @shaun_dooley_
Followers: 6,215
Shaun Dooley plays Clive Tozer, Ritchie and Lucy's dad, who wants his son to become a lawyer instead of an actor.
Shaun's Instagram features his cute new cavapoo Ruby and he's also met Taylor Swift! He's been in several other TV shows, such as Broadchurch where he played Rickie in season two.
Keeley Hawes – Valerie Tozer
Instagram handle: @misskeeleyhawes
Followers: 88.3K
Keeley Hawes plays Valerie Tozer, Clive's wife and Ritchie and Lucy's mum. Her Instagram includes lots of cast pics and photoshoots. She also plays the main character Alice, in Finding Alice on ITV.
Featured image via Instagram: @ollyyears, @lydiawestie, @callumhowells
All follower counts were correct at the time of writing
Related articles recommended by this writer:
• Finished It's A Sin? Watch these films, docs and series to learn more about LGBT+ history
• The real Jill from It's a Sin has spoken about the 'fear and shame' of the AIDS crisis
• Here are all the It's A Sin characters who are based on real life people