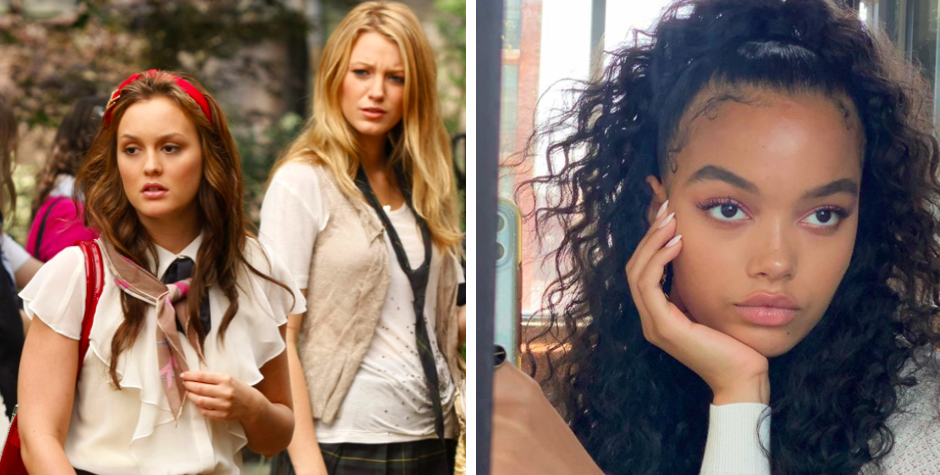 Everything you need to know about the new Gossip Girl series
It has been a long eight years since the Queen of Constance Blair Waldorf sat on the Met Steps for the last time. Since then, we have watched the OG cast of Gossip Girl blossom in their acting careers and have fantasised even harder over Chace Crawford's flawless ageing face (how is it possible for him to get any fitter??) And just when we had finally accepted that Gossip Girl was only ever going to be a six season show, we were blessed with the first bit of good news in 2020: A new Gossip Girl series.
the new Gossip Girl looks so good- even with one pic wow pic.twitter.com/waNQ66XYWI

— Anna Todd (@annatodd) November 11, 2020
The new Gossip Girl cast were spotted filming on the iconic Met Steps earlier this week. The Gossip Girl reboot promises to provide all the regular scandal, secrecy and saucy romance, but with it being almost a decade since the last episode aired, the world of Manhattan's elite has surely changed quite a bit.
Here's everything you need to know about the new Gossip Girl series:
The series is still based on the books
Continuing to follow the book series story line by Cecily von Ziegesar, the show will explore the lives of a new generation of Upper East Siders as they come face to face with the virtual Queen of NYC and battle today's social media.
The original producers are taking charge of the new series
The executive producers of the original series, Josh Schwartz and Stephanie Savage, are to produce the new show too.
The new series is 'not a reboot'
The series will follow a completely new set of characters but will still continue to express everything we have grown to love about Gossip Girl. Previous characters are said to be mentioned in the story line too. What is Dan Humphrey up to in the year 2020?
Show runner Joshua Safran said it was hard to pinpoint exactly what the new series would contain, and corrected the use of the word 'reboot'. He said: "Once again, it's not a reboot. I think I maybe have to hire a publicist for the word 'extension'", explaining that the show was more of a continuation of Manhattan's elite, just set in present day.
Once again, it's not a reboot. I think I maybe have to hire a publicist for the word "extension."

— Joshua Safran (@Anthologist) November 11, 2020
Will Chuck Bass grace our screens one more time?
Will the OG Gossip Girl cast be making a return in the new Gossip Girl series? This is a question we all want answered. Latest news sadly says no, but this isn't necessarily a bad thing.
The reboot, or 'extension', of the show will bring a new class of Upper East Siders to our screens, and this time the cast is more diverse than ever before. After a 2020 revamp, the new generation GG cast will include gay and trans characters, as well as being more ethnically diverse. Gossip Girl show runner Joshua Safran tweeted the new series is "very, very queer."
Alongside the increased diversity, a new cast means new families and even more drama to get lost in. And we know from previous seasons that Manhattan's Elite are not shy of a scandal or two.
It is very, very queer.

— Joshua Safran (@Anthologist) September 7, 2020
The new Gossip Girl cast is way more diverse 
In the photo announcement that confirmed filming for the new series had started, actors Evan Mock, Zión Moreno, Jordan Alexander, Emily Alyn Lind, Savannah Lee Smith, Thomas Doherty and Eli Brown can be seen posed in their Constance and St.Jude's school uniforms on the Met Steps – the metaphorical throne for Queen B and her best friend Serena van der Woodsen.
Thomas Doherty might look familiar from playing the role of 'Harry Hook' (Captain Hook's son) in Disney's Descendants 2, and you'll recognise female actor Emily Alyn Lind from the 2019 Stephen King's film 'Doctor Sleep', which was a sequel production to the 1980's classic 'The Shining'. Emily is set to play one of the leads in the new Gossip Girl series.
The voice of Gossip Girl hasn't changed
Whilst the cast of the new Gossip Girl may be changing, one thing that is staying put is the voice of Gossip Girl herself – Kirsten Bell. She is to narrate the new show just like she did the original.
It will be aired in 2021
The series will consist of 10, hour-long episodes and is set to air sometime in 2021. Coronavirus delayed filming earlier this year.
A streaming service for UK watching hasn't been confirmed yet
The show will first air on HBO Max in the US. Originally the show first aired in the UK on ITV2 but a streaming service for UK watching is yet to be confirmed. For now, we'll just have to watch the OG seasons on Netflix to cope.
There will be less plaid patterns and Blair Waldorf headbands 
Not a day goes by where we don't wish we were Blair Waldorf shopping on Fifth Avenue with her seemingly limitless bank account. In the new episodes, the glitz and glamour of upperclass life in the city will remain, but there will be many generational twists on the original Gossip Girl style. This series, we'll see less less emphasis on headbands and plaid patterns and the latest trainers and New York street styles will be more in demand.
Featured image: @whitneypeak Instagram
Related Gossip Girl stories:
• Quiz: Which Gossip Girl guy would you end up with?
• Ranked: These are the net worths of the Gossip Girl families
• So it turns out all the men in Gossip Girl are actually awful