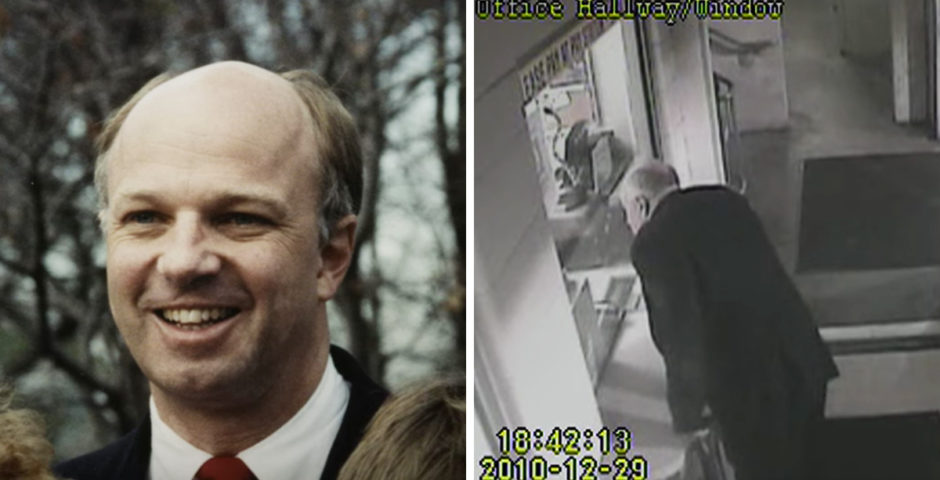 What happened to Jack Wheeler? All the theories about the Unsolved Mysteries case
His body was found in a landfill in 2010
| UPDATED
Volume two of true crime series Unsolved Mysteries has just landed on Netflix. Episode one, Washington Insider Murder, tells the unsolved story of John "Jack" Wheeler – a case which has given rise to many theories.
On December 31st 2010, Jack Wheeler was found dead at a landfill site in Wilmington, Delaware. He was badly beaten, and his death was ruled as being by "blunt force trauma". Before his death, Wheeler was said to be acting differently, and CCTV footage showed him seeming on edge, and sleeping in an office basement. He was last seen walking 14 miles away from Delaware, in the opposite direction to where he was found. Investigators managed to track the van which dropped the rubbish he was found in back to a commercial bin in Newark, Delaware. But the question is: What happened to end up in him being there in the first place?
Here are all the theories of what could have happened to John "Jack" Wheeler, subject of episode one of Unsolved Mysteries volume two, Washington Insider Murder.
The main of all the theories is that Jack Wheeler was victim of a targeted murder
The main theory in this case is that Jack Wheeler's murder was a targeted attack, and maybe a murder-for-hire plot. Wheeler was an important and influential man, so it is said that there may have been people who thought it would be better if he wasn't around.
John Wheeler III was a West Point graduate and Vietnam veteran who went on to hold several positions of power in the US federal government. Just a few of his roles include: Chairman of the Vietnam Veterans Memorial Fund, a senior position for Amtrak, working at the Pentagon, a high-ranking official in the Securities and Exchange Commission, special assistant to the Secretary of the Air Force, and an aide to the Reagan and both Bush administrations.
In the days leading up to his death, he was shown as portraying quite erratic behaviour. CCTV footage showed him looking uncomfortable and on edge when he lost his car in a parking lot, and then he was said to have slept in a basement and left in a black hoodie – very unlike the usually suited person he was. He was noticed as looking like he was looking around corners a lot, and like he may have been looking for someone who had been stalking him. He reportedly appeared confused and disoriented, and turned down offers of help from several people.
Jack's daughter and wife, who feature on the Netflix documentary, seem to think he was victim of a murder-for-hire plot. They say they believe this because of the attention to detail given to disposing of the body, and that nobody came forward with information when they offered a large award – because the person who did it has already been paid.
He may have just been in the wrong place at the wrong time
Because of the lack of evidence in the case, investigators have to look into every possible explanation. And as with any homicide case, it could just have been a random attack, in this case a robbery that went wrong. Jack Wheeler was found with an array of injuries, all consistent with an awful beating – including a punctured lung and broken ribs.
However, it is said that the case doesn't fit the normal pattern of a street mugging gone wrong. He still had cash on him, was wearing a Rolex watch and had his ring left on him. For a street mugging where the culprits went to the extremes of hiding the body, it seems very unusual they would miss obvious items to rob. Muggings also don't tend to get rid of the body at all.
Terry Meurer, the creator of Unsolved Mysteries, also doesn't back the theory that it was a random assault. She told The Wrap: "I don't believe it was a random assault. I don't believe that Jack was attacked and something went wrong, a robbery or something like that. Because people who attack people or rob people, they do not go to the trouble to transport a body, put it in a dumpster — hoping, I believe, that the body would never be found."
Another of the theories suggests Jack Wheeler may have crawled into the dumpster to sleep
Another theory explored in the Netflix documentary is that Jack Wheeler may have crawled into the bin which carried him to the site where his body was found. He was seen to have lost his car and phone on a cold winter evening and his bipolar disorder left him sometimes feeling disorientated. It's said he may have got into the bin to sleep and escape the cold, before being picked up by the rubbish lorry.
However, this theory doesn't seem like a very believable one, as it's said his injuries are not consistent of those you would expect from being dropped from a height from the refuse lorry. His injuries look a lot more like a beating, as was found in his post-mortem results.
His death was somehow linked to the housing dispute
There was a lot going on in the background of this case, which throws a lot more theories about what could have happened to Jack Wheeler into the mix. His house in New Castle had been broken into on December 30th, and on December 28th it is thought that Jack may have set off smoke bombs across the street, over a housing dispute.
Jack's phone was found at the scene of the smoke bomb attack, and Jack was embroiled in a dispute with builders over the appearance of the property. It hasn't been concluded how all of these events may be linked, or even if they are. It seems a bit extreme that the housing dispute or house robbery could have ended in the murder, but investigators have said they won't rule anything out.
Terry Meurer, the creator of Unsolved Mysteries, has said they are looking for people with information to come forward, as that may be the only way we ever find out who killed Jack Wheeler. She told The Wrap: "I think we need someone to come forward who was involved in the attack. Maybe somebody who was involved in the murder is feeling guilty and would come forward or would reach out to the police anonymously with a tip or something — some kind of lead that they could provide. I think we're going to need a pretty direct tip. Or if the killer spoke to somebody in a bar or something or told someone, that person should come forward and say, so-and-so told me that they were involved in Jack's murder."
If you have any information about or tips regarding any of the cases in the Unsolved Mysteries series, you can submit them via the Unsolved website. 
Volume two of Unsolved Mysteries are available on Netflix now. For all the latest Netflix news, drops and memes like The Holy Church of Netflix on Facebook. 
Related stories recommended by this writer:
• These are all the theories of where Lester Eubanks from Unsolved Mysteries is now
• Unsolved Mysteries on Netflix: Who was Jennifer Fairgate and what happened to her?
• Unsolved Mysteries on Netflix: All the theories behind the 'Stolen Kids' episode