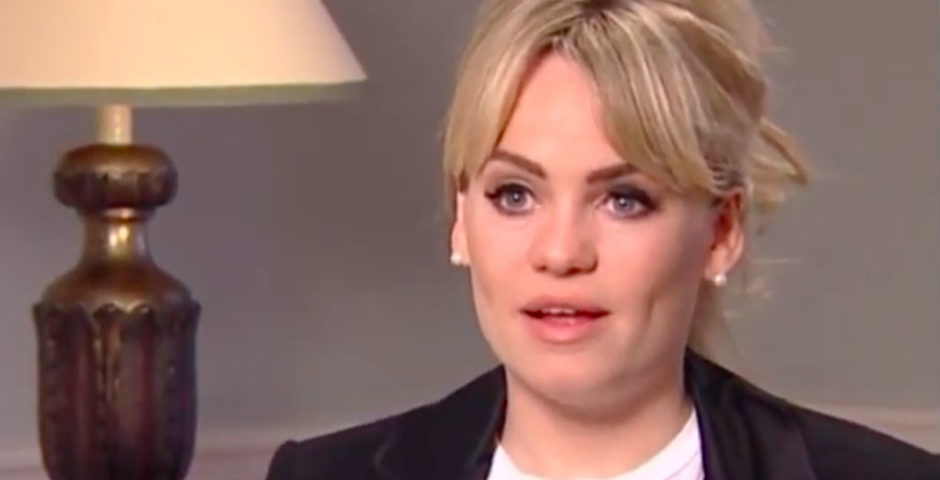 Duffy has written an open letter to Netflix about 365 Days calling it 'irresponsible'
She's said it is 'glamourising rape and kidnap'
Duffy has written an open letter to the CEO of Netflix, Reed Hastings, about the film 365 Days claiming it is "glamourising the brutal reality of sex trafficking, kidnapping and rape".
Duffy came out earlier this year to say she had been drugged, kidnapped, raped and held hostage for a number of days.
She has urged people to reconsider how they watched the film after what happened to her and so many like her.
In the letter to the CEO of Netflix she said the film, which is being described as "adult erotica", is about a violent experience that shouldn't be profited off or sold as "entertainment."
She said: "I don't want to be in this position to have to write to you, but the virtue of my suffering obliges me to do so, because of a violent experience that I endured of the kind that you have chosen to present as 'adult erotica'.
"365 Days glamourises the brutal reality of sex trafficking, kidnapping and rape. This should not be anyone's idea of entertainment, nor should it be described as such, or be commercialised in this manner."
Duffy goes onto say how there are still 25 million people in the world being trafficked, she said: "I write these words (ones I cannot believe I am writing in 2020, with so much hope and progress gained in recent years), as an estimated 25 million people are currently trafficked around the world, not to mention the untold amounts of people uncounted."
She also says she doesn't understand how Netflix couldn't see how irresponsible the film is, especially now girls are wanting Michele Morrone to "kidnap them".
She said: "It grieves me that Netflix provides a platform for such 'cinema', that eroticises kidnapping and distorts sexual violence and trafficking as a "sexy" movie. I just can't imagine how Netflix could overlook how careless, insensitive, and dangerous this is. It has even prompted some young women, recently, to jovially ask Michele Morrone, the lead actor in the film, to kidnap them."
Duffy points out that Netflix wouldn't have other shows glamourising crimes against humanity such as pedophilia or genocide. She said: "We all know Netflix would not host material glamorising pedophilia, racism, homophobia, genocide, or any other crimes against humanity. The world would rightly rise up and scream. Tragically, victims of trafficking and kidnapping are unseen, and yet in 365 Days their suffering is made into a 'erotic drama', as described by Netflix."
She then urged Netflix to use its resources to portray the horrible reality of trafficking through film, she wrote: "To commit the resources of Netflix, and the skills of its talented film-makers, to producing and broadcasting content that portrays the truth of the harsh and desperate reality of what 365 Days has sought to turn into a work of casual entertainment', as well as asking the movie's viewers to 'reflect on the reality of kidnapping and trafficking, of force and sexual exploitation'."
Duffy ended her letter by urging people to educate themselves about human trafficking and reiterated how much "hurt" 365 Days had caused people.
She wrote: "As we approach World day against trafficking in persons on 30th July, I encourage Netflix and everyone who has watched '365 Days' to learn more about human trafficking by visiting https://www.unodc.org/unodc/en/human-trafficking/what-is-human-trafficking.html and to pledge to make a difference to organisations such as: catwinternational.org, hopeforjustice.org, polarisproject.org, antislavery.org, stopthetraffik.org, unseenuk.org, notforsalecampaign.org, ijm.org, a21.org and madeforthem.org.
"If all of you at Netflix take nothing from this open letter but these final words, I will be content. You have not realised how '365 Days' has brought great hurt to those who have endured the pains and horrors that this film glamorises, for entertainment and for dollars. What I and others who know these injustices need is the exact opposite – a narrative of truth, hope, and to be given a voice."
Netflix has not commented on the letter. 
Related stories recommended by this writer:
•Jeffrey Epstein's ex Ghislaine Maxwell has reportedly been arrested by the FBI
•The 'rough sex' defence is finally being banned
•Justin Bieber is suing the two women who accused him of sexual assault