The best quarantine glow ups from people mixing up their looks in lockdown
I live for the lil E-girl hair strips
This might make me sound conceited, but when I'm really bored sometimes I just stare at myself in a mirror. This isn't a self love activity, it's just… staring at myself in a mirror. Then eventually, 20 mins deep, I find something I want to change. Or six things I want to change but can't really do easily without the help of a Kylie Jenner level salary and plastic surgeon to match. There are a few things you can always do though. Get a piercing, dye your hair, get a tattoo and get a haircut. These are the fail safes, and boy are they all being utilised right now.
We're all going through quarantine like a 17-year-old having their first bad break up and Bleach London is having a field day. They're probably opening bottles of champagne with sabres over there with the profits they're raking in from Stephanie in Surrey dying the front of her hair another colour every two days, and Toby in Manchester deciding that a bleached buzzcut is *the vibe*. I'm not besmirching my lockdown look changers – I love you. I want to see lots of you. So let's show them off, shall we! Here's the hall of fame for the best lockdown glow ups so far, because God knows we all love a makeover montage.
Grace, 22
"Long hair was getting in the way and I wasn't seeing anyone for weeks so thought fuck it might as well try short hair. It was fun for my mum to do it cos I'm a student and paying for haircuts is a no go so wouldn't have got it done if it wasn't for lockdown. Luckily I love having short hair and now I know my mum can cut it, I probs won't pay for a haircut ever again."
Julie, 21
The sheer power of highlights and natural curls!
Joe, 21
Serving tennis ball realness the best way we've seen it.
Grace, 21
Grace said: "It was a mixture of a mental breakdown and wanting to try something different (lol). I've always enjoyed changing my appearance and I've been experimenting a lot with my fashion and style recently and started to feel like my hair was too boring for the kind of stuff I was wearing. I'd been obsessed with Dua Lipa's blonde and brunette look for ages (especially after being likened to her a lot) but just been to scared to try it because the transition from brunette to blonde can be challenging.
"But with over two months locked in my house I decided it was the best time to give it a go and I'm honestly so happy with the results. Wanted to stay brunette for the most part so did the blonde underneath (the opposite way to Dua) and now I'm experimenting with different colours to jazz it up a bit. Will definitely be matching my hair colour to every outfit I wear to any rave or festival after this is all over."
Gina, 21
Gina went through about three look progressions over the course of lockdown but she's living for it. Viva la E-girl hair strips.
Ruby, 20
Ruby went from her regular to pink and then to blue and honestly I never thought I'd stan blue hair this much. An icon.
Tom, 23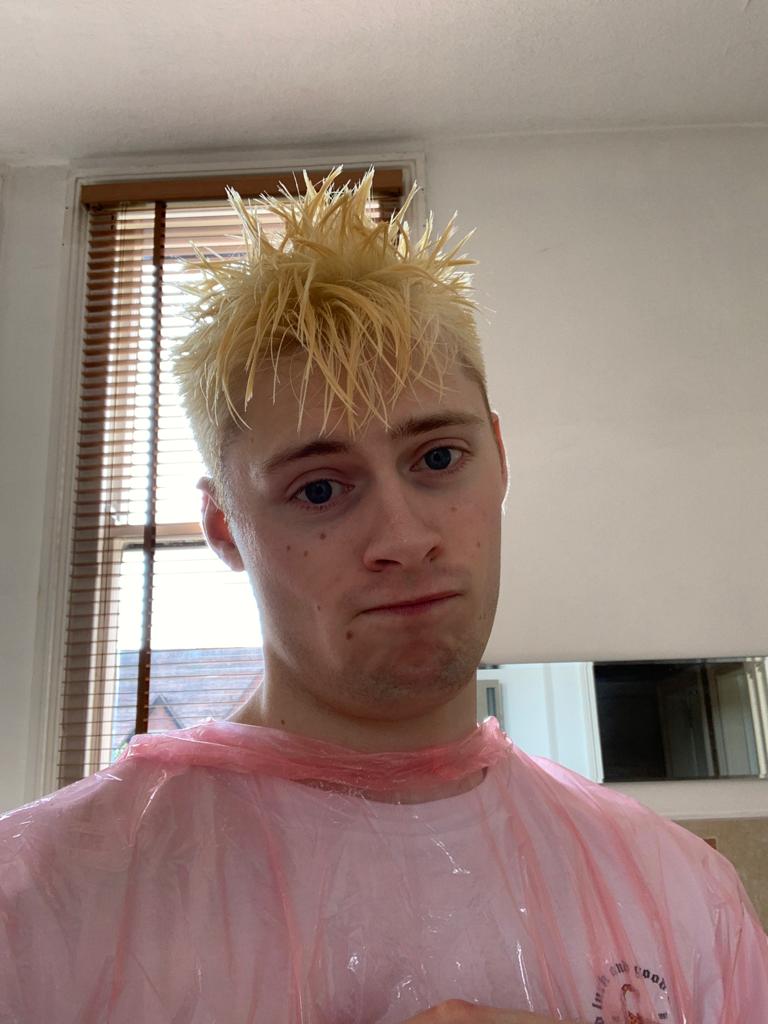 I'd honestly give a phat tax rebate to any sandy haired boy that just says fuck it and bleaches it. It's for the good of the nation.
Max, 21
There's that tax rebate already paying for itself. Beautiful stuff.
Ruán, 24
Ruàn decided he was bored of normal hair and went straight in for the quarantine mullet, an excellent selection. As for the frog in the before pic, he said: "This is the most normal photo of me I can find pre-lockdown".
Related stories recommended by this writer:
• Best dressed in lockdown: The sickest looks from students in quarantine
• People are giving themselves atrocious home haircuts during quarantine
• I went official with my boyfriend in lockdown before we had even met