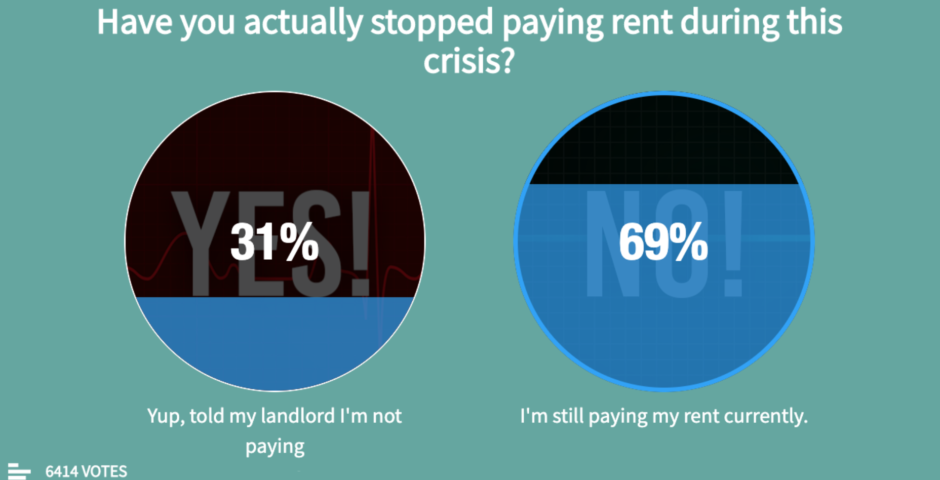 This is how UK students are feeling about going back to university in September
7,500 of you voted in our poll
Last week we ran a poll that sought to establish the opinions of students regarding their return to university in September. We put some questions together that represented some of the more pressing issues that students are facing, to try and understand the different attitudes that you all have, and now we have the results.
Should you still be paying rent during the crisis? Should you be paying £9,000 if lectures are still online in 2021? Are people planning to move back to their uni town regardless? Nearly 8,000 of you voted, and we can now reveal your opinions on a range of issues associated with the return to university study.
63 per cent of students would rather restart in January 2021 in person
Nearly two-thirds of students would rather start in January than September, it meant that they could study in person. Despite a 53/47 split on the question "If it was announced that online learning were to continue well into 2021, would you defer the year?", it was still abundantly clear from the majority that there was a preference for learning in person over online learning.
Speaking to The Tab, marketing student Annie told us that she's surprised the percentage of people voting for January 2021 in person wasn't higher. "Doing university online doesn't work at all. Online lectures seem so pointless, and it really feels like a massive waste of time on the whole.
"Not only is there a noticeable lack of effort from the staff, but it is so much harder to motivate yourself and there's none of the engagement that you get in normal seminars and lectures."
70 per cent of students plan to move back to uni in September regardless of whether uni is online or in-person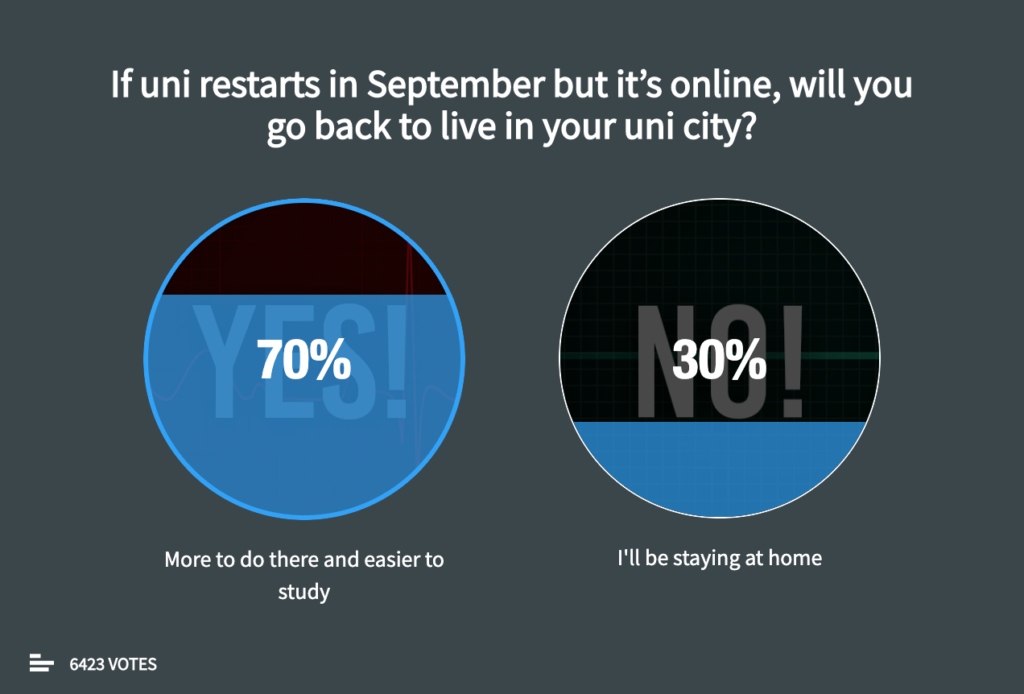 And they also said that their biggest concern about returning to university was having no Freshers' Week/a bad Freshers' Week, with 31 per cent of votes. This was followed by not getting their money's worth at 24 per cent and then public areas like the library being closed off at third.
Online study can obviously be done anywhere, so it makes sense that students would want to be with their friends in a young environment as opposed to in their family home.
70 per cent of students think that they shouldn't have to pay rent during the current crisis
About three-quarters of participants believed that they shouldn't be paying rent during this crisis. Speaking to The Tab, Maths student Ollie told us that he voted against students having to pay rent because he was paying for a service that he wasn't receiving.
"It's like doing an online shop, only for the van to never show. I wouldn't pay for groceries that never get delivered, so why should I pay rent on a property that I'm not even living in?
"As students, there needs to be more of an understanding that, if we barely have the money during term time, we certainly shouldn't be expected to part with it if it's quite literally dumped into our landlord's pockets."
However, only 31 per cent of students have actually stopped paying their rent
It is always going to be a difficult topic to broach with a landlord, and there were even templates floating around on social media about how to do it. It's hardly surprising that a majority are still paying rent, but it's interesting that nearly 2,000 of the 6,414 people that voted on this question are not currently paying rent.
92 per cent of students said that they shouldn't be paying £9,000 a year if tuition continues to be online
No surprises there, then.
Related stories recommended by this writer:
• Poll: How popular are your opinions on going back to uni in September?
• How to get a quarantine boyfriend and maintain him throughout lockdown