Here are 11 Netflix romcoms to watch on your own and cry to this Valentine's
With Valentine's just round the corner, you're either spending money on useless tat to bequeath unto your beloved, wishing you were, or rightfully being the person that doesn't lower themselves to this stupid practice regardless of relationship status. If you're not planning on mugging yourself and are looking for some cheap thrills, then you'll be happy to learn that one need only shut the curtains, hide the wallet, and grab the popcorn.
We've got you covered with the best romcoms for a Valentine's Day night in on Netflix right now:
Dear John
John and Savannah rely on letters during a time when a text or two would probs do tbh.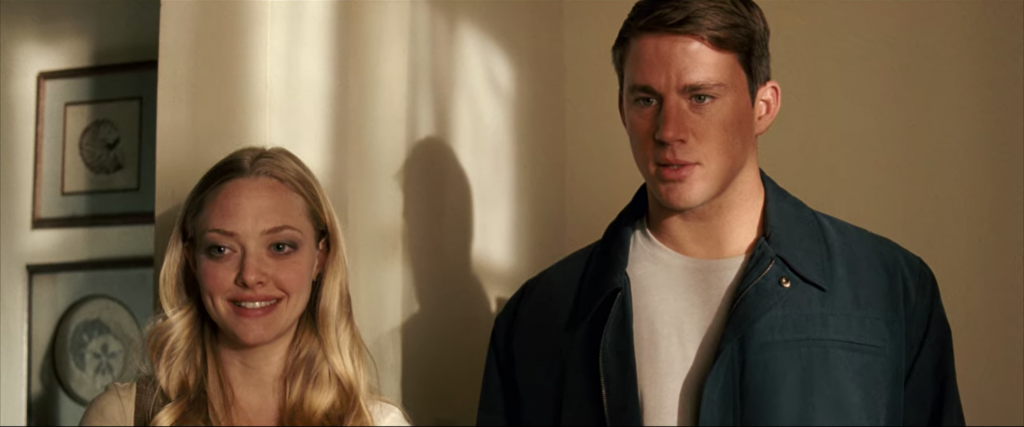 Channing Tatum meets Amanda Seyfried on leave from doing army stuff. They strike up a connection, but then he has to go back to doing army stuff. If you've ever had a long-distance relationship then this will hit deep, and you'll certainly be in tears during the genuinely lovely scenes with John's father…also Google "Deer John" while you're here lmao.
About Time
How can you not love Bill Nighy and Rachel McAdam?
The correct answer is A) You can't. This film revels in its British awkwardness, and Rachel McAdam is such a believable actress which is what made her so brill in The Notebook. Dom Gleeson's character shares such a wholesome relationship with his father which is quite frankly nothing short of heart-wrenching at times, and there are some moments where you'll struggle to hold back the tears. It's a beaut film and should be the first port of call on this list if you haven't seen it already.
Friends with Benefits
Is this Netflix or soft-core porn?
It's trash and we love it. Timberlake may give many the ick but his onscreen relationship with Mila works, and all in all it's an enjoyable Valentine's romp. Real-life friends with benefits is rarely, if ever, going to work out, so watch this to get an idealistic version of how it could potentially (but deffo won't) pan out. Lots of quite visual sex scenes so possibly not one to watch with the parents.
Fifty Shades of Grey
I'm in it for the nice cars and houses, the missus is in it for the raunchy sex kicks that she doesn't get in the bedroom; we're all winners here.
Despite what you may believe from the offset, this is still a romantic film series. Kind of. There probably won't be many tears but it's a crowd-pleaser and there's plenty of scenes to get your heart racing and your blood pumping. You'll have to jump on Putlocker for the second film because only the first and third films in the franchise are on Netflix currently.
Dirty Dancing
An absolute CLASSIC.
Dirty Dancing is objectively a great film, and it's not without good reason; the all-singing, all-dancing cast means this film remains completely timeless. And Patrick Swayze is just… well he's just Patrick Swayze ain't he. You'll love it.
Twilight
What a time to be alive – all five Twilight films on Netflix rn!
Will we ever forgive Bella for how she treated her dad throughout the series? Probs not, but there is no better a series of films to rinse on a cosy weekend in. Once you pop you truly cannot stop – before you know it you'll be on film number four, joining Bella and Edward as they shag the bed to pieces on their honeymoon. It's very teen, very American, and has anyone even spoke about how good the soundtrack is? It's as close as you'll get to easily bingeable Valentine's Day perfection! #teamjacob #renesmeisastupidname
Along Came Polly
Ben plays an uptight guy who likes to play life safe. Aniston is a loose cannon that lives for the little thrills. What could possibly go wrong?! *cue cheesy romcom pop music*
For someone that is so socially insular, Ben manages to get himself into several unusual predicaments, including shitting himself on his first visit to her apartment – and it's as cringe-inducing as it is hilarious. You've got the comedy, you've got the sadness of their relationship going through the motions and, of course, you've got him shitting himself on his first visit to her apartment. It's a banger.
Wedding Crashers
Weddings are boring, why not spice em up a lil bit.
The only universally acknowledged event that you can attend with the guarantee of free food, booze, lots of singles and live entertainment, it's a surprise that people don't crash weddings more often. Vince Vaughan and Owen Wilson do just this before things start to go awry. Big cast in this one – Bradley Cooper, Christopher Walken and Rachel McAdam amongst others.
Chalet Girl
Maybe it's nostalgia, or maybe this film is 100 per cent underrated.
Bill Nighy strikes again with a feature in another classic British film, including an impressive cast that sees Ed Westwick pine over the latest woman with a pulse to work in daddy's massive alpine retreat. This film is the definition of easy viewing, and it's nice to see Brooke from One Tree Hill starring in the only role you'll see her in other than as Brooke from One Tree Hill.
When Harry met Sally
Old AND gold.
We all know that the best relationships start with a strong friendship, and this one is no different. These two try so hard not to get together to save the foundations of what they have, but it proves very difficult. Some very tear-inducing moments and it's nice to see a romcom that features real, normal-looking people as opposed to muscle-clad movie stars. Good stuff.
The Heartbreak Kid
Ben Stiller is back at it again doing himself no favours.
Ben goes on honeymoon with his new wife after being routinely unlucky with relationships in the past, but he realises that things just aren't working out with the current misso soon after getting engaged. However, as if this wasn't bad enough, he then meets another woman on the honeymoon and pretends that he's single and holidaying alone! Stiller's actual dad plays his on-screen dad which is pretty cool, and you'll really route for him to find eventual happiness in this one… until the ending.
Four Weddings and a Funeral
We all want a wholesome friendship group like this.
They're literally like the awkward British equivalent of David Dobrick's Vlog squad but 25 years ago. You've got a big group of friends from all different walks of life who all have interlocking stories and love lives. If you think it sounds similar to the format of Love Actually you'd be right – they're both by the same writer, and if that's not a good enough reason to give it a watch then I don't know what is.
Related stories recommended by this writer:
• Here's seven shows to binge if you've finished Sex Education
• If you like You, here are nine Netflix shows for you to watch next
• I went to McDonald's on Valentine's Day to see if I could find someone to date me