Last minute Halloween costumes for when you're broke and desperate
Halloween is another great excuse for you to get drunk off neon-coloured shots, cover yourself with glitter and make some questionable memories with your mates. The only problem is, which of the many last minute Halloween costumes should you wear?
Yes, you could chuck a few pints of fake blood over your outfit, but have you tried to get that stuff off?? At best you've ruined your favourite outfit and at worst, you've permanently stained yourself pink (don't even get me started on blue smurf paint).
Luckily, we've got your back – here are the best last minute Halloween costumes for when you've run out of ideas and money:
Last minute Halloween costumes: Little Red Riding Hood
What's more Halloween than an imaginary wolf-killer who loves walking through creepy woods at night with a psychotic-smile plastered across their face?
At only £13.35 for the dress and hooded cape, why wouldn't you? Click here to buy.
Last minute Halloween costumes: A sausage roll
Now's the chance for you to prove your Greggs super fan status. Yes, we've had Greggs branded socks, jumpers and phone cases but does that really fulfil all your Greggs fantasies? Halloween is your time to embody everything it means to be a student – what screams uni more than a life-size sausage roll costume??
For the price of only 11 mini Gregg sausage rolls, this last minute Halloween costume is an absolute steal! Click here to buy.
Last minute Halloween costumes: A unicorn
Why wouldn't you want to channel your inner rainbow this Halloween? Okay, so unicorns aren't exactly scary but, who cares. You're (probably) going out to get with people, not scare them off – right?
Embrace your rainbow-coloured soul with the BEST last minute Halloween costume ever! Click here to buy. 
Last minute Halloween costumes: A skeleton
Come on now. If you were walking down a street at night (or, frankly even during the day) and saw a skeleton limping towards you, you'd 100 per cent scream and run away – right? That's a normal reaction to being completely terrified. And, that's what makes being a skeleton perfect for Halloween. Plus, it's a great excuse to live out your latex fantasies and wear a skin-tight unitard on a night out.
For only £11.99, how could you say no??? Click here to buy.
Last minute Halloween costumes: Death-by-shark
Since Selachophobia, aka the fear of sharks, is one of the most common things people are afraid of, dressing as one for Halloween is a no brainer. Plus, wearing this, it is SO unlikely that you'll find someone else in the same costume as you. Now you can be terrifying and hilarious at the same time – it's everything a wannabe BNOC desires.
Have the Jaws theme tune on a loop and you're all set! Click here to buy. 
Last minute Halloween costumes: A mermaid
Being a mermaid has never been easier. Forget having to make some dodgy fish tail out of cardboard, or mucking about with some fishnet tights and green paint. If you've ever dreamed of sunning yourself on a rock somewhere or serenading some hunky sailor, this is the costume for you: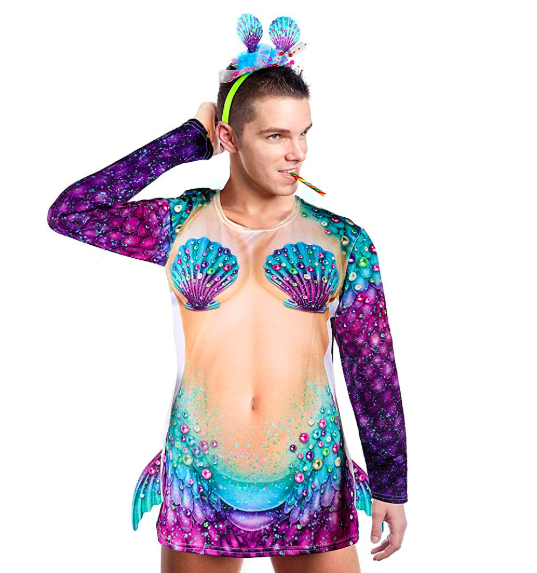 Avoid the nip slip from a homemade shell-bikini top and make your life easier by buying this costume now. Think of the regrets if you don't. Click here to buy.
Last minute Halloween costumes: A D.I.Y
If you want to recycle some of your current wardrobe, why not buy some Halloween accessories rather than a full outfit? If you own anything that's black, you've now got an endless supply of last minute Halloween costumes –  cat/ bat/ spider/ vampire/ witch (you can be anything once you've added some face paint and a key accessory). Here are some accessories to get you inspired:
Happy trick or treating!
Related stories
• This is what people are wearing for Halloween this year
• These 13 genius meme Halloween costume ideas will have everyone howling