These 48 The Apprentice memes are the reason I failed the task
All other memes are FIRED!
Last night, The Apprentice was back. And as expected, the series 15 candidates are awful, the tasks are chaos and The Apprentice memes are 10/10.
The boys didn't know the difference between a rhino and an elephant, the girls were absolutely clueless and one of the candidates looks a lot like a Michael McIntyre lovechild. This is the television gold we have needed for so long.
So bring me back in the boardroom and tell me I'm the reason you failed the task, because here are the 48 best memes from The Apprentice last night.
Firstly, WE'RE BACK BABY
2. It's looking good, the receptionist means business
3. Am I seeing double or???
4. He sells pillas don't ya know
5. We found what the Teletubbies look like now and the transformation is WILD!!
6. Forever my prince
7. This guy is going to make EXCELLENT television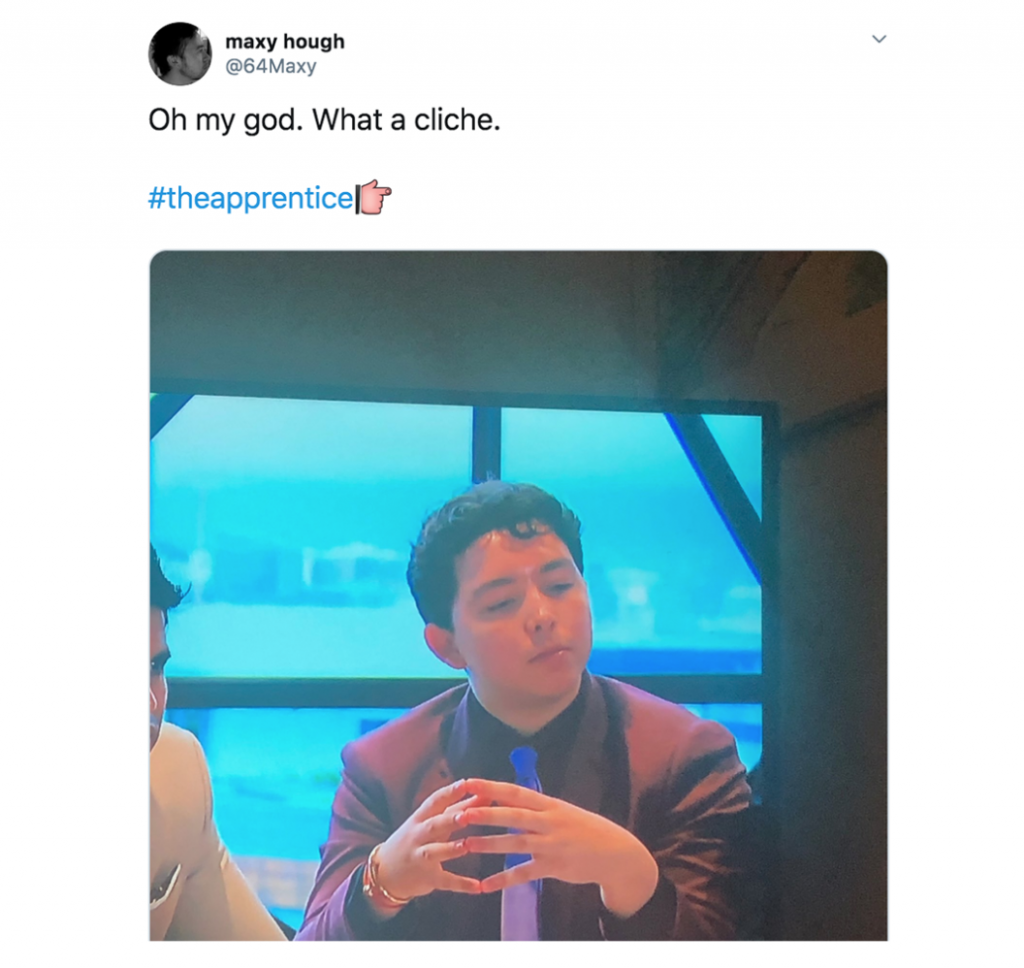 8. PM in the first task?? How about no???
9. I can't un-see this now, thank you
10. YIKES
11. He has already divided the nation
12. I have never enjoyed a candidate more
13. ?
14. Alright hun we get it
15. STOP IT
16. Can you lower your tone
17. GREAT!!!
18. They were a bit desperate weren't they
19. Sorry but I love him
20. Cute x
21. And here we are!!!
22. Sorry WHAT?!
23. IN THE JUNGLE THE MIGHTY JUNGLE
24. RIP
25. Would anyone?
26. Are u ok
27. Not just any wine bar, the BEST wine bar
28. NOOOOO
29. They are absolutely clueless
30. Just shut up
31. Yep ok I see it
32. Yeah you're wrong
33. Uncanny!!
34. They were … shit?
35. Love him tho x
36. Where do they find these people?
37. And that's the tea
38. REMEMBER WHEN HE TURNED UP WITH A SLING
And then he had his big "acting" task with the animations and all he did was tilt his head!!! And when he "directed" the airline advert on the beach!!!!
And this (!!!!):
39. Oh my GOD
40. Incredible
41. Sooo pretty x
42. STOP THIS
43. Add: What is the best wine bar in the UK?
44. AAAAAY we're all shit!
45. Lmaaaoo Alan ur so funny aha x
46. The Bridge cafe got real fancy
47. AAY Lord Sugar's mugged you off there
48.
The Apprentice is back next Wednesday at 9pm on BBC One. The first episode is available to stream on catch-up on BBC iPlayer.
Related stories recommended by this writer:
• This is what all The Apprentice candidates are like on Instagram
• Iconic The Apprentice candidates and winners: Where are they now?
• Lord Sugar is fired! The old man who's fooled us for years is finally cancelled