All the evidence this year's Love Island is staged
They thought we wouldn't notice
Labelling Love Island 'reality TV' is a bit of a stretch. When influencers and models are battling it out for £50,000 cash prize and half the cast have a famous family member, you could hardly argue that this year's Islanders are representative of reality. But the least we can expect is for the action in the villa to be real.
However, eagle-eyed fans have been quick to spot that things don't always add up, with viewers claiming that the show is actually staged.
In an interview with the Daily Star, Love Island 2017 Islander Tyla Carr claimed: "They tell you what they want you to talk about, and who with", adding Islanders must inform producers if they're having an important chat with someone so the mics can pick it up, or they'll be forced to film it again.
These are all the moments from this year's Love Island viewers are calling fake:
Anton's shop assistant looked identical to the barmaid in the Island Club
When Tommy Fury, Jordan Hames and Anton Danyluk went food shopping, Anton wrote his phone number on the female cashier's receipt. But it wasn't the huge row between Anton and Belle that caught viewers' attention.
Fans noticed the barmaid serving the Islanders at the Island Club later that day bore a striking resemblance to the shop assistant that caught Anton's eye earlier in the episode.
The brunette behind the bar had near identical hair to Anton's shopkeeper, wore similar glasses, and even had the same wristband.
Now we know Majorca isn't huge, but it would be a bit too much of a coincidence if the same girl was working shifts at both the supermarket and the Island Club.
Anton and Belle seemed to have made up all but five minutes after their screaming match
If Belle Hassan and Anton's blazing row didn't already seem a bit over the top, then just wait until you see this photo of them socialising about five minutes later.
If you had just argued with your boyfriend, would you be standing this close to them???
Amy and Curtis were holding hands after Curtis dumped her
If that wasn't enough evidence the couples are encouraged to argue for the sake of causing drama in the villa, then take a look at Curtis Pritchard and Amy Hart holding hands in the moments after he brutally dumped her:
Either this lot are incredibly indecisive or the producers have been interfering.
People think the producers get to decide who goes home
People have claimed producers get the deciding vote in who stays and who leaves, to spice things up in the villa.
It did seem a bit too coincidental that right after Amber admits she still has feelings for Michael, the only obstacle coming between the two, Joanna, gets voted off…
Nobody eats the food on dates – is the food even REAL?
We rarely see the Islanders eat, and when we do it's something distinctly unappetising like Tommy's cheese, ketchup and mayonnaise sandwich.
So when they go on a date you'd think they'd jump at the chance of a gourmet meal. But no, viewers have been quick to point out that the food given to them on dates always goes untouched.
Which begs the question of whether the dates are real, or if they're just scripted and staged for entertainment purposes?
Is the food even real? Who knows at this point?
Chris inhaled his breakfast in 20 seconds flat
On the topic of food, at some point during Chris Taylor's 20 second conversation with Francesca Allen, he manages to devour the entire plate of food he'd been carrying.
Well either that, or the producers have been re-filming scenes ???
During the slow-mo DJ scenes in the Island Club, no music was playing
The Islanders were so hyped to leave the villa for a night at the Island Club that the boys threw themselves into the pool in excitement.
But fans were quick to notice on their arrival at the Beach Club that the DJ wasn't actually playing any music.
Anna and Yewande suddenly switched places by the fire pit when talking to Lucie
If the mystery of the disappearing breakfast couldn't convince you that the producers film the same scene multiple times, then Anna Vakili and Yewande Biala suddenly switching places might.
When the girls confront Lucie Donlan about not spending enough time with them, Anna sits on the far right. But next thing you know, she's suddenly morphed into Yewande??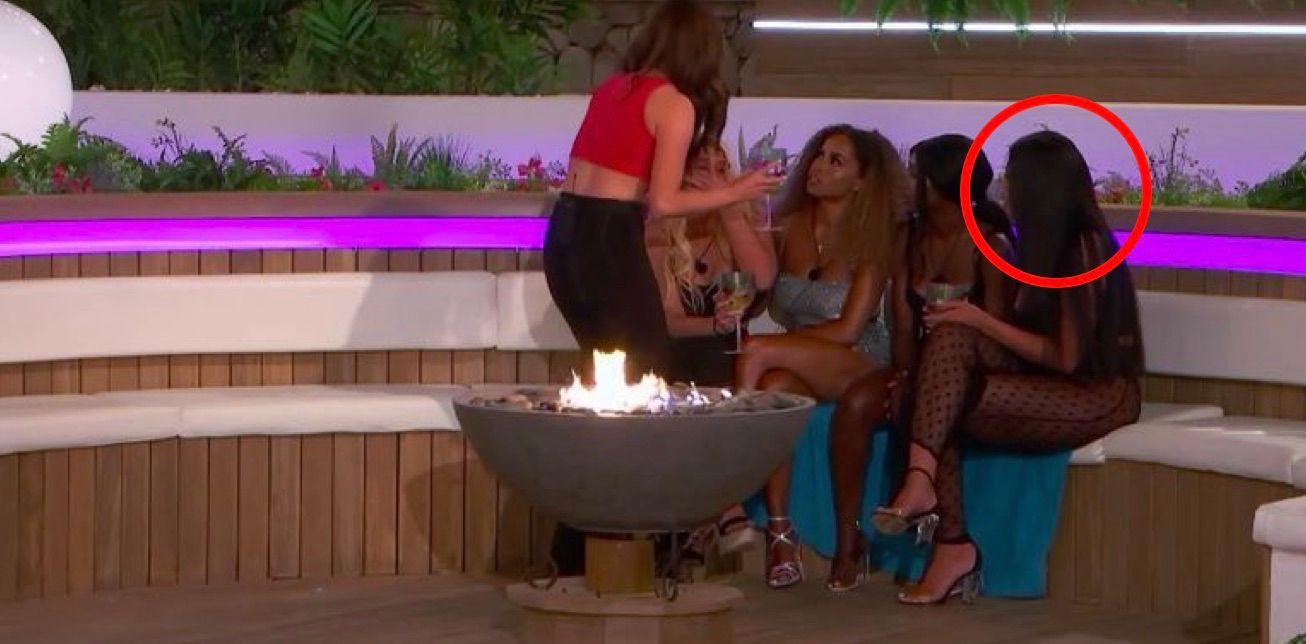 Spot the difference…
One moment Amber is leaning on the cushion, the next she's SAT on it
A similar blunder was made in Sunday's episode when Amber Gill was chatting to the girls on the balcony about whether she should confess her feelings for Michael Griffiths.
Amber is pictured leaning against a cushion one minute, and then immediately afterwards when the angle changes, she is seen sat firmly on top of it.
Suspicious !!!!
Molly-Mae just happened to be going upstairs when Curtis put all her make up on the floor
Remember that iconic scene where Tommy asks Molly-Mae Hague to be his girlfriend by attaching a note to Ellie-Belly?
It might be the cutest moment of Love Island this year, but the chances of it not being staged are about as slim as the chances of Ellie-Belly actually writing that note.
It's just a bit too much of a coincidence that it happened to be Molly-Mae's make up bag that Curtis emptied when he was searching for a substitute pen.
And then even more of a coincidence when Molly-Mae happened to wander into the dressing room at just the right moment to discover her make up bag all over the floor.
People are claiming Molly-Mae is putting on the crocodile tears
In fact it's hard to keep up with who actually likes who. One minute they're bitching behind each other's backs, the next minute they're sobbing over the same person leaving??
We get that it's an intense environment and emotions are running high, but is it possible that they might be acting up for the camera? Viewers thought this when Molly-Mae was pictured sobbing during Amy's leaving speech. She might have been screwing her face up, but her eyes remained dry.
Related stories recommended by this writer:
• Love Island called fake as Anton's shop girl spotted serving behind the bar
• Meet India Reynolds, tonight's 'sexy vegan chef' Love Island bombshell