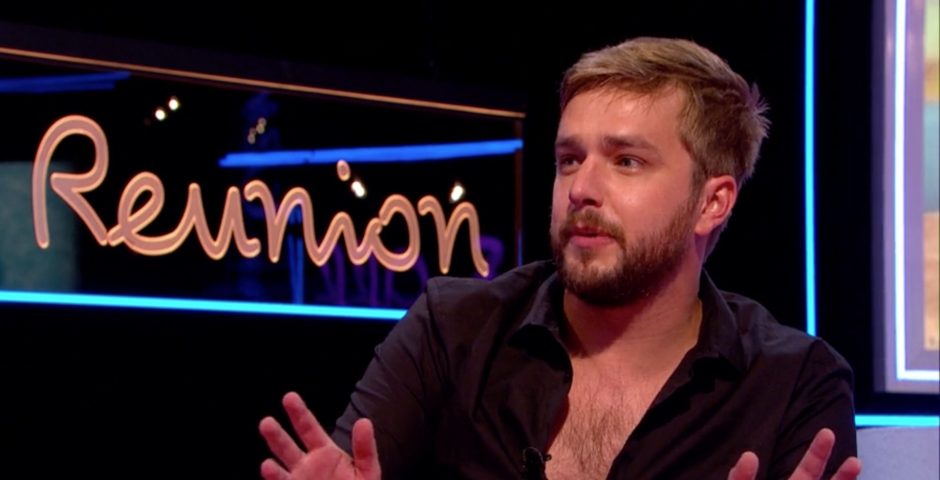 I'm gonna come out and say it: Iain Stirling is really hot
Hear me out with this one
You've heard about Laura ditching the villa three times and turning to chain smoking, seen all the ex-islanders' tragic Instagram posts, and realised that Ellie was cat-fishing us all along. But, hands down the biggest tragedy of Love Island 2018 was that Iain Stirling did not get the recognition he deserves.
If he was in the villa, all the girls would have gone wild for him, gathered round the fire pit desperately hoping they get to pick their boy first so they can choose Iain. "I would like to couple up with this boy because he is funny, insanely good looking and he always replies to my texts", old Laura would've said, thinking she'd finally found the one.
And if you still don't believe me, here is the solid proof Iain Stirling is fit af:
You'd never feel intimidated by him, because girls don't admit to fancying him
He's probably got a bit of a dad bod, and definitely doesn't have random girls sliding into his DMs and screaming his name in the street like the other islanders. Iain is a safe bet, you're comfortable.
Also, he is completely better looking than the other islanders.
He looks really, really good in a suit
It's no secret that formal clothing can send a guy from a 4/10 to an eight instantly. But he starts off as an eight, so given a suit he's like, a 12????
Normal guys can be funny, but he's an actual comedian
He is literally a comedian, so he'd make all your friends and family laugh. Imagine it now, they would all love it.
Remember that time he told us all he would show the villa the Georgia and Jack kiss video and sent us all wild for it? Hilarious. And the hashtags on the texts the villa get? Classic. The guy is actually jokes, just as his Insta name 'Iaindoesjokes' would suggest.
As shown on ITV2, he rocks an open shirt and leaves everyone swooning
He looked great on the reunion show – there's no two ways about it. As Caroline Flack said herself last night: "This is when everyone realises how good looking you are." Yes, yes it is.
The all black, open shirt vibe was a bit of what everyone needs on a Sunday night.
His beard is just the cherry on top of an already very tasty cake
It's a well known fact that a beard makes a guy 1000x hotter. And Iain is a prime example of this.
He's just so normal and down to earth, you could plan your life with him
Tell me you can't imagine doing normal things like a weekly shop, or walking the dog or taking the bins out with him. He's not like the other islander boys, who probably spend too much time in the gym or updating their social media pages to actually be with you. With Iain, you would actually Netflix and chill. He's a catch.
Who knew the Scottish guy that screams "CUE THE TEXT" could be so dreamy??? If only he was single.
Related stories recommended by this writer:
1) Meet Josh Dylan: Young Bill in Mamma Mia 2 and my future husband
2) Sure, Phillip Schofield is hot, but look how H-O-T young Schofe was back in the day
3) If you thought Megan's surgery transformation was wild, then WOW look at Ellie's!!!