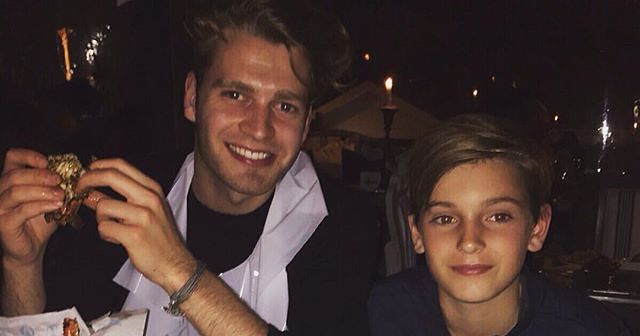 Prince Harry's 24-year-old cousin Louis Spencer is really fit, really rich and also really single
LAST HOT YOUNG ROYAL WE SWEAR
If you've been keeping up with The Tab's exceptional coverage of really hot young royals recently, you will have noticed the boys were out in full force at the royal wedding this weekend. But forget everything we said – forget Arthur Chatto, forget Sam Chatto, forget hot daddy Prince Philip, because we've found the hottest, most eligible one yet. Meet Louis Spencer aka. Louis Frederick John Spencer, Viscount Althorp. He's the son of Charles Spencer, who is the 9th Earl Spencer and also Princess Diana's brother.
Okay, so maybe he's technically not a royal but an aristocrat. Though I don't think that matters when you're cousins with Prince Harry and are about to inherit a 90-bedroom mansion called Althorp Estate.
He was spotted at Windsor Castle alongside his family, for his cousin's wedding on the weekend.
Louis Spencer was one of the 200 lucky guests who went to Harry's wedding after-party at Frogmore House.
So who is Louis Spencer and what is he like?
He is a 24-year-old Edinburgh graduate and according to our source studying there, "he's fit as fuck" and dated someone while he was a student.
But he's single now and apparently you can find him on Bumble if you're based in London. ?
Louis Spencer is Harry and Will's first cousin and reportedly they're really close.
He grew up in Cape Town and whenever Harry travels there, he visits Louis and the rest of the family.
Prince William and Kate even attended Louis' 21st birthday at Althorp Estate.
Also no biggie, but his family fortune is estimated around £145 million and he's going to inherit Althorp Estate, which is the ancestral home of the Spencers, built in 1508. It has a total of 90 rooms.
The Spencer family is one of Britain's famous aristocratic families. Two prominent members of the family were Sir Winston Churchill, who was the British Prime Minster during the Second World War and Diana, Princess of Wales. So yeah, he's related to them both.
Sadly for us, Louis Spencer doesn't have any social media accounts, but his sister Kitty does and occasionally she'll post a picture of him. It's honestly worth a follow just for that.
The good genes must run in the family because not only is he Diana's nephew, but his sister Kitty Spencer is a model and Dolce and Gabbana's latest muse.
There's also a picture of him on Nicki Minaj's Instagram from three years ago (I'm not sure why) but clearly he made an impression.
The caption from Nicki says: "Check out our wedding photo."
Maybe one day it will be our wedding photo, Louis.
Related stories recommended by this writer:
• Introducing the Chatto brothers: The hot, young royals people can't stop talking about
• Don't worry, here are some hot single royals you can still marry