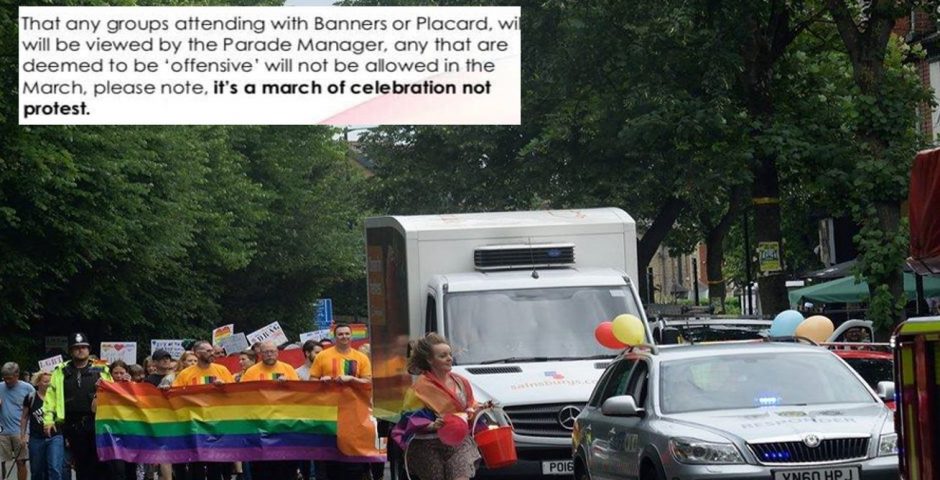 Pride Sheffield face backlash after calling the event 'a march of celebration, not protest'
Organisers have 'received abuse' after the leak
Pride Sheffield have banned political stalls at this year's event, causing widespread anger on social media.
An email sent out by organisers, and leaked by a Sheffield Hallam University student, described Pride Sheffield as "a celebration, not a protest."
Members of the LGBT+ community have reacted badly to the ban on political groups and the description of Pride as not being a protest.
Sheffield Hallam Students' Union President Luke Renwick told The Tab: "The fact that Sheffield Pride are not only saying that Pride is not a protest, but are also 'not accepting applications by political groups' completely contradicts the foundations and fundamentals of where we are currently and what our queer family before us fought for.
Luke continued: "Two years ago at Sheffield Pride, South Yorkshire Police failed to act over incidents that were reported to them during Pride and many, including myself, were instead threatened with arrest when we started to shout back.
"If this doesn't prove that Pride needs to remain political and a protest, then the fact that hate-preachers still turn up every year, the fact that hate crime against LGBT people has increased by 78 per cent since 2013 and the fact that trans individuals still face disproportionate violence certainly does.
"I am conscious of, and sympathetic, to the work that goes into organising an event on the scale that is Sheffield Pride, however, I would urge the organisers not to take retrograde steps and embrace Pride for the political movement that it still clearly remains to be."
However, Pride organisers say they have not received a single email of complaint, banners will be vetted after over 100 complaints from the public last year, and that committee members have been subject to "intimidation, abuse and harassment" since the leak yesterday.
Speaking to The Tab Sheffield, a spokesperson for Pride Sheffield said the committee have put nothing out publicly, and they do not know how the Hallam student got hold of the email.
"Someone has screenshotted a letter that has been put out – this is not a statement that we have put out, this is information we have sent out. The student has not applied to be in the march, and he has created all this backlash in the community.
"What we've said is we will vet placards and we will vet banners because, after last year's events, there were placards and banners in the event that people deemed to be offensive and abusive. They had swearing on, and the word c**t. We received over 100 complaints from members of the public.
"In 2015, when Pride was set up by Pride Sheffield, we had a massive open meeting to decide what the event should entail. Everyone who attended that meeting voted that they wanted it to be a celebration of life, equality and diversity, and a celebration of inclusiveness for the LGBT+ community, friends, family, and allies.
"Despite everything on Twitter, I have not had one complaint via email about that statement. As a committee, we are now getting lots of intimidation and lots of harassment from one student's behaviour."
2018's Pride Sheffield event will take place on 28th July at Endcliffe Park.
Photo credit: Heather Rigg/Sheffield Pride Facebook page