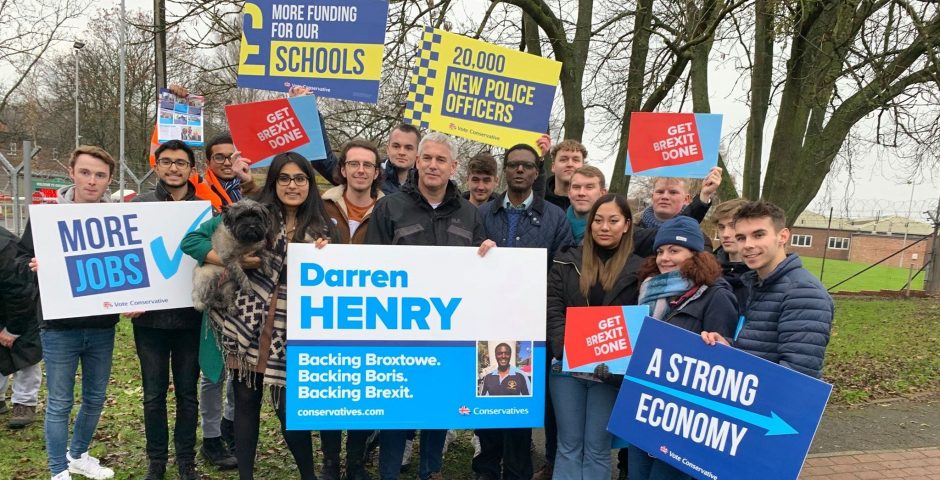 A call for student Brexiteers in the 'Battle of Broxtowe'
The Conservatives aim to gain student votes in Beeston.
If this were any other race in the nation, it would be fair to assume Broxtowe (the seat which encompasses Beeston) will stay blue. The former Brexit Party candidate, Calvin Robinson, has thrown his full support behind Darren Henry, the Conservative PPC; the constituency voted to leave in the 2016 referendum. But this is no ordinary seat.
The Tab joined Darren Henry and the Conservative effort on a wet day at a Tesco Extra's carpark in Toton. The rainy weather did not dampen the canvassers' spirits; Stephen Barclay Secretary of State for Brexit, was rumoured to be arriving later in the day.
On the doorstep and around the roads, Mr Henry was always keen to mention his past in the RAF and that his wife is local to the constituency.
Mr Henry considers his time in the RAF as an important reason why voters should back him over his Labour opposition. Unlike Greg Marshall, who is "For Broxtowe, From Broxtowe", Mr Henry says he has experienced and seen the world, which gives him a better awareness of the world and will, therefore, make him a better MP. Meanwhile, Labour have been critical of Mr Henry for lacking local loyalty. Mr Henry previously attempted to be elected in a different Parliamentary seat, and was a Conservative councillor in Wiltshire.
Discussing more on his background, Mr Henry told The Tab his parents were "Windrush generation", with one from Jamaica and one from Trinidad, and spoke of how they had a deep motivation to succeed. They worked hard and took on nightshifts. As such, Darren is a big believer in private property ownership and put down the ability of his parents to afford their own house to "lower taxes… and keeping their own money".
"Bricks and mortar are what you want to put your money into, Son." – Darren Henry quoting his father
Most of all, the local Conservatives "want Brexit done". Once done, Mr Henry sees saving the NHS and building more homes among his top priorities. Speaking to a voter, he said that "we need to get Brexit out of the way to get onto domestic agenda" and promised this will happen if Boris Johnson returns a majority in Parliament.
When asked about climate change, Mr Henry confirmed that he had personal "thoughts" about the subject, however, said he did not want to contradict the party's manifesto before it was released. (At the time of speaking, the manifesto was to be released the later the same day.) He added that he would call The Tab in order to provide an answer in a few hours but did not do so.
The name Anna Soubry is not popular among local Conservatives. Having left the party earlier this year to form The Independent Group for Change, Ms Soubry, they say, has betrayed leave-voting Broxtowe.
But it is not a name they can forget. Taking a share of the Conservative vote with her in the form of loyalists, Ms Soubry is making this race less comfortable than the local Conservative camp would like.
Although YouGov predicted Broxtowe to return to the Conservatives once again, there is a degree of worry. With Ms Soubry taking some of her loyal Conservatives; with no Liberal Democrat candidate whose redistributed votes are more likely to fall into the hands of their rivals than themselves; and with a last-minute, Twitter-popular Brexiteer, Dr Teck Khong, stepping in (following the Brexit Party standing aside), this race is not in the bag.
"We're being squeezed from both sides." – Conservative Party Member
The Conservatives have a game plan. Targeting postal voters before the deadline, the canvassers used maps detailing voting intentions and postal vote statuses of residents in Broxtowe to decide who to door-knock. In 2017, the count was being led by Labour until the postal vote was counted.
Though Broxtowe is not as certain as they'd like, the Conservatives are confident that they've got this election; from the Conservatives' voting intention data one campaigner has seen, they believe the morning of the thirteenth will spell a Conservative majority.
The Tab spoke with former Brexit Party candidate Calvin Robinson after he announced that he would be standing down in the seat.
Mr Robinson urged other Brexit Party supporters to turn out to the ballot box in order to support Darren Henry. Furthermore, he encouraged students to get out and campaign for the Conservatives in Broxtowe to help them hold onto their tight majority. Mr Calvin wants to stop any chance of a Labour government and said that it is right to stand down in order to not split the Leave vote.
Mr Robinson did not have huge enthusiasm for Mr Johnson's deal, but he did describe it as "far better than May's" and said that he believed Ms May did not truly want Brexit.
When asked what made this Mr Johnson's deal better than the Ms May's, Mr Robinson said Mr Johnson had "done the best he could with the situation" and that the choice at this election is "between getting some kind of Brexit and not getting Brexit at all."
"We clearly need a Conservative majority in Government if we want to get Brexit done." – Calvin Robinson, former Brexit Party candidate for Broxtowe
The arrival of Stephen Barclay, Secretary of State for Brexit, was met with cheer from volunteers.
Mr Barclay said that students should vote Conservative to finish Brexit, grow a strong economy, build affordable housing and to lower unemployment.
Most students based in Beeston, who are registered to vote, will be able to vote for Darren Henry, or any other candidate standing in Broxtowe, on December 12th.
More from Broxtowe:
"Unseat the Tories!": Labour seeking student votes in Beeston
Labour plan to abolish tuition fees a 'unicorn', says Beeston's Anna Soubry
A previous version of this article incorrectly identified Darren Henry as a 'newcomer' to politics.