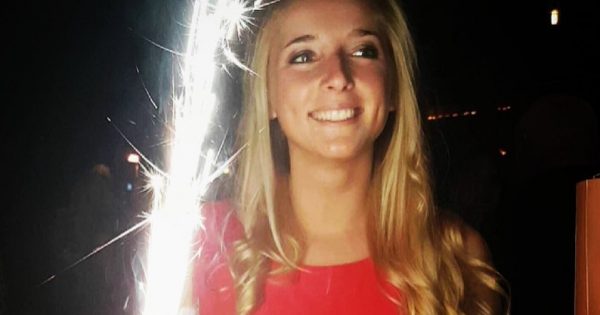 Meet Rebecca De Beukelaer, the face behind Nottingham's Buy/Sell page
A Buy/Sell app is coming soon
There is no denying how important the Buy/Sell Facebook page is to campus life at Nottingham. Need a ticket for Crisis on Wednesday night? You post on Buy/Sell. Want to post something funny to increase your chances for likes and adoration from strangers? You post on Buy/Sell. Filming the official Varsity video and a bird hits your drone camera and it falls into the university lake and you appeal for people to fish it out for you? You post on Buy/Sell.
Three years ago, Rebecca De Beukelaer was a third year History student at Nottingham when she created the Buy/Sell Facebook page. Now 25 years old, she invests her time into making the Buy/Sell App, 'UniSalad'. The Tab spoke with De Beukelaer to discuss all things Buy/Sell and to learn more about the app that could change the way Nottingham students buy tickets forever.
When did you come up with the idea for the Buy/Sell page?
I came up with the idea of the page at the beginning of my third year at university, in November 2013. I set up the Lost and Found page and Trent Buy/Sell page about one and a half years later in response to the various posts that were regularly coming up on the page.
How did you think of the idea?
I kept seeing people post about tickets they needed or that they were selling on their Facebook profile, their Freshers' hall page, or on the Heard in Hallward page. I thought there would be demand for a page where people could exchange tickets easily, so I just made it hoping people would join.
What was the initial reaction? How quickly did it take off?
Support from my friends was very mixed at first, some were supportive but a lot of them didn't think it would ever take off. I didn't really either. I just made the page one day and added all my friends from university, then asked them to add their friends and so on. It started with just 50 people but grew to about 3,000 by the time I left university. Now we are almost at 20,000 people. I think we will probably get there by Christmas. I (or one of the other admins) have to accept every single person who wants to join, which can take quite a lot of time. I have to tell apart students from fakes accounts and advertisers so the group doesn't get over taken by unwanted users. I try to make sure it's only students from Nottingham but sometimes it's just hard to tell.
What do you make of people who try to rip others off with ticket prices?
This started becoming a problem as the groups grew bigger and people realised they could start making a profit by buying a large number of tickets and selling them on at really high prices. It is something I try desperately to manage. I encourage people to send me screenshots of messages showing people selling tickets at high value for evidence, and I then delete and ban them from the group. It's not fair on 95 per cent of those students who do just want to buy a last minute ticket for face value price. The group was made so people could sell their unwanted tickets or try and find one last minute and it is a shame some people just want to make a profit. It really ruins the spirit of the group.
Do you think more could be done to combat it?
Definitely. If anyone gets ripped off, or gets a message from someone asking for a high price on tickets, just message one of the admins with a screenshot of the conversation, and we can get right onto it and delete them from the group. Hopefully this will discourage people to do so if they risk being banned. When the app comes out, it will be easier to report users to admins and we can clamp down on individuals.
 How much upkeep does the page require?
I have to check the page at least three times a day everyday just to accept joining requests as soon as possible and to check that there's no spamming, advertising or other unwanted posts. (It's a full time job!) We currently have four admins, and I'm the most active one. It really helps when people report posts so I can assess them as soon as possible. We also now offer advertising on the cover photo which is available for any type event, and all the money we raise is going into the app which is currently being made.
Tell us more about the app:
What made you think of the idea?
It was actually at the end of my third year at university. I realised the page was taking off quite quickly and could perhaps one day become an app. It started off being just an idea but then I started talking to people who are in the business world and they gave me a lot of advice on how to go about making an app. It's taken so long to realise because I never really considered myself as business minded, so I've had to learn a lot along the way!
How will it work?
The app will still be similar to the current Facebook page, but will be renamed UniSalad. Students will still be able to post their tickets for sale. However, users will now be able to request a ticket for a specific event, and will receive a notification when such a ticket is posted on the app. This means students won't have to keep checking the long list of tickets every 5 minutes hoping one will pop up. The built in chat system will mean talking to people will be quick and easy to arrange meeting up and selling tickets. There won't be the worry of messages getting lost in people's 'other' inbox on Facebook chat. It will also be safer as only students will be able to create a profile.
In the future, we will be able to add other categories such as a section for lost and found items, sharing car lifts and advertising spaces in student houses. There will also be a few more sections to make university life easier for everyone.
When will it available?
The app is being developed now, and we are hoping it will be finished sometime after the New Year.
Are people generally in support of it?
I visited the university at the end of October for a few days, just walking around campus asking people what they thought of the idea of an app. I actually had a huge amount of support and positive responses for it which was really great. Everyone we spoke to seemed very keen on the idea. People also liked the idea of the additional categories.
Most students did say that they would miss the whole 'banter' aspect (in their words), so we are working on providing a homepage to the app later on where this can still be possible. The main difficulty we will have is to get everyone to transfer themselves from the Facebook page to the app. However, we are confident people will find that using the app is just so easy and will want to download it, even if Pokémon Go is taking up a lot of phone space already… (actual words of a few students I spoke to).