Everywhere near Manchester you need to visit next time the sun comes out
If it ever shows up ever again
Here's a list of seven awesome, tried-and-tested places for a great day out near Manchester. If you're not from the North West and haven't left South Manny since you moved here as a Fresher, you're missing out.
Next time we get a little heatwave, get your mates together (and some tinnies) and get out of the city to somewhere a little nicer to look at. With these places all around an hour from Fallowfield, you can make the most of a day out, even if you don't get out of bed until lunchtime.
Remember kids, if you're heading up into the mountains make sure you're properly prepared with some kind of map, food, and water.
If you're heading to the beach, don't forget suncream, beer, and a barbecue.
Kinder Scout & Jacob's Ladder
Kinder Scout is a massive moorland plateau, way up at about 600 metres. Its peak at 636 metres is the highest in the Peak District. If you make it to the top, you'll get awesome views stretching as far as Snowdonia and Blackpool on a clear day.
If you don't fancy climbing all the way up to the plateau, an easy stroll around the lush farmland and valleys is still a great alternative to hanging about in Fallowfield all day.
Jacob's Ladder is a popular route up Kinder Scout, where hundreds of stones are wedged in the hill side to form a staircase. Apparently it dates back to a time when pack horses carried goods to Manchester over the hills.
Kinder Scout is about 50 minutes drive from Fallowfield, if you get lucky with the traffic, and the roadworks. There's a small, free car park down a small lane in Barber Booth, which is the closest to the Jacob's Ladder route up.
If you can't get anyone to drive, you can get the train to Edale from Picadilly for just under £8 return with a railcard.
Moel Famau & The Clwydian Range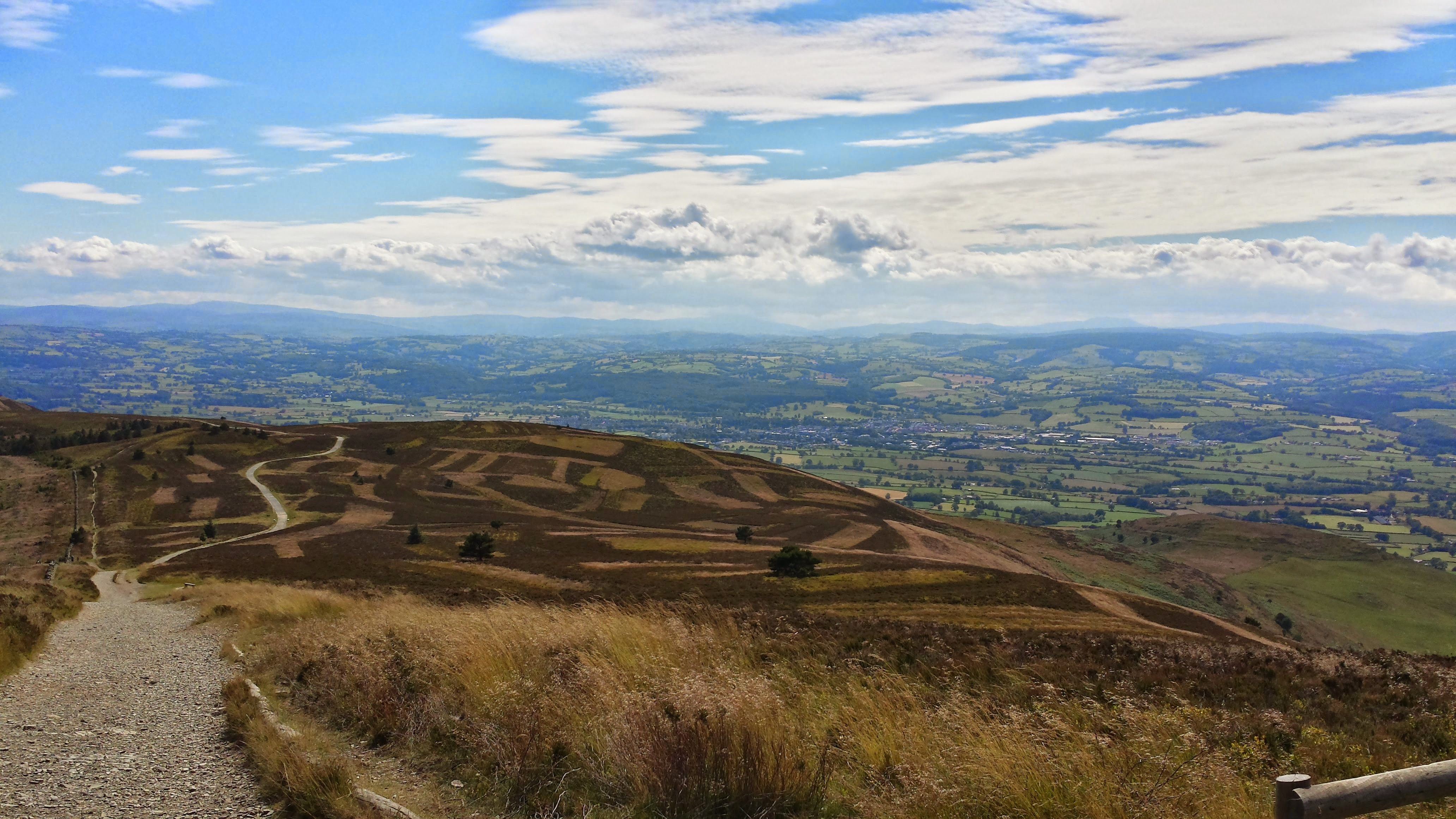 Moel Famau is the most popular, and highest, hill in the Clwydian Range.
The ruins of the Jubilee Tower can be seen for miles around. From the viewpoint atop the tower, you can see back across Manchester to the Peak District, and spot the cathedrals that make-up the Liverpool skyline.
The other side offers amazing views across the Vale of Clwyd to Snowdonia, and out to sea as far as the Blackpool Tower.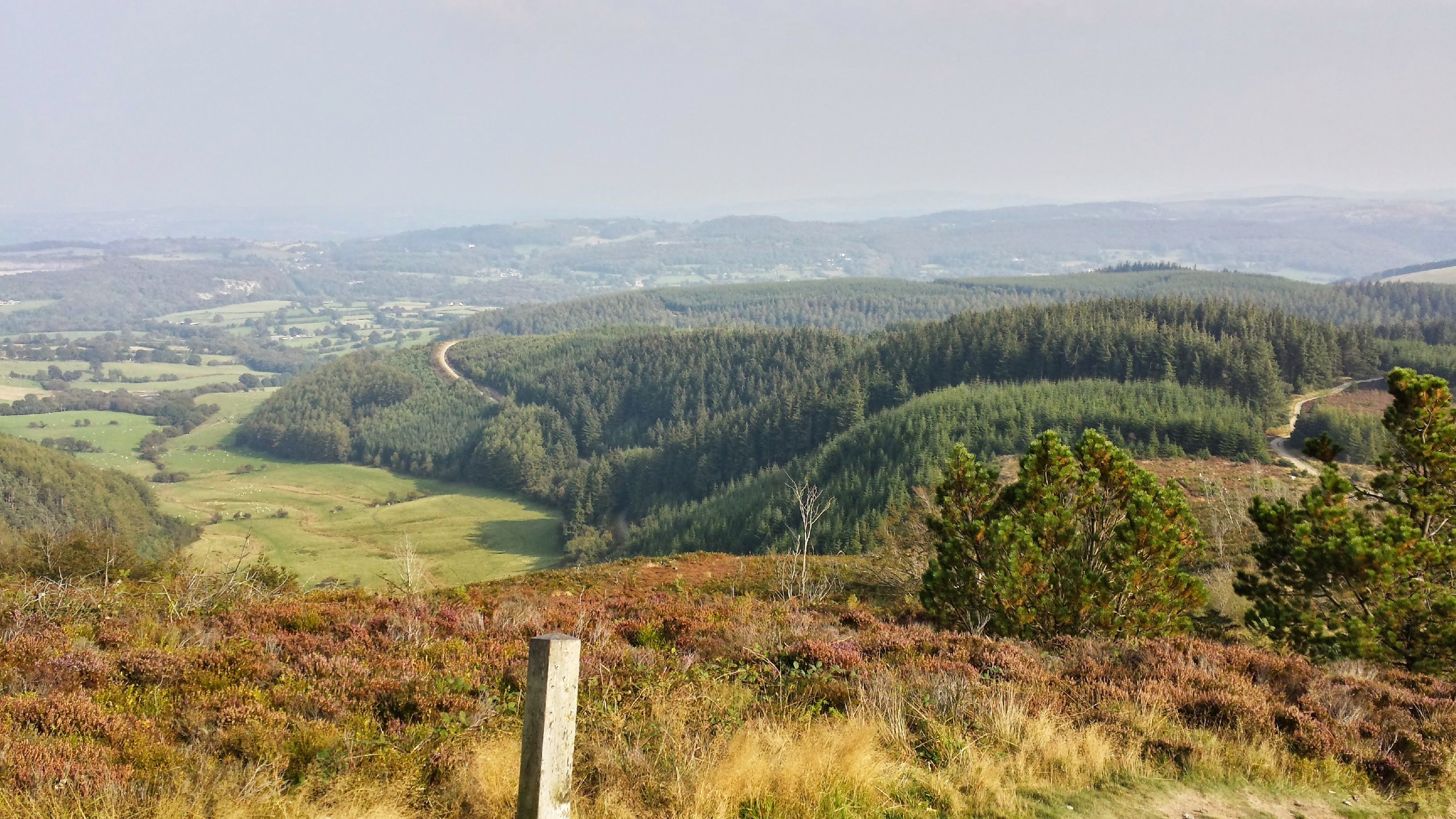 You'll need a car to get here in any reasonable time, and it takes just over an hour from Fallowfield on a good day. The two most popular Moel Famau car parks take you most of the way up the 555 metre hill, and cost £1.50 for the whole day.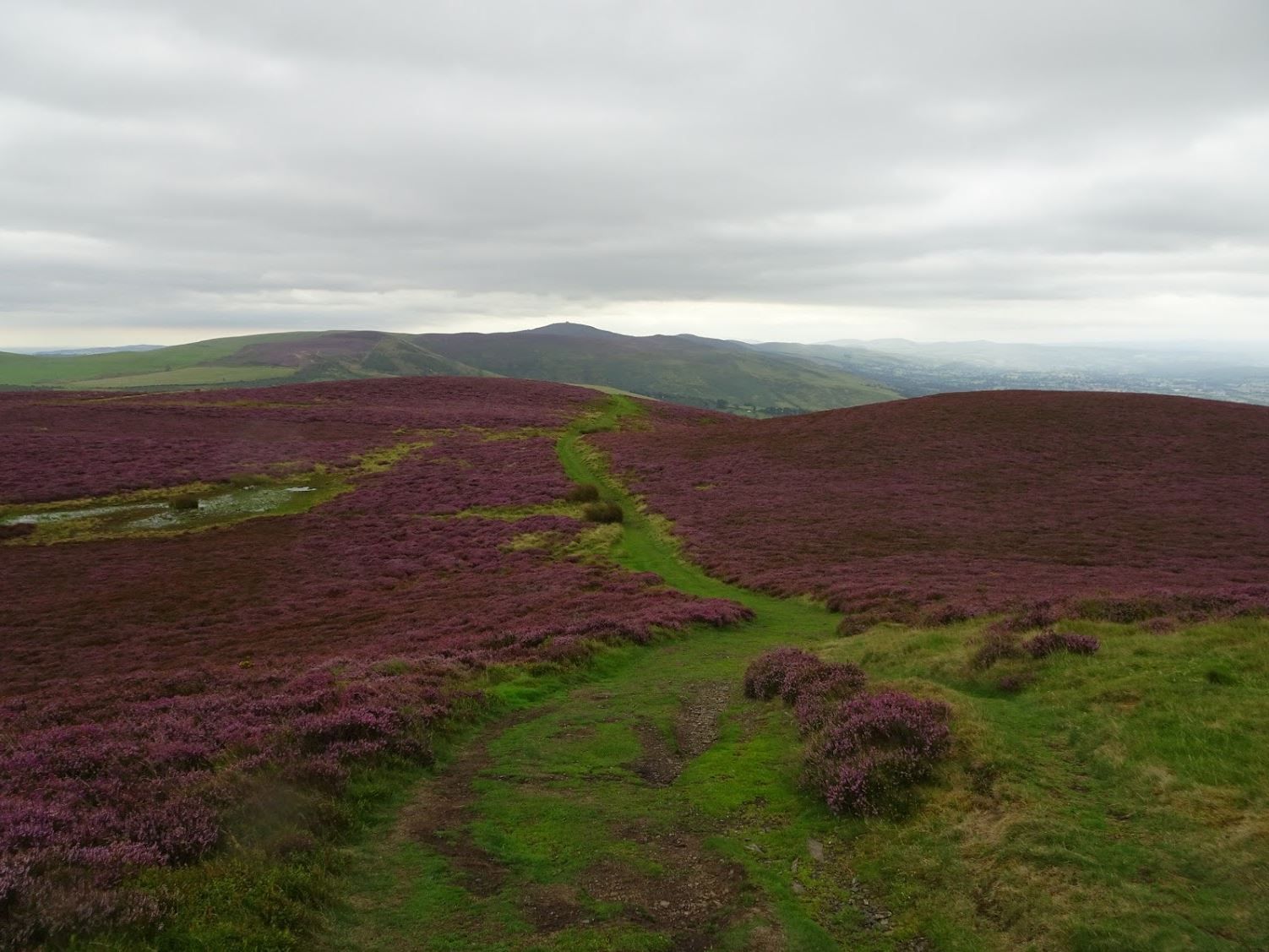 The less popular Clwydian hills nearby, such as Penycloddiau, have free parking. The heather that grows up there means all the hills turn bright purple from September onwards.
You can reach the summit of Moel Famau in about 45 minutes from the top car park at Bwlch Penbarras, or if you park slightly lower down in the forest, you can do a slightly longer circular walk. Head for the summit first through the woods, then back down towards the top car park, where a path runs alongside the lane back down towards your car.
Parkgate
The small town of Parkgate sits beside the River Dee estuary. It's somewhere you go to sit and look out to sea and the Welsh hills with an ice cream.
I think fish and chips then ice cream is probably compulsory on a trip to Parkgate, you can probably spend a nice couple of hours here on a sunny day.
It's just over an hours drive from South Manchester. If you really wanted to, you could get the train to nearby Neston and walk over, but it takes like two hours and costs over £25 each return even with a railcard.
Formby Beach
The first of the beaches on the list, Formby Beach is the headland halfway between Liverpool and Southport. Surrounded by grassy dunes, the beach stretches out for miles.
Barbecues are allowed, so bring a bin bag for your litter, get here early, and spend the day chilling on the beach instead of Platt Fields next time there's a mini-heatwave.
It's about 1 hour 10 minutes drive from Manny, and if you want to park right next to the beach, the National Trust car park is a whopping £6.50 for the whole day. If you can get hold of a National Trust membership card from one of your housemates, you can scan that and park for free.
You can get to Formby on the train in just over an hour and a half, for £8.80 return from Picadilly with a railcard. Alternatively you can get on at Oxford Road and sometimes Deansgate, then change at Southport or Liverpool South Parkway to get to Formby.
Mam Tor
Another one in the Peak District, Mam Tor's summit can be reached in a short 15 minute walk from its car park. From there, you can walk for miles along an impressive ridge in either direction.
Mam Tor offers amazing views across Derbyshire, and you can extend your walk for as long as you fancy along the ridge.
The National Trust car park costs a few quid without a membership card, but there's a small amount of free parking in lay-bys on the winding lane down the other side of the hill.
It's about about 50 minutes drive from Manchester. It's really close to Kinder Scout, so you can get the same £8-ish train to Edale if you don't mind the higher climb from the bottom of the valley.
Talacre Beach
Like Formby, this is another beach surrounded by grassy dunes. This one features a lighthouse, and slightly different views out across the Liverpool Bay.
It'll take you about 1 hour 15 minutes to drive there, where you'll find a selection of static caravans, amusement arcades, and cafes lining the road down to the beach. You might want to stock up on beers and food before you get there. The car park costs a few quid, and there's little other parking about.
It used to have a train station really close to the bridge, but it was closed decades ago. It wasn't even Thatcher's fault either, I checked. You'll need a car for this one.
Llangollen
This Welsh town sits in a lush valley on the River Dee. If you're from the North West and your parents once took you to see Thomas the Tank Engine, you've probably been here before.
Non-Thomas steam trains run every day, and you can spend a great afternoon exploring the Dee Valley on the town's Llangollen Railway.
The river through the town is used daily for white water rafting and kayaking, so if you sit and watch long enough, you'll see someone fall in.
Horseshoe Falls was built to feed water into the Llangollen Canal, where you can take a horse drawn canal boat ride if you don't fancy the steam trains.
The ruins of Castell Dinas Bran overlook the town, and offer brilliant views over the North Wales hills if you can stomach the climb.
Llangollen is about 1 hour 10 minutes from Manchester by car, and there's no train connection other than the scenic steam trains along the valley towards Corwen.
If you can get someone to drive, you'll drive past the iconic Pontcysyllte Aqueduct on the way to the town. It's worth a quick stop for a walk along the aqueduct, if you've got a head for heights, that is.