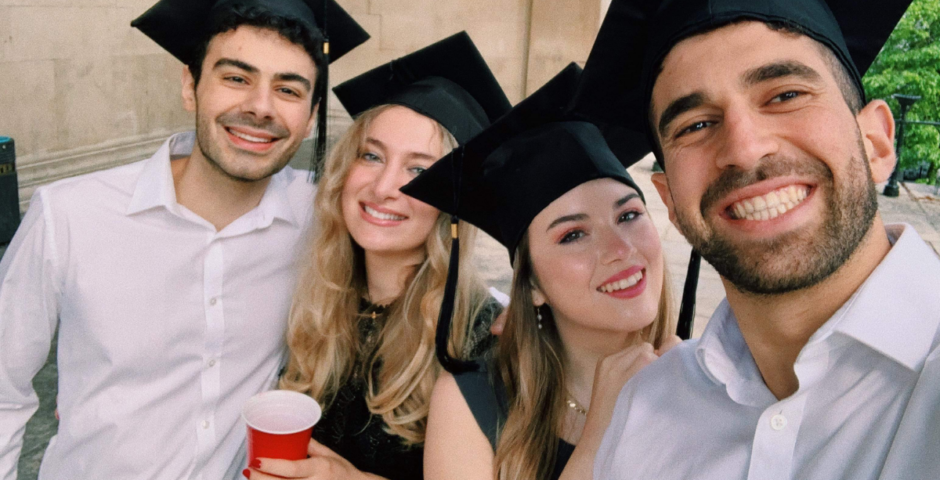 This is how finalists are planning to celebrate their graduation in 2021
Getting drunk is a popular choice
Although the vaccine rollout is going well, and we are slowly returning to "normal" life, some universities such as UCL and LSE have already announced the cancellation of in-person graduation ceremonies this year.
Whilst these cancelled graduation ceremonies will take place virtually, and some finalists may have a delayed in-person ceremony in 2022, students are still understandably disappointed. After having studied for three or four years mostly online, a proper ceremony to signify the start of a new chapter is the least our universities could have done for students.
So with exam season coming to an end, the question still stands: how are finalists celebrating their graduation this year? The Tab spoke to several finalists about their alternative plans.
Buying a gown from Amazon
One UCL finalist said that she will be "buying a cheap graduation outfit off Amazon to take pictures and pretend this year was worth it."
She plans to use a Zoom background featuring UCL to make up for the fact that she will be unable to travel to London. However, there is at least one obvious silver lining: "If anything it'll be a bargain. I hear those ceremonies and graduation robes are expensive."
Hosting a DIY graduation
Danny, a fourth year physicist at UCL, told the Tab that, in addition to celebrating with family, he's thinking of staging his own graduation with friends: "The hope is to do a mini cap and gown things with mates and take a classic picture with my dissertation on the portico steps."
Getting a tattoo
Aside from taking the typical graduation pictures, one modern languages finalist plans to drink loads and "probably get a tattoo of a cat on a skateboard or something."
Although it may seem unconventional, getting a graduation tattoo is a surprisingly popular idea. Another UCL student even said they'd consider getting a tattoo of the BT tower to commemorate their time at UCL.
Drinking…lots and lots of drinking
It goes almost without saying that many finalists are planning to celebrate their graduation by getting absolutely hammered in a bid to forget the sorrows of this past year. Signe, for example, says she wants to go "pub crawling in a cap and gown and not give a damn because we'll be finished, people!"
Going on a road trip
Some friendship groups aren't letting international travel restrictions get in the way of their celebrations. One spoke to the Tab and said they plan to rent a car, split the cost of a few Airbnb's, and take an elaborate road trip around England: "It will be an opportunity to spend time with each other and see more of the country before we sadly have to return to our home countries."
Catching up on several months' worth of video games
However, there are also the students that just aren't that bothered about graduation ceremonies and, after all the burnout from this year, that's totally understandable. Alex, for example, says that he isn't planning anything grandiose for his graduation: "I just want to lie in bed for about a week just listening to music and letting my brain cool down. And then play video games for about two months straight."
Related stories recommended by this writer:
• Nando's announces post-lockdown restaurant party for London students featuring Novelist
• 31 memes that sum up the pain of being a student right now