Where to refuel: a guide for the hungry London student
You wish you'd known about these sooner
Students are strapped for cash and hungry – choosing where to eat is a struggle we can all relate to. As any UCL student will know, it doesn't take long before the novelty of the sandwich choices in Gordon's cafe wears off, but you still keep forgetting to make yourself packed lunches (maybe because eating out of tupperware every single day just isn't an appealing prospect).
Enter my guide to the top ten coolest, and most cost-effective, places to eat in London. A visit to any of these is guaranteed to spice up your lunchtime, as well as giving you a reason to feel smug whilst your friends are munching on their fourth Tesco meal deal of the week.

1. Borough Market – for the artisan food lover. 
The full market runs from Wednesday to Saturday every week. It's a stone's throw away from London Bridge Station, and is definitely the place to go if you're a street food fan. Try out the fantastic Levantine-inspired food at Arabica, a stall selling thick skewers of juicy grilled meat alongside a huge selection of veggie mezze and their famous falafel or chicken shawarma wraps. Ethiopian Flavours is also worth a visit; it specialises in vegetarian food, but the beef and chicken stir fry stews are also worth splashing out on. Everything is served with ingera, a spongy, crepe-like bread that serves as both a platter and a wrap.

2. Bao – for the prolific instagrammer.
This trendy Chinese restaurant produces a dizzying array of buns, and now has branches in both Soho and Fitzrovia. The food is so photogenic that it's almost painful to spoil the effect by eating it. Their signature dishes are a must: try a bun stuffed with tender pork belly or fried chicken, peanut powder, and pickled lettuce. For those feeling adventurous, there's also a sweet option with Horlicks ice cream, and each bun is a steal at £5 or less. Order lots.

3. Brasserie Zédel – for those hungry for a dash of sophistication. 
Whilst possibly more of a dinner spot, Brasserie Zédel is the closest thing that you'll find in London to an (affordable) slice of Paris. It's located in Piccadilly Circus and is a feast for the eyes with its classy marble and gold decor. Choose from a broad menu featuring bistro classics, or treat yourself to the two course meal for just £9.75 per head; you could even sneak in a visit to the cheese trolley and still get away with spending less than £14. This place is a hidden gem – and the cocktail menu is to die for.

4. Gold Hind – for the traditionalist. 
Situated in Marylebone, this efficient little restaurant has been churning out fish and chips (in more forms than you ever thought possible) to its regular clients for decades. It offers fish choices such as cod, halibut, dogfish and skate, and a small cod will set you back just £6; even the addition of chips and the inevitable mushy peas won't force you to break into a tenner. Where better place to go for fish and chip Friday?

5. Herman Ze German – for the sausage enthusiast.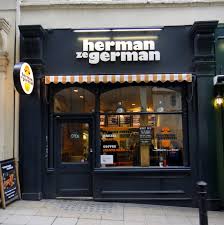 Loved by UCL's German Society, Herman Ze German serves up the best high quality German-sourced sausages, served in proper baguettes (none of those cardboard-like supermarket rolls here). The restaurant is part log cabin, part wet room, with a huge stone sink to wash your hands and rows of wooden benches to perch on. The hotdogs themselves are just £5.95, with fries sitting at just under £3 and extras such as curry ketchup and sauerkraut well worth spending the required 50p for. These are definitely the best wurst in town.

6. Hummus Bros – for the chickpea worshipper.
This is the prime spot in London for any devotee of hummus. Forget the gloopy supermarket version in a plastic tub: this silky smooth hummus is as good as it gets. You have to try the hummus topped with succulent, chunky slow-cooked beef and aubergine stew, which will cost you a mere £5.65 and keep you in a pleasant hummus haze all day long; throw in a salad and a drink for an extra £2.75. Also make sure to drizzle your hummus liberally with the garlic-infused lemon juice on the table – it's a definite game-changer.
7. Island Poke – for the adventurous foodie. 
An up-and-coming spot providing excellent examples of the latest trend for raw fish and rice bowls. The Soho-based restaurant blends Mediterranean salads and vegetables with fusion flavours to produce zingy dishes that will blow your Sainsbury's meal deal out of the water. Kick off your visit with the house ahi bowl: soy marinated tuna, sushi rice, spring onion and pineapple salsa, topped with free sriracha mayo (for that spicy kick). It's the stuff of dreams.

8. Thai Metro – for those with a soft spot for a Thai takeaway.
The self-proclaimed 'best Thai in London' is within walking distance of UCL, situated on Charlotte Street in Bloomsbury. Treat yourself to a generous portion of satay chicken with peanut sauce (£5) or a stash of crunchy spring rolls with sweet chilli sauce (£4.25). It also offers a takeaway and delivery service if you're feeling in need of a quick pick-me-up after a heavy night.

9. VQ Diner – for the authentic diner experience.
This 24-hour diner is ideal for those times when you're craving comfort food, whether it's a midnight munchies affair or a speedy lunchtime dash. Make the most of the 24-hour breakfast, or choose from omelettes, pasta and classics such as steak and chips (or lobster if you've just had pay-day). There's a luscious-looking dessert menu, too, which includes favourites like sticky toffee pudding and bannofee pie. They also offer sky-high burgers (including a veggie one) from £6.95, as well as an array of hotdogs.

10. Manze's Proper Pie and Mash – for the times when only a pie will do. 
'The home of pie 'n' mash'. Need I say more? This family business, established in 1902, is now run by the grandson of the founder, Michele Manze. The closest branches are Tower Bridge Rd. and Peckham High Street, and they serve up freshly made traditional pies (with an inbuilt lake of gravy) alongside piles of creamy mash. There's even a full home delivery service so that you can satisfy your craving for pie without having to leave the comfort of your sofa. What more could you want?