Edinburgh students tell us their biggest first year regrets
Slightly concerned about everyone who said 'applying to Edinburgh'
As we all brace ourselves for another semester of hybrid learning, now's a good time to reflect on our past mistakes. I'm sure for many of us, some of our biggest uni regrets come from first year when we were still settling into university life and didn't know what was to come. From giving your email to every society at the Freshers' fair (including underwater hockey despite your lack of experience or interest), to thinking your hall neighbour would be a friend for life, we all have things that we would change if we could go back in time.
Don't fret, we've all been there. But with a new semester on the horizon it's time to learn from your mistakes, and from other people's too, to make sure this is your best semester yet. We asked over on our Instagram what your biggest first year regrets are, and I'm hoping we can all take something away from from them. And if not, at least they're a bit of a laugh:
'Missed too many tutorials'
A classic. Some friendly advice, I know Ice Wednesdays at Atik are great but they're not worth never showing your face at your Thursday 9am.
'Studying engineering'
As a humanities student I cannot relate, but I express my deepest sympathies.
'Battle with a concrete step versus my face after my last exam'
Ouch, hope you passed!
'Not leaving my room'
One of the hardest things about Freshers' is the horrifying realisation that we have to make a lot of the effort, but it's not as bad as it seems and it's never too late to go door knocking (I did it in Week Three).
'Not getting a Tesco Club Card until October'
A fatal error, get a Club Card ASAP unless you want to find yourself in your overdraft.
'Split condom'
I have no words, hope it all turned out okay.
'Not asking out the girl I like'
Maybe write her an Edi love letter?
'Being so hung up on my ex'
A great example of a regret that others can learn from.
'Not clubbing enough'
I just know this regret must sting more with restrictions, but once they lift nothing can stop you (besides queues and the harsh reality that you are not in first year thereby do not have a first year workload).
'Probably joining Uni of Edinburgh'
Well I guess you never know until you try it.
'Sometimes not even seeing daylight'
A messed up sleep schedule is acceptable in first year, just make sure you get round to fixing it because there will come a time when Subway Tuesdays are not the only thing you have to get up for.
'Not joining any societies. I joined one in fourth year and had the BEST time with the best people'
Honestly very good advice, there are plenty of great societies and it is never too late to join one, like The Tab for example…
'My eyebrow slit'
Hair grows back, don't worry.
'Twins'
Not really much context given on this one…
'Going to WhyNot too many times'
I know I don't have much backing on this, but Hive is criminally underrated.
'Getting a mullet'
As I said about the eyebrow slit, hair grows back. However, this one is far more embarrassing, so please learn from this mistake.
'Glandular fever'
At least it wasn't meningitis?
'Not knowing how DiscoverED even fucking worked until second semester'
A brave confession that I am sure many people can relate to.
'Thinking first year mattered'
Maybe not the motivation first years need, but nonetheless a comforting truth that first year does literally not matter or count towards your degree.
'Ending it with a pandemic'
Not much you could have done to prevent this, so don't beat yourself up.
'The WhyNot Halloween queue'
Standing in the artic conditions of Edinburgh in October, in a skimpy Halloween costume with minimal warmth because 1. you are not ruining this Halloween costume with a North Face and 2. you are not paying for coat check, should be considered an Olympic sport.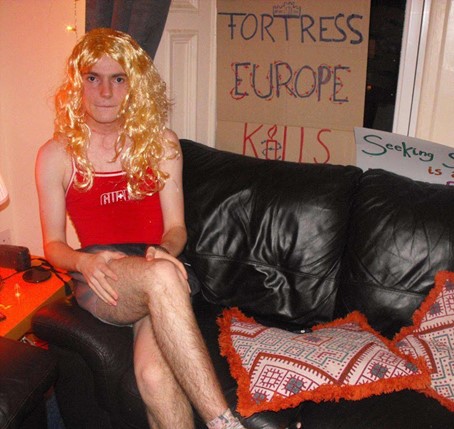 'Not prioritising uni work'
Many fall victim to this, yes it doesn't count but don't forget you need to pass.
'Caring too much about uni work – you should go out every night of the week instead!'
In stark contrast to the previous.
'Focusing too much on a single group of friends'
As well as prioritising passing first year, make sure you branch out with your friendships.
'Being in Pollock'
Chancellor's court smoking area, flares and JMCC hash browns are not for everyone, make sure you do your research on accommodation thoroughly.
'Gap year'
Not everyone can have a joyful gap yah experience.
'Meeting and being friends with a load of pricks'
I guess the takeaway here is avoid the pricks.
'Not going to the library drunk'
Personally haven't tried it but I can't deny it sounds fun.
'Signing up for a second year flat with the people I was living with in first year'
A valuable life lesson, be picky about who you live with.
'Sleeping with my best friend'
This advice also applies to flatmates, say no to flatcest this semester.
'None'
As it should be, after all, first year doesn't count.
Recommended related articles by this writer:
• A guide to motivating yourself for Semester Two
• Here are seven songs to put on your motivational playlist, just in time for Semester Two
• Edi students share what their 2022 New Year's resolutions are