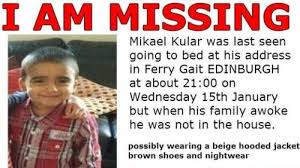 Lost Mikaeel's Body Found and Mother Detained
Tragic news comes that body of the three-year-old Mikaeel Kular, has "strongly believed" to be found in Fife. His mother, named as Rosdeep, has been held in connection.
After two days of searching, Police have announced that tragically, the body of three-year-old Mikaeel Kular was found last night in Fife.
Mikaeel went missing from his home on Wednesday evening, after being put to bed by his mother at 9pm.
The police said the body had been found just before midnight and, although not confirmed, they announced, "we strongly believe this to be the body of Mikaeel".
The news comes after two days of searching and the locals were commended on their solidarity with hundreds gathering to assist in Friday's search and an even greater number to join to search today which has now been called off.
The police have made an arrest in connection with Mikaeel's death and sources at Sky claim that the arrest was the boy's mother, Rosdeep.