The Tab Durham Reviews: Sense
Will it ever replace the gaping hole opened up by the loss of Wok Next?
food
Review
Over Easter, the go-to drunk noodle stop, Wok Next, closed down. In its place opened Sense.
While there are many Asian restaurants in Durham, they mostly serve Thai-style and pan-Asian food, and for a Chinese, we're mostly dependent on the classic English-Chinese takeout. Sense has opened to corner that gap in the market, and bring authentic, delicious Chinese food to Durham.
The food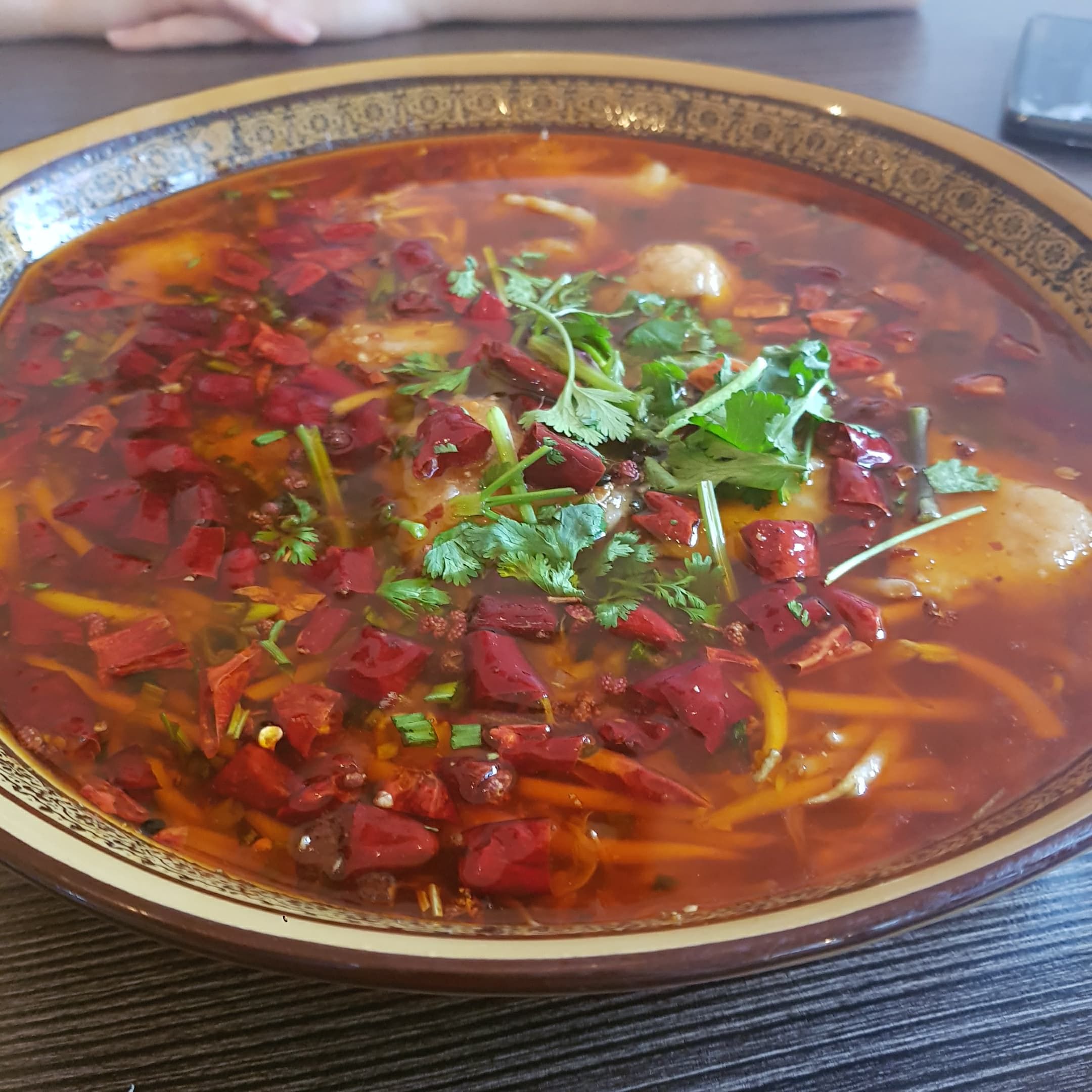 The food is honestly pretty glorious. Not only is this definitely the best Chinese food I've had in Durham, but it is also probably some of the best Chinese food I've had in the UK. Even in top London restaurants it is hard to find 'authentic' Chinese food, and while this does not reflect the fully regional cooking you would find in China, this is a far cry from English expectations of Chinese food that are totally informed by your local takeaway.
The fish dish above was a generous portion of fillets of white fish cooked in a spicy Sichuan pepper broth, full of beansprouts, and with fresh notes of coriander.
As this was on the Chinese menu (not the English one), I can't tell you what kind of fish it was, only that it was intensely flavourful, and I could not stop eating it. It is quite spicy, in a numbing-the-back-of-your-throat way, but it is definitely a manageable level of heat, and is well tempered by the side of plain rice.
The other dish we ordered was from the English menu, Tie Ban Niu Liu; basically a piping hot dish of stir-fried beef, with green peppers, onions, and garlic. This came out sizzling, to the point that my camera fogged up from the steam. Though a simple dish, it had a great depth of flavour, with some sweetness from the sticky sauce, and as someone who rarely eats onions, I could not stop eating these, trying to get more and more of the dish's flavour.
The beef was nicely cooked, with a little chew, and some smaller bits had become crunchy and caramelised. This dish was not as spectacular as the fish, but still very yummy, and maybe an easier dish for those less familiar with Asian cuisine.
The restaurant
One thing to note about Sense is that I have only ever seen it full. When I arrived at 7:30 on a Tuesday night, all the tables were busy, and we had to contend with a 25-minute wait.
On the bright side, they do take reservations, and stay open later than the 8pm closing time that they advertise, for tables seated before 8. Plus they take reservations! So I'd highly recommend calling before turning up.
The restaurant has only been open since 6 April, and it is definitely still in its development phase. Having chatted with one of the co-owners, he pointed out the parts of the room that are still under renovation, but honestly it didn't affect the experience at all, as the room is light and airy, and the decor is comfortable despite being minimal (asides from a collection of cheery bonsai trees behind the counter).
In terms of the menu, my friend and I were visiting on the final day of their temporary English menu (pictured above), which was far smaller than their Chinese menu. Having said that they were very helpful when it came to ordering, and recommended the fish dish from their Chinese menu, which we otherwise wouldn't have known of. They recommend getting a dish per person and sharing amongst the table, with a side of plain rice, so that was what we did, and the portion size worked well.
Overall experience
I'm not kidding when I say this is my new favourite – the food is fabulous, the decor is simple but has nice ambience, and the prices are right (£26 for two of us – expensive for lunch, but about right for dinner, considering the portion size and the quality).
The one real issue you might have is if you are vegetarian, but apparently the new English menu has tofu options, so this might be a null point as well. Also, they currently only take cash.
So final thoughts, give this place a try. But remember to make a reservation if you want even half a chance of a table at Durham's new hottest eat.
The Tab Durham's Restaurant Rating
Food: 10/10
Restaurant: 8/10
Value: 7/10
Iz Tarsh is The Tab Durham's new Food Editor.