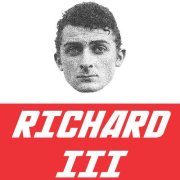 Richard III
CHLOE COLEMAN and MAGGIE BRIDGE recommend a Richard III who both compels and unnerves.
chloe coleman
free
judith e wilson drama studio
maggie bridge
richard iii
Shakespeare
Theatre
tristram fane saunders
Judith E Wilson Drama Studio, 8pm, Thursday 18th- Saturday 20th October, admission free. 
A word of warning. If you're not a fan of awkward eye contact, this is not the play for you. In the  intimate setting of the Judith E. Wilson drama studio, there's nowhere to hide from the crazed eyes of Fane-Saunders' Richard III, and from the outset he stares us down, commanding our attention.
A lack of detailed knowledge of the plot can, where Shakespearean histories are concerned, be a disadvantage. But not so here – this Richard III is surprisingly easy to follow. The play is well-paced, speeding from one execution to the next without beginning to feel too much like a gore-fest, and ensuring the audience remain as intent as the actors.
Richard III is a big role, and the audience knows it. As the lights went down, we willed the actor to rise to the challenge and, happily, Fane-Saunders delivered the famous opening speech with both skill and self-assurance. After this, the audience palpably relaxed – it was clear that we were going to be in safe hands (or, in this case, hand).
As the play progresses, the performance goes from strength to strength as he successfully cultivates an unnerving combination of schoolboy petulance and megalomania that is very compelling. Most pleasing of all, the quality of performance is sustained throughout and manages to steer clear of hyperbole.
The rest of the cast doesn't disappoint either, with each of the Players delivering a strong performance. Our standouts were Adam Kirton as the Duke of Buckingham, whose delivery is both natural and engaging, and Laura Gilbert's "painted queen" – a character who is reminiscent of a mascara-streaked girl after a bad night at Cindies, but also entirely moving. Amy Howlett and Sophie Williams should also be commended for their darkly entertaining performances as Clarence's murderers, which perhaps did not quite get the laughs they deserved.
Our only point of complaint was the decision to transpose Shakespeare's work to a setting of post-communist Russia. Despite the emphasis on it in the play's billing, we found the interpretation lacked commitment; aside from Boris Yeltsin's looming presence at the back of the stage and a slightly bizarre Cossack dance/club scene, the concept was not fully explored, making it feel like a try-hard afterthought.  Overall though, this is a really distinguished performance. With admission free, there's absolutely no reason to miss it.