Dear Freshers, here are 10 places you must visit when Bristol is out of lockdown
The fact that freshers have never been to the Cori Tap is heartbreaking to be honest
As a second-year student, I have experienced the crazy nights out and exciting activities around Bristol but, with lockdown, freshers just haven't had the same opportunity.
Lots of first years out there don't know what places are musts for students so, with that in mind, I have compiled a list of ten places you must go in Bristol when lockdown is over which are both classic student spaces and new places to try.
Starting strong with the Cori Tap, this pub is infamous for its 10 before 10 challenge where the goal is to drink 10 half-pints of their infamous 8.4%  exhibition cider. This challenge will get you pissed so don't expect to be able to get up in the morning.
The pub itself is also great. It's a small little pub located in Clifton Village that is packed with students no matter the night. You can't pass up on going to the Cori Tap as a Bristol student.
This is without a doubt the best place to go in Bristol if you're a chocolate lover. With vegan options and almost any chocolate dessert or drink you could possibly need, this cafe is a must. Located on Park Street, takeaway is currently available but there's something nice about sitting in there drinking a hot chocolate that just hits different.
3. The WG Grace and Berkeley Spoons
While there are a few more Wetherspoons in Bristol, these two are the most popular with Bristol Uni students. Pre-lockdown, it was impossible to see these two pubs not full after 9 pm. We all love a classic cheap Spoons but if you haven't been to these two at least once during the week, you're not a true Bristol student.
Not every aspect of Bristol student life is purely about drinking or going out. A great place to go to get some exercise while also having a fun time with friends is Freedog Trampoline Park in Temple Meads. While there are a few other trampoline parks around Bristol, this one is the most central and easily accessible for most Bristol Uni students and is bound to help you let out some steam after a long week of uni.
Two words: Beer and Pizza. Sold yet? The Left Handed Giant sits just across from Castle Park in Cabot and it is an insanely cool vibe, especially in the summer. Specialising in craft beers, this open plan Brewpub is essentially a warehouse with a big hole in the wall and a view of the river. Not usually a go-to pub for students because it's a little far from our regular spots, but it's definitely worth it. They have had a little revamp over lockdown too, so make sure to check it out.
6. Jason Donervan
While freshers may have heard of Taka Taka or other classic post-night out food venues, Jason Donervan remains a mystery to them. They haven't experienced stumbling out of sport's night and heading to Donervans to get a kebab or chips and eating it while waiting for the U1 to take you back to Stoke Bishop. It's a rite of passage for every Stoke Bishop student.
While I am unsure as to when our favourite bossman will be back in his spot next to Beacon House, as soon as you spot him make sure you check it out.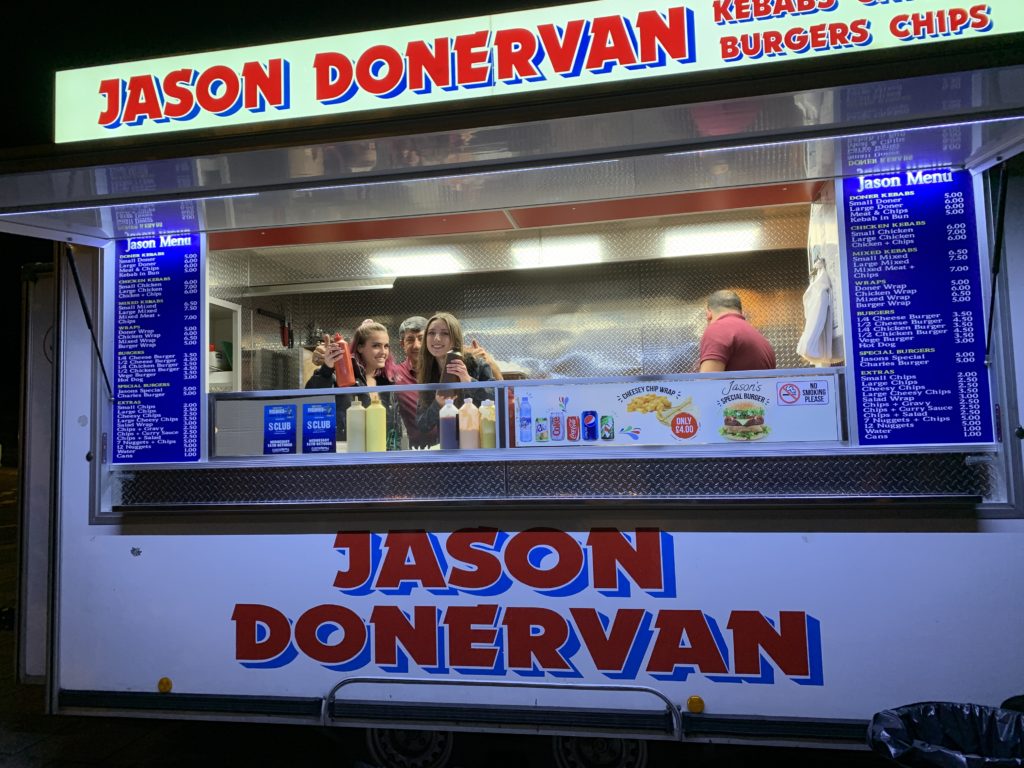 Similar to the Cori Tap, this cider-focused bar also has an infamous 8.4% cider only served in half-pints. However, located on a boat at the Harbourside, this bar has an entirely different feel. With a massive outdoor seating area and the option to sit on the boat itself, there is no better place to spend a Friday afternoon on a sunny day.
8. The Triangle Clubs
The hub for Bristol Uni student clubs is most definitely the Triangle. These include Mbargo, Gravity, Lizard Lounge and the Brass Pig. While other clubs are students faves as well, the clubs on the Triangle are just a world of their own that you cannot pass up.
9. A night out in Stokes Croft
Sometimes you need a change of scenery and to move away from the club tunes of the Triangle, which is where Stokes Croft comes in handy. Definitely more of an edgy location for Bristol students who want techno and DnB on a weeknight, but don't want to shell out £30 for a ticket to Motion. The crowd is usually a bit older, but it's very popular and hosts some great venues like The Love Inn, Crofters Rights and The Canteen (which does live music!).
Located in Cabot Circus, this indoor mini-golf is a blast to go to with friends or to take family when they are allowed to come and visit you. It's jungle-themed (as the name suggests) and is a great way to spend your afternoon playing some games and not thinking about uni work. They also sell drinks to make your mini golf skills 10X better.
Related stories recommended by this writer:
• Take this quiz and we'll tell you which Bristol club you should visit on June 21st
• ATTENTION FRESHERS: This is a guide to all the classic Bristol clubs for June 21st
• Bristol Uni students are being invited for their first Covid vaccine