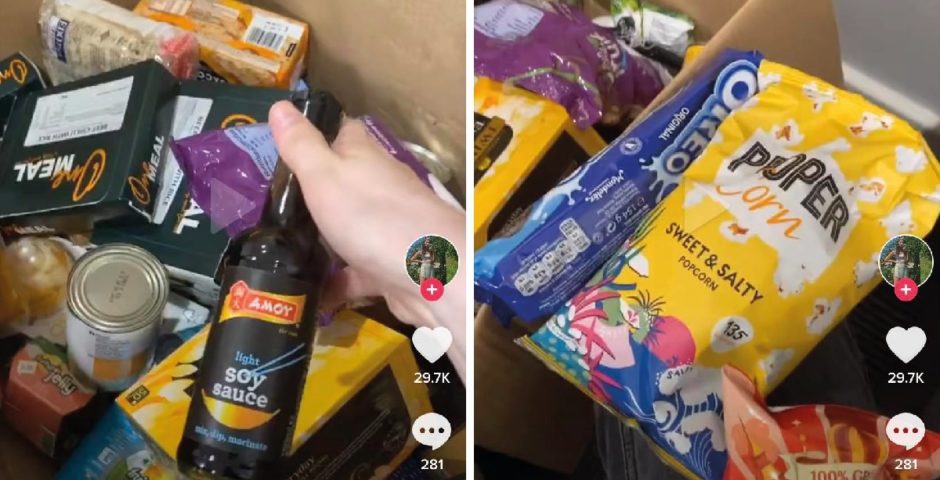 UoB freshers are being given incredibly posh food boxes full of soy sauce and Propercorn
Obviously no Bristol fresher could survive without passata
Bristol University is providing boxes of free food to students isolating and honestly, they're pretty boujee.
While other unis are charging freshers over the odds for boxes of apples and Pot Noodles, Bristol freshers are being treated to Oreos, soy sauce, Propercorn, and passata.
One "standard box" costs the university over £50 per week, while one "vegan box" costs the uni £60 per week. Who knew vegetables were so expensive.
The food boxes are meant to last a week. The first box is delivered within 12 hours and the second is delivered on day seven of the isolation.
The university is planning to deliver free food in halls for the foreseeable future.
From the video, the boxes contain at least the following: man n cheese tins, raisins, pasta, soya sauce, custard, soya milk, Jacob's crackers, pasta, fruit and jelly, beef chilli ready meals, Walker's crisps, cereal, Lyons instant coffee, and own brand baked beans.
Sophia Lees, a Film and TV fresher currently isolating in Hiatt Baker, published a viral video on TikTok showing all the food her flat that was sent by Bristol. "Asparagus in a tin is probably the strangest food I received," she told The Bristol Tab, although gave a positive review to the rest.
Teegan, studying Computer Science is isolating in The Courtrooms, told The Bristol Tab: "We got a box each and when we opened it, it was like Christmas. Oreos, long-lasting stuff. There's some stuff in there we can't eat so we're donating that to the homeless".
A university spokesperson said: "Back in late July we started discussions with our supplier to produce an emergency quarantine pack that is nutritionally sustainable, has a long shelf life and is transportable.
"Many universities have taken on the format that we put together and we are glad to hear that the quarantine box that originated for Bristol students is now being supplied across the University sector."