Speaker at UoB Tory event says, 'most Muslims are trained to hate Israel'
Colonel Kemp didn't hold back, protestors chanted outside, and allegations of racism flew from both sides
A speaker at a UoB Tory event last night said "most muslims are trained to hate Israel", as the controversial talk went ahead amid protests.
Former Colonel, Richard Kemp made the comments at the BUCA event, which had faced calls for its cancellation from the BME Network.
Outside the event at the Wills Memorial Building, protestors told The Bristol Tab they felt "marginalised," and accusations of racism were dismissed by both sides.
Featuring speeches from a former British Colonel, Richard Kemp, and a former Israeli General, Yossi Kuperwasser, the event was centred around the U.K.'s relationship with Israel.
Much of the discussion however, drifted towards the topics of Palestine and Islam.
Colonel Kemp said, "Most Muslims in the world are trained to hate Israel."
He also added that despite there being an investigation conducted by the International Criminal Court (ICC) into the Israel Defence Forces (IDF) for war crimes in Gaza, there is "no truth" in these claims.
General Kuperwasser said: "We have nothing against the Palestinians. We want them to have the best of lives."
He also called for the Palestinian Government to "stop paying salaries to terrorists."
However, many who protested the event were upset that it had been sanctioned by the uni and the SU.
Just this week, Education Secraratry Gavin Williamson urged unis to do more to uphold freedom of speech.
One protesting student, who requested to remain anonymous due to fears around her own safety said: "I'm here as a Palestinian student to protest against hate speech that is being said by the Israeli General, who served in the army, who participated in doing all these horrible things to my family back home."
"The university did not even consider all the Palestinian students who are on campus, who are constantly being hurt and discriminated against back home, when they accepted having such a person who committed a lot of war crimes against my family and many others."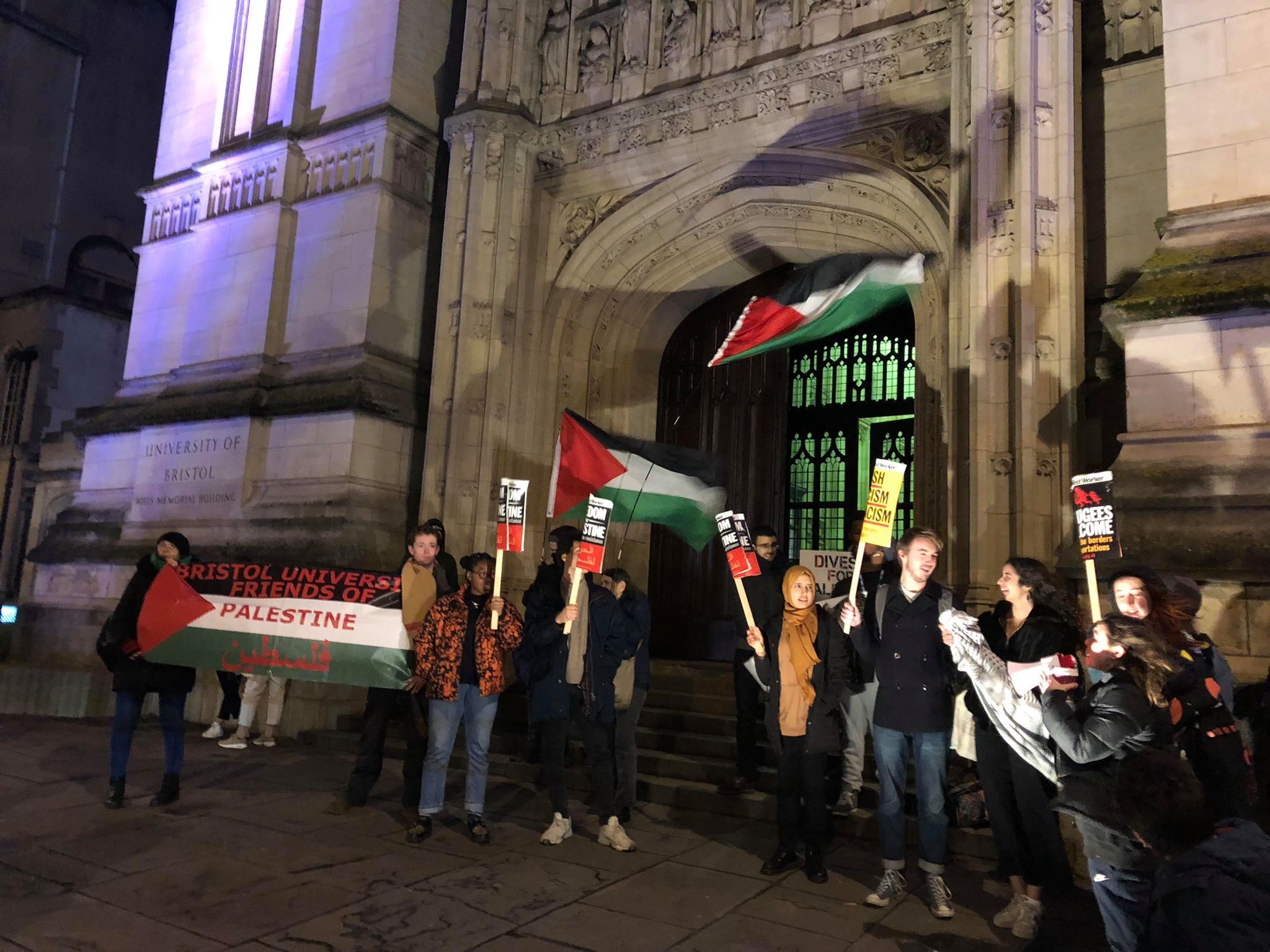 She spoke of family members who were made political prisoners without any convictions or charges, including her uncle who was held in jail for 5 years with no charges.
Khadija Meghwari, a 3rd Year medic, also protested the event, telling The Bristol Tab that both speakers "have said things like Islam is never a religion of peace.
"That in itself shuts down any kind of dialogue and makes muslims automatically feel alienated.
"Events such as this make us feel like we are being deliberately marginalised and not made to feel welcome and that are concerns aren't addressed."
Following the talk we asked Kemp and Kuperwasser what they thought about the protests outside.
Kemp said: "People like the people outside who are supporting and encouraging resistance as they call it, terrorism, violence against the Jewish State.
"If they were not to do that, if that support was diminished, then we could see different people ruling them in Gaza and the West Bank and therefore see their lot improved."
Kemp also added: "I was not only accused of being a racist, I was also accused of supporting genocide."
"The Israelis are the most incompetent "genocidists" the world's ever seen because the population in those places has shot up.
"It'd be even higher if the leadership there wasn't torturing, murdering and oppressing them and getting them to live the most miserable lives."
Some, including Kemp have also been keen to suggest that some actions taken in the protest were in fact, racist.
Kemp said, "Those people who are chanting "let Palestine be free, from the river to the see.
"They're the racists. They're the ones that want the annihilation of people like General Kuperwasser and other Jews in that area."