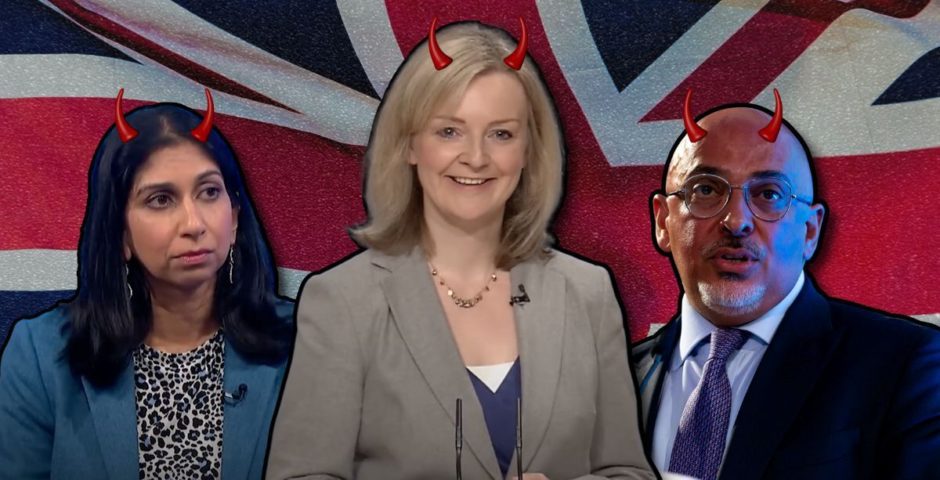 Here they come! Every vile opinion from our new cabinet
Some of them have consistently voted against abortion and same-sex marriage
Yesterday, the recently-appointed prime minister of the United Kingdom, Liz Truss, announced her new cabinet. For the first time, none of the "great offices of state" are held by a white man with Suella Braverman as home secretary, Kwasi Kwarteng as chancellor and James Cleverly as foreign secretary.
However, the outlook is still grim with some high-ranking cabinet ministers consistently voting against LGBTQ+ rights and human rights more generally. Truss' new cabinet has even been dubbed "the most right-wing cabinet for a generation." So, here are all the rancid opinions of the UK's new cabinet ministers and all the dodgy things they've voted for:
Liz Truss
Although new prime minister Truss has always been in favour of gay rights, she has consistently shown her anti-trans position. When asked whether trans women are women at a hustings event, Truss said "no". She also suggested trans women should not be able to access spaces such as domestic violence shelters or hospital wards.
The new prime minister also failed to ban conversion therapy in any way despite numerous promises to do so during her time as minister for women and equalities and foreign secretary. Truss has also generally voted against measures that would help tackle climate change and almost always voted for stronger enforcement of immigration rules and a stricter asylum system.
Thérèse Coffey
Thérèse Coffey, former work and pensions secretary under Boris Johnson, was appointed deputy prime minister and health secretary yesterday. Coffey voted against same-sex marriage in 2013 and in 2020 she confirmed that she hadn't changed her stance at all. She was also part of a group of MPs who urged the House of Lords to block same-sex marriage after the House of Commons voted in its favour.
Coffey is also anti-abortion. Following the US Supreme Court's decision to overturn Roe v Wade, Coffey said she would "prefer that women didn't have abortions". Abortion charities have expressed deep concern over Coffey's views and have accused her of putting "her personal beliefs above expert clinical guidance." She also recently voted against making at-home abortion pills permanently available in England and Wales.
Suella Braverman
Having run for the Tory leadership herself on the basis that Britain needs to "get rid of all this woke rubbish", Suella Braverman has replaced Priti Patel as home secretary. A big fan of Brexit, Braverman has had one of the biggest promotions in the cabinet, previously holding the position of attorney general.
Braverman is another MP who has consistently voted against LGBTQ+ rights and is very critical of trans rights. She said: "Schools should not indoctrinate pupils with controversial gender views" and that "teachers who allow students to socially transition without parent's permission could be in breach of their duty of care." She also claimed it was "lawful" for schools to deadname and misgender trans pupils as well as deny them access to certain sports and certain toilets. Braverman has also spoken about how the only way the UK can solve its "immigration problem" is by leaving the European Court of Human Rights and suggested this was a "national priority".
Kwasi Kwarteng
The UK's new chancellor is a close ally and friend of Liz Truss. He has replaced Nadhim Zahawi who took the role after Rishi Sunak resigned in July. Kwarteng believes there are too many people on benefits in the UK and has consistently voted for a reduction in spending on welfare benefits.
Like so many of his colleagues, the new chancellor has voted against same-sex marriage; however, he has been absent from votes on the subject since 2013, and it is not known whether his views have since changed. In response to the allegations of widespread sexism in parliament, Kwarteng said: "I don't think there is a culture of misogyny" and claimed it was down to a small number of "bad apples" and not an issue with "male entitlement."
James Cleverly
James Cleverly has become foreign secretary, taking over the role from new prime minister, Liz Truss. He previously held the role of education secretary and was a minister in the foreign office. Cleverly has abstained from voting on LGBTQ+ rights but has generally voted against laws to promote equality and human rights. In 2016, Cleverly also voted against the proposed Labour amendment to the Social Housing Bill which sought to make it a legal requirement for landlords to make rented houses habitable and fit to live in.
Ben Wallace
After entering the leadership contest for prime minister himself, Ben Wallace continues as defence secretary, a post he has held since 2019. Ben Wallace has consistently voted against gay rights. His voting record reveals that he doesn't believe gay people should be able to marry. He also generally votes against measures to tackle climate change and has consistently voted for stricter enforcement of immigration rules and a stricter asylum system.
Nadhim Zahawi
Former chancellor Nadhim Zahawi has been appointed equalities minister and chancellor of the duchy of Lancaster. Despite generally voting for equal gay rights, Zahawi has spoken of introducing a new section 28, banning the promotion of homosexuality in schools. He said he wanted to focus on "letting children be children, protecting them from damaging and inappropriate nonsense being forced on them by radical activists." Zahawi has also generally voted against measures to prevent climate change as well as laws to promote equality and human rights.
For more politics and current affairs follow Agenda on Twitter.
Related stories recommended by this writer:
• Just all the times Liz Truss has outed herself as the UK's biggest Taylor Swift fan
• Just all the downright tone deaf things Tory MPs have said about the cost of living crisis
• Liz Truss slammed for university policy that could see the start of term moved to January