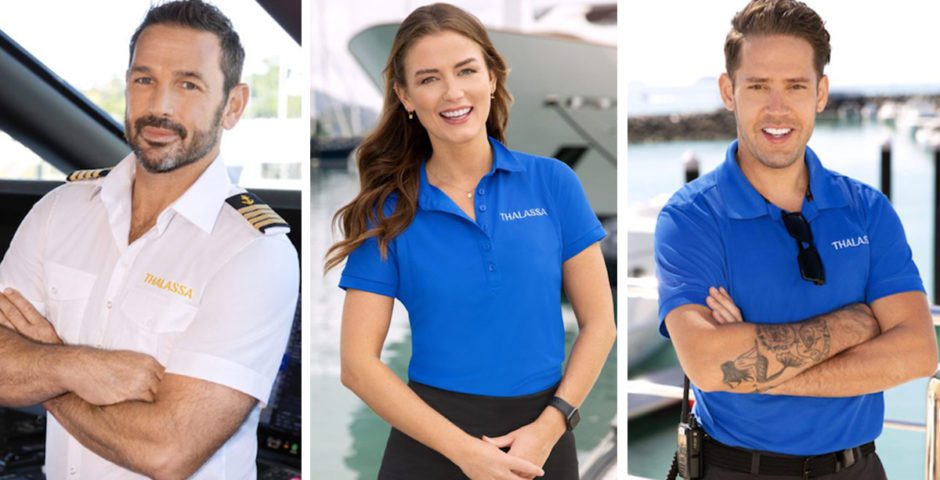 Meet the cast of the brand new series Below Deck Down Under
Another Below Deck franchise? Sign me up
There is no such thing as too much Below Deck, so thankfully the TV gods have decided to bless us all with a new Below Deck franchise and this time we're heading to Australia – get ready for Below Deck Down Under. This new series features a diverse cast, picky guests and of course plenty of crew drama.
Below Deck Down Under drops on Hayu in the UK on 18th March with three episodes of the new season at once. The series takes place in the north-eastern coast of Australia where the charter guests explore the Whitsunday Islands and the Great Barrier Reef.
This season's cast features the youngest captain of any Below Deck franchise and the return of Aesha Scott from Below Deck Mediterranean and this time she's back as the Chief Stew.
Meet the full cast of Below Deck Down Under:
Jason Chambers
Steering the ship and the show is captain Jason Chambers. Jason is from Australia and is mates with Below Deck Med's Hannah Ferrier.
He has over 20 years experience and takes his role as a captain seriously as well as loving adventure.
Jason appears to live in the Philippines when he's not working and has a young daughter.
Aesha Scott
Below Deck Med's second stew Aesha Scott is back and this time she's the chief stew.
Aesha is originally from New Zealand and is 30 years old. She began her career in yachting as a deckhand before moving into the interior and she has over five years experience.
Aesha has over 400,000 followers on Instagram and is currently in a relationship with a guy called Scotty Dobson.
Ryan McKeown
Ryan McKeown joins the Below Deck Down Under cast as the resident chef. Ryan grew up in Philadelphia and has worked as a chef in restaurants as well as on yachts.
He went to university at Penn State and graduated in 2007 with a degree in hotel, restaurant and institutional management.
Ryan has just under 3,000 Instagram followers and he mainly posts photos of food.
Tumi Mhlongo
Tumi is the second stew in Below Deck Down Under. Tumi is from South Africa and she's 27 years old and currently single.
She got her first job on a yacht after posting pictures of her tablescapes on Instagram. See being on your phone all the time has its benefits.
Tumi has a degree in Design and Visual Communications and before working in yachting she was working in social media marketing.
Magda Ziomek
And the role of third stew goes to Magda Ziomek who is a model from Poland. She began her career in yachting after falling in love with a captain.
Magda is currently in Mexico City where she is signed to a modelling agency. She loves to surf and has over 6,000 followers on Instagram.
Jamie Sayed
The bosun on board ship is Australian Jamie Sayed. This is Jamie's first time being a bosun as he used to work as police officer.
Though he's from Australia Jamie is currently living in Palm Beach, Florida. He's written an e-book about how to get into yachting that he's selling for $17.
Jamie also hosts a weekly podcast called "Wake Up With Jamie" where he speaks to people about their life stories.
Culver Bradbury
Culver is one of the deckhands on this charter season and he's originally from Maryland in the US but now lives in Florida.
He's already on Cameo and selling videos for £11. Culver went to Jacksonville University where he studied Applied Science and Exercise Science.
Whilst at university Culver was on the men's lacrosse team.
Brittini Burton
It's always good to have a female deckhand and in Below Deck Down Under we have Brittini. Brittini is from Michigan and began her yachting career in the interior before moving to working on deck. It's as if she and Aesha have switched places.
Like her bosun Brittini also has a podcast and hers is called "Holy Sh*t Brit" and is about her sexual empowerment journey.
Before her career in yachting Brittini studied at Michigan State University.
Ben Crawley
The final member of the Below Deck Down Under cast is deckhand Ben Crawley.
Ben is Australian and is currently dealing with the loss of both his parents. He's very spiritual, is quite quiet and has gone through the yachting industry quickly.
Below Deck Down Under is available to watch in the UK exclusively on Hayu. 
Related stories recommended by this writer:
•What's the biggest ever tip there's been on Below Deck?
•Below Deck: Who is Chef Ben and where is he now?