In pictures: Protestors gather outside Molly-Mae's PrettyLittleThing fashion show
'Gorgeous gorgeous girls hate sweatshops'
Last night a group of protestors gathered outside the PrettyLittleThing and Molly-Mae fashion show in London. The protest was co-led by ex-Love Islander Brett Staniland, fair fashion campaigner Venetia La Manna and Mayisha from  Oh So Ethical on Instagram. Venetia exclusively told The Tab they decided to stage a protest because of the wealth PLT has amassed exploiting its staff. Venetia said: "PLT is a highly exploitative brand that doesn't pay its workers support unions and that doesn't care about the planet."
Since last night's events, a spokesperson from PLT has said: "Any suggestion that the people making clothes for PLT or any other boohoo group PLC brand are paid lower than the minimum wage is grossly inaccurate.
"We operate a whistleblowing hotline so people can share any concerns they may have and we work with relevant government agencies to ensure the people who make our clothes have their rights in the workplace protected."
Here's everything that took place at last night's protest, in pictures:
1. 'Leicester garment maker £3.50 per hour'
2. 'Stop blocking unions'
3. 'There's nothing pretty about wage theft'
4. Brett from the most recent Love Island season was present
5. 'PLT's hottest looks for 2022'
6. The banner says 'Against sweatshops'

7. 'Pretty Little Thieves'
8. 'Gorgeous gorgeous girls hate sweatshops'
9. 'Wildfires', 'Rising sea levels' and 'burning landfills'
10. A group of the protestors outside the event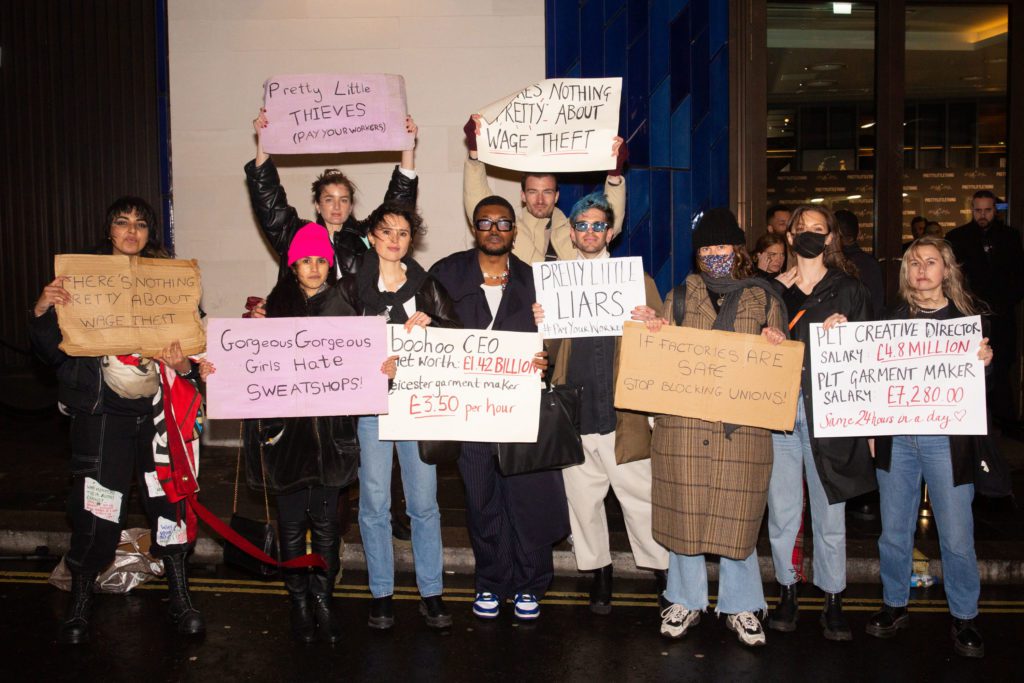 11. Venetia and other protestors standing outside of a PLT taxi
12. 'Boohoo CEO networth: £1.42 billion'
Photos courtesy of @hollyfalconer on Instagram.
Related stories recommended by this writer:
• 'PLT doesn't care about the planet': Protestors on being at Molly-Mae's show last night
• Molly-Mae says she works 9am-10pm for PrettyLittleThing and work 'doesn't stop'
• Becoming Molly-Mae: Everything we know so far about Molly-Mae's autobiography