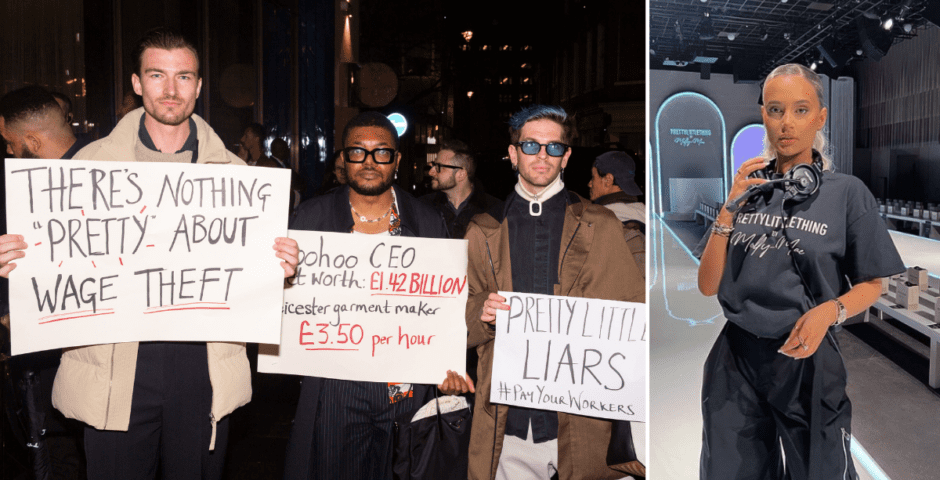 'PLT doesn't care about the planet': Protestors on being at Molly-Mae's show last night
Brett from the latest Love Island season was one of the people leading the protest
Last night Molly-Mae Hague's first runway event as Creative Director of PrettyLittleThing took place. During her PLT show a protest was taking place outside and it was being co-led by ex-Love Island star Brett Staniland.
The Tab spoke to fair fashion campaigner, Venetia La Manna, who was co-leading the protest last night alongside ex-Love Islander Brett and Mayisha from Oh So Ethical. She spoke to us about the reasons why they decided to protest and what it was like taking part. Here's what she had to say.
'PLT is a highly exploitative brand that doesn't pay its workers support unions'
Venetia told The Tab she decided to stage a protest outside of the Molly-Mae X PrettyLittleThing fashion show because "PLT is a brand with a very glossy exterior, and because of the wealth it has amassed off of exploitation, it has a lot of money to do things like pay an influencer to be its Creative Director and put her on a salary of £4.8 million a year."
'People queuing to go into the show were giggling'
Whilst protesting outside, Venetia said there were recognisable influencers giggling in the queue to go in. She says she thinks this is because they feel shameful, "You're queueing for a fashion show whilst people are protesting outside saying it's unethical, you shouldn't be there and by being here you're supporting a highly exploitative brand so of course you're going to laugh."
Venetia said the protestors outside felt very safe and they weren't told to move by anyone from PLT or the security team. "Security were happy for us to be there and they didn't bother us," she said. Even though the reception was mixed, Venetia said herself and other protestors felt confident in what they were doing and saying. "I've woken up this morning feeling proud of what we did," she told The Tab.
'I didn't think Molly-Mae was going to be such a lead in it'
When Molly-Mae announced the show, Venetia was surprised. The protest was always planned with PrettyLittleThing in mind because she thought the protestors energy should be directed at Omar and Adam Kamani who are the founders of PLT and their dad, Mahmud Kamani who owns Boohoo. "But now Molly-Mae is Creative Director and she's on a massive salary, absolutely energy should be directed towards her."
Venetia believes PrettyLittleThing and other fast fashion brands have made people who buy the clothes think fashion is disposable. "And when we're facing climate breakdown, like we all are, to treat something as precious and as valuable as clothing as disposable is so harmful and so destructive," Venetia said.
"It actually makes the brand's effort to do something like a resale platform pretty null and void because how can you expect people to engage in pre-loved clothing when sustainable fashion is all about slowing down and choosing quality over quantity." Yesterday it was announced Molly-Mae will be selling her old clothes as part of a new Depop style feature on PrettyLittleThing, with the proceeds going to charity. Molly-Mae said the move would encourage young women to shop more sustainably.
Venetia continued: "You cannot do that with clothes that have been marked to be disposable and putting things to say their clothes are anything but disposable is laughable. What PrettyLittleThing sells their clothes at versus the true cost for them to make them are so removed from each other."
A spokesperson from PrettyLittleThing told The Tab: "Any suggestion that the people making clothes for PLT or any other boohoo group PLC brand are paid lower than the minimum wage is grossly inaccurate.
"We publish a list of all our approved UK and international manufacturers, all of whom have been audited over the last 18 months, and we do not tolerate any non-compliance with our supplier Code of Conduct. We operate a whistleblowing hotline so people can share any concerns they may have and we work with relevant government agencies to ensure the people who make our clothes have their rights in the workplace protected."
All images in the article courtesy of @hollyfalconer on Instagram.
Related stories recommended by this writer:
• Molly-Mae is selling her old clothes as part of PLT's new Depop style feature
• Molly-Mae says she works 9am-10pm for PrettyLittleThing and work 'doesn't stop'
• Becoming Molly-Mae: Everything we know so far about Molly-Mae's autobiography