I worked out my 2021 Deliveroo Wrapped and I've spent over a grand on takeaways
My top food moods were bank-checkingly regretful and constantly snacky, hbu?
trash
Spotify Wrapped is one of the best days of the year if you're as eternally online as I am. But if it's true humiliation and soul-bearing vulnerability you're after, look no further than your year-long Deliveroo receipt. I want to know why you ordered a £40 meal from Franco Manca when you had a perfectly tasty oven pizza at home. I'm dying for you to tell me why you got cigs ordered to your door when you live three blocks down from a Tesco Metro.
Introducing Deliveroo Wrapped: The only way to work out a full, unfiltered rundown of everything you ordered during the year. With a bit of work, this can tell you exactly how much you've spent over the last twelve months. If it helps, I'll show you my 2021 Deliveroo Wrapped if you show me yours. I take no issue in saying that I probably spend 85% of my income on food. Sometimes I'll wake up and won't be able to speak to anyone until I've consumed at least two donuts from Tim Hortons. I'm perfectly happy to admit I probably spent 40,560 minutes browsing through the in-app Shake Shack menu – as is my right.
Disclaimer: Despite our pleas from last year, Deliveroo STILL haven't rolled this new feature out to… well, anyone. So you'll have to spend some time working your results out for yourself. I spent a solid hour figuring out my stats while cringing internally. Deliveroo, PLEASE. I'm begging on my knees for you to turn this into a real thing.
Here's how I did it:
Firstly, I totted up my score with help from the "My Orders" section, seeing my splurges in all their greedy glory. All you need is a spreadsheet (or a notepad) and a phone calculator. Once I'd added up each of my purchases, I spent ages ranking them in order of most-to-least money spent. Then, I looked at my repeat orders to see which items in particular kept me coming back for more. Christ – I need to touch some grass.
Yes, it's true. I spent just over a grand on meals and booze this year. It's not great, probably a reflection of having more money than sense, willpower or any ability to just get up and get shit done for myself. I'm embarrassed, regretful and… to be honest, really craving some mozzarella sticks. One sec.
The good news is, I know I'm definitely not alone in this catatonic state of dread. The draw of a delicious rice-fish combo had thousands of people ordering poke bowls straight to their front doorstep. According to the takeaway app themselves, their top four ordered dishes were just four different combinations of the same bowl. I see you, sushi fiends.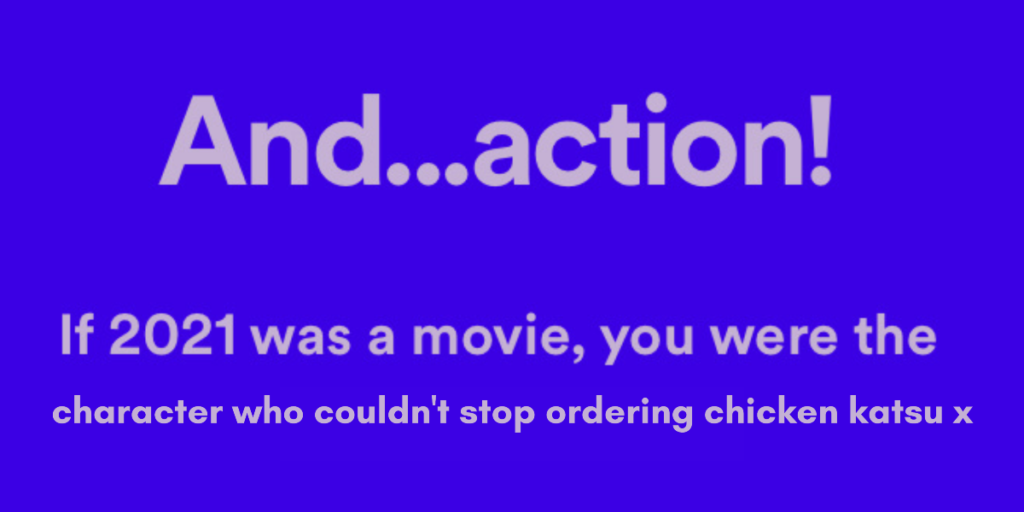 Time now to explore the ins and outs of what I actually purchased… buckle in babes, it's going to be a ride.
I'm a self-confessed dirty little food gremlin who'll go back to the same meals like a downtrodden ex – I have no problem admitting that. I have no pride, decorum or grace when it comes to a bowl of tofu curry. My most recent order was placed at 4AM last Sunday from a "kebab" shop which only sold potatoes and unspecified "nuggets" (my guess is they can't call it chicken because it simply… isn't).
I spent almost £60 buying a thirty-piece chicken box from a place called "Chicken Cottage" in order to sustain myself and two other hungover graduates after a night in Cambridge Regal. We ended up getting through two pieces each and half a bag of chips. I'm SORRY.
My smallest order totalled in at £4.95 – just for half a rotisserie chicken really. My boyfriend ended up scoffing most of it himself and we had a fight about it. Money well spent! Thank god 2021 Deliveroo Wrapped has reminded me of why I'm angry at my significant other again.
Let's take a deep-dive into my most-ordered items.
Yes, I'm a fiend for bargain buckets. It was recently revealed that my local KFC gained a hygiene rating of zero after staff were caught scooping the spicy rice into bowls with their hands. Did that stop me from ordering a zinger box meal with extra corn three days later? Have a guess.
I'm going to keep pressing on with Wagamama's ramen instead of surrendering and admitting it just isn't one for me. People go on about it all the time and I *need* to see where the hype is coming from. What's that quote again? "Nevertheless, she persisted"? Yeah. That.
Same with GBK – so maybe one chicken burger with everything on it isn't the way to go. But I'm not ashamed!
Itsu has my heart, no matter how many times I accidentally went into overdraft buying sashimi and gyoza for lunch every day.
2021 Deliveroo Wrapped reflects a lot of financial regret, but hey, what can I say? It's been a heavy 12 months, and I'm glad I gave myself the treats I deserved. Here's to a happy and snacky new year.
Related stories recommended by this writer: