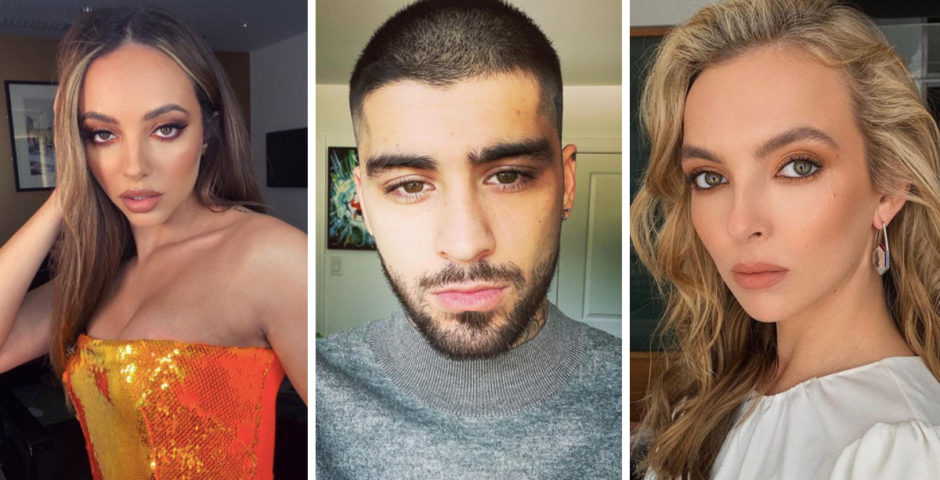 The 30 under 30 rich list 2021: The wealthiest and youngest celebs in the UK right now
This is what dreams are made of
Some of us can only dream of being young and rich. It really is a combo that only a small select few in the world possess. And that select few are most notably those who appear on the 30 under 30 rich list – which has just been released for 2021.
Heat Magazine has just released its latest instalment of The Heat Rich List – with the top 30 including huge names from the world of music, reality TV and film. The list, now in its 11th year, "delves into the bank accounts of Britain's youngest, richest stars to find out exactly where they make their money" and will also be available in the print edition of the magazine. Here is the full 30 under 30 rich list of 2021. When we say these people are rich, we mean rich, rich. Read and weep.
30. Dave – £5.2million
Rapper Dave, full name David Orobosa Omoregie, is a new addition on the list. The 23-year-old has a net worth of over five million pounds.
29. Anne-Marie – £5.4million
Singer Anne-Marie has had a huge few years – she's seen recent chart success, she's been a judge on The Voice which lead to her appearing on Celebrity Gogglebox with Tom Jones and she's had collabs with stars such as Little Mix.
28. Jodie Comer – £5.7million
Killing Eve actress Jodie Comer is worth an impressive £5.7million. More recently the 28-year-old was in drama Help, alongside Stephen Graham, about how the pandemic affected nursing homes.
27. Saoirse Ronan – £5.9million
23-year-old Saoirse Una Ronan is an American-born Irish actress. She's best known for her roles in period dramas, including Little Women.
26. Jake Bugg – £6.1million
27-year-old singer, Jake Bugg, is also a new addition to the 30 under 30 rich list in 2021. He's worth just over £6million.
25. Millie Bobby Brown – £7.2million
Millie might only be 17, but she's one of Netflix's richest stars. Having appeared as Eleven in Stranger Things and now as Enola in Enola Holmes, she's doing extremely well. She pockets £200k an episode for Stranger Things, while playing the lead in Enola Holmes nets her £4.4million.
24. Sam Faiers – £8million
Sam is the first reality star to appear on the list, with the 30-year-old becoming famous through her appearance on TOWIE.
23. Maisie Williams – £8.7million
Maisie Williams is one of Game of Throne's biggest stars. The 24-year-old now has a net worth of £8.7million.
22. Tommy Mallet – £9.7million
Tommy is the next richest reality star, also coming from TOWIE. He is 29 and has a net worth of just under £10million.
21. Tom Holland – £11million
Ok the rich list takes a huge jump here, but it's no surprise 25-year-old Tom Holland is loaded. He's been in loads of films and is literally Spider Man. Next!
20. Disclosure – £12million
Just getting into the top 20 of the 30 under 30 rich list of 2021 is Disclosure. And no, that's not their real name. Disclosure is a music duo consisting of brothers Howard and Guy Lawrence – together they are worth £12million, and are a new entry to the list this year.
19. Jesy Nelson – £13.5million
Jesy has shot straight into the list this year as a new entry – probably because Little Mix rank together and we all know the drama there. 30-year-old Jesy has just gone solo with her first single Boyz, so is only set to get even more rich.
18. Sophie Turner – £14.1million
Sophie is another of the young GoT alum who has made big bucks. The 25-year-old is worth over £14million.
17. George Ezra – £14.2million
We don't seem to have heard from George Ezra recently, but a couple of years back you couldn't move for his singles and Brits domination. He's 28, and worth £14.2million.
16. Lewis Capaldi – £17million
Next up is Lewis Capaldi, very much in the same era of star as George Ezra. Lewis has written and performed some of the biggest singles the UK has had in the last 10 years, and now the 25-year-old is a multi, multi millionaire.
15. KSI – £19.6million
Is it me or is KSI everywhere right now? TV shows, YouTube, boxing matches, TikTok – you name it, he's there. The YouTuber and rapper, whose full name is Olajide Olayinka Williams "JJ" Olatunji, is 28 and worth nearly £20million.
14. Stormzy – £23.5million
Now we're into the top half of the list, and things get really, really juicy. Rapper and grime artist Stormzy is worth a huge £23.5million and is 28.
13. Rita Ora – £26.5million
Despite her more recent controversies, you cannot deny that Rita Ora seems to have been around forever. She's had a few bangers, which at the age of 30 have given her a net worth of £26.5million.
12. John Boyega – £28.5million
London-born actor and producer, John Boyega, is worth a huge £28.5million. The Star Wars actor is 29.
11. Daisy Ridley – £32.8million
Daisy Ridley is also best known for the Star Wars sequel trilogy. The 29-year-old is now worth £32.8million.
10. Sam Smith – £36.8million
The first in the top 10 of the 30 under 30 rich list of 2021 is 29-year-old Sam Smith. The singer and songwriter has had wall to wall hits since being featured on Disclosure's breakthrough single Latch in 2012.
9. Zayn Malik – £38million
28-year-old Zayn is the first of the One Direction boys to feature on the 30 under 30 rich list in 2021. Since leaving the band and starting a solo career, he's continued to add to his net worth and is now worth £38million.
8. Dua Lipa – £43.5million
Pop queen Dua has added a cool £20million to her net worth in just a year, as in last year's ranking she was 12th with £22million. Now, she's 26 and has had a huge year in her Future Nostalgia era and with high-income partnerships with Versace, YSL, Puma and Evian – she's now worth £43.5million.
6. Liam Payne and Louis Tomlinson – £47million
No we're not classing the boys as one person, there's just no seventh place in the ranking this year as sixth is joint between One Direction's Liam and Louis. Liam is 28 and Louis is 29, and both are worth £47million.
5. Cara Delevingne – £52million
Cara is one of the biggest super models in the world, and is the UK's highest paid model. The 29-year-old also has a number of acting credits, which have added to her £52million fortune. Modelling for Burberry, DKNY and Dior saw the UK model's company Cara & Co turn over profits of £9.6million for 2020.
4. Niall Horan – £57.5million
Niall is the second richest of all the One Direction boys. The 28-year-old has also had a very successful solo career, and is now worth £57.5million. On top of his music credits, Niall has some pricey properties (£5million London penthouse, £2.9million Hollywood mansion and a £1.25million London home), and he's also invested in Irish athleisure brand Gym + Coffee and his Modest! Golf firm.
3. Little Mix – £66.7million
Everyone's fav girl band are worth £66.7million collectively. In the past, just one tour alone for the girls has bagged them £17million. You love to see it. In the ten years since they won X Factor, they've sold more than 60million records.
2. Harry Styles – £80million
For the last couple of years, the whole world has stopped every time 27-year-old Harry Styles releases a single, and videos of his tours go viral every single day. One of his tours banked £45million and he's had deals with Gucci in the past. He deserves the world, and he very nearly has it.
1. Ed Sheeran – £236.5million
Surprise, surprise – Ed Sheeran is top of the list once again. But nobody stands a chance catching up with his net worth. He's held the 30 under 30 rich list top spot for three years running now, and I'm sorry but this kind of net worth belongs to tech moguls and Jeff Bezos only. This is unreal.
A decade on from when he released his first solo single, Ed now boasts the most-streamed single of all time with Shape of You, and the highest-grossing tour of all time (£567m for the ÷ tour).
Related stories recommended by this writer:
• Little Mix net worths: Ok, so just how rich are they all really?
• Made in Chelsea jobs: This is what all the current cast actually do for a living
• Ranked: Who actually is the richest Love Island winner ever?