These are the most popular people on Tinder right now
Warning: They're all incredibly fit
For many, the world of dating apps is a tough old place. But for these seven singletons it's an absolute walk in the park. Ranging from doctors to primary school teachers, the following people are the most popular Tinder users based on the number of matches they get, their conversations and their swipe activity.
This summer they've all been taking part in Tinder's newest function, Swipe Island, where anyone can get involved and stand a chance of matching the likes of Hugo and Sharon from Love Island.
So without further ado, meet the most successful Tinder users of Summer 2021:
Blake, 24, Cardiff, radiographer
Blake is looking for someone with a good sense of humour and who doesn't take life too seriously.
He's also a self-confessed Mummy's boy. "I'm close with my family so it would be important for a potential match to get along with them; especially my mum!" Blake said.
If Blake could couple up with anyone from this year's Love Island it would be Matt. "He seems so chill, down to earth and genuinely a nice guy. He also has an insane body which helps!" Blake said.
Molly, 24, Milton Keynes, primary school teacher
Molly's a massive foodie and loves travelling to new places. She's looking for someone who can make her laugh, and is trustworthy, honest and loyal.
Molly's ideal man on Love Island this year was Sam Jackson because "because he seemed like a gentleman but also a laugh… plus he wasn't too difficult to look at either!"
Ashley, 28, Surrey, corporate manager
Ashley likes the finer things in life and is looking for a guy with similar tastes. "Of course, there has to be the initial attraction," Ashley said, "but if a guy is outgoing and has good morals, then he'll definitely turn my head. I'd also like to match with someone who works as hard as me, both in the gym and at the office."
If Ashley had been in the Love Island villa, he says he would have coupled up with Brad or Chuggs.
Oisin, 19, Belfast, uni student / lifeguard
When Oisin isn't studying at uni or working as a lifeguard, he loves to play gaelic football. He's looking for someone who will either cheer him on from the sidelines or come and kick a ball about with him.
When asked who he'd couple up with on Love Island, he said: "If I was on the show this year, I'd definitely be putting all my eggs in Millie's basket. Let's face it she is FIT and also has a cracking sense of humour. Most of all, she seems so real and genuine and I am all for that."
Emma, 22, Guildford, podcaster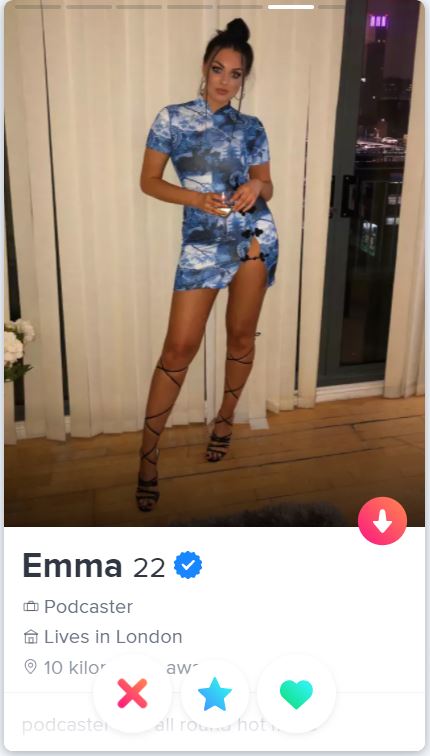 Emma's just finished a fine art degree and now makes a podcast with her sister called Hunbelievable. She's hoping to couple up with an arty boy with creative flair.
Who would Emma couple up with on Love Island? "Teddy, 100 per cent!" she said. "He fits my nice guy territory and is absolutely gorgeous. I did like Brad too before he left, he was super calm and importantly tall!
"I find Toby hilarious with his feral energy, a mix of him and Teddy would be perfect!"
Robert, 25, Cardiff, primary school teacher
Rob is looking for someone who's funny, kind-hearted and knows what he's doing in the kitchen. "I like to see someone who is passionate about their work, as having a good and strong work ethic always gets a big tick from me," Rob said.
If he could couple up with anyone from Love Island, it would be Matthew. "He made me laugh and I remember him saying that he was chilled and adventurous, so that would've been a big yes for me," Rob said.
Katie, 23, Colchester, foreign exchange
Katie's really sporty and likes swimming, horse riding and cheerleading. She's looking for someone who's adventurous and can keep up with her fast-pace lifestyle.
If she was in the villa, she'd have chosen to couple with Toby. "I reckon we'd get on like a house on fire and can imagine us constantly laughing," Katie said.
Related articles recommended by this writer:
• This is where the best place is to rank on Love Island according to science
• Meet the parents of this year's Love Island contestants
• This is where the best place is to rank on Love Island according to science