These are the most chaotic looks from every season of RuPaul's Drag Race
My eyes are still adjusting to Jiggly Caliente's baked potato couture and it's been nine years
When it comes to RuPaul's Drag Race, the chaotic fashion disaster looks the queens give us are as iconic and important as the haute couture we gag over.
There is no doubt in my mind that Drag Race queens are, on the whole, fashionistas. But even Anna Wintour gets it wrong a few times a year. Chaos frequently reigns on Drag Race when in the world of fashion anything goes. I took a stroll down RuPaul's Drag Race memory lane, as we remember the looks that caused the most shock, disbelief and disaster.
Season 1 – Rebecca Glasscock's entrance look
There are very few clear pictures of this outfit, and for that we should all be thankful. Rebecca Glasscock rolled up to the first season of RuPaul's Drag Race in the kind of outfit you'd wear to go to Frankie & Benny's. It's a miracle the show even got renewed for a second season. Is this even drag? The choice to wear some bootcut jeans to walk into Drag Race is CHAOS.
Season 2 – Mystique's country realness

Mystique trying to justify this as contemporary country was a sight to behold. The pedestrian looks queens brought to the runway in Drag Race's early days are comedy gold. She looks like she's about to teach me maths. A memorable mess that stands out in the catalogue of bad RuPaul's Drag Race looks.
Season 3 – Alexis Mateo's patriotic drag

Let me preface this by saying I am a die-hard Alexis Mateo STAN, but what the Make America Great Again is going on here!? This was obviously pre-Trump era America, but GOD it's cursed. It's the pairing of the jacket with the floor length skirt. It's half 'let's give it up for our troops' and half Glinda from Wicked. It's all very randomise Sim!
Season 4 – Jiggly Caliente's apocalyptic couture
There isn't much to be said about Jiggly's baked potato couture that hasn't been said already. It's one of the most iconically bad looks to ever be seen on RuPaul's Drag Race. The flailing tinfoil that fell off as she walked really speaks for itself.
All Stars 1 – Jujubee's Avon lady entrance look
Jujubee is a god tier queen, but this look just offered to do my makeup for 40 quid in Selfridges. Why on earth did she wear this? It's not visually chaotic like Jiggly's jumble sale garbage look before it, but the thought process to think this was alright is CHAOTIC beyond belief.
Season 5 – Jade Jolie's hair… thing
The funniest thing about this is that the theme was showcase your best feature and Jade chose to show off her arms. Arms!? Girl, nobody is looking at your arms. We're looking at the hair that's sprouting from your body for no reason whatsoever. My eyes burn at the sight of this one. Pure evil.
Season 6 – Laganja Estranja's black and white look
This is one of those RuPaul's Drag Race looks that just causes me absolute stress. I can't make head nor tails of it. Why does it have a billowing cape? What the hell are those shoes? Why is the makeup crusty? The lips look like a sponge! ARGH!
Season 7 – Kennedy Davenport's death becomes her look
In Kennedy Davenport's infamous own words: "After a long night of hooking, trade didn't like the session so he had gutted me and set me on fire. But you know I didn't die. I had crystallized. And now I'm a glamazon, bitch, ready for the runway."
Truly iconic. And awful.
Season 8 – Bob The Drag Queen's rollerskating look they bought from Amazon
I adore Bob, they deserved their win and their fashion has come on LEAPS and BOUNDS. But just let it sink in that a queen bought a cheap jumpsuit from Amazon, wore it on the RuPaul's Drag Race runway and then WON THE SHOW.
All Stars 2 – Alyssa Edward's camera dress
HIGH CAMP! She is literally looking camp right in the eye! This is absolutely manic but in the best way. How was this even made!? How much did it cost!? Underrated in the world of RuPaul's Drag Race looks, but it is the very definition of chaotic.
Season 9 – Alexis Michelle's green roast hell
I have recurring nightmares about this one. The fact none of the green matches! The horrible print on the dress! The weird big lumps of breasts that look like mouldy bread rolls! This is stressful.
All Stars 3 – BenDeLaCreme's wigs upon wigs look
Note to all drag queens: STOP WEARING HAIR DRESSES! This is surely the itchiest of all RuPaul's Drag Race looks. It makes me feel like I've got spiders crawling up my legs!
Season  10 – Asia O'Hara's mermaid look
Oh… my god. My reaction when this first came on the runway was just jaw on the ground. I love that Asia so often brought organised chaos to the runway and kept everyone guessing. This is so ridiculous and funny and cool.
All Stars 4 – Monét X Change's cat look
Can't decide if I love this or hate it, but I do know that it's deeply cursed. It's meant to be Pink Panther-esque but it's serving me Suicide Squad energy. And that's never a good thing. I can't stop looking at it. A harrower.
Season 11 – Silky Nutmeg Ganache's facekini look
The fact Silky didn't get sent home on the spot for one of the worst looks ever seen by the human eye is the biggest miscarriage of justice in RuPaul's Drag Race history. Every aspect of it is bad! The booties ruin my day every time I see them. The crusty makeup too… I'm despairing. A cultural regret.
Drag Race UK Season 1 – Baga Chipz's scrubber look
This looks like absolute agony. That metal cutting into your body!? Deserving of a place on this list for ouch factor alone. I love Baga so much, but just can't look at this without feeling sorry for the flesh she lost to the scouring metal shaving off her skin every time she moved.
Season 12 – Crystal Methyd's makeover look
Crystal is one of my favourite queens of all time because she was so unpredictable. One thing you could always expect from her looks was that she was going to wear something never done before on RuPaul's Drag Race. This is organised chaos that just only Crystal could ever have pulled off. I love it.
All Stars 5 – Alexis Mateo's three in one

Alexis brought all of the chaos of the circus to RuPaul's Drag Race with her AS5 three looks in one. She got roasted for this but she sold the garment and I bought it, mama! It's camp! Chaos, yes, but camp!
Canada's Drag Race – Juice Boxx's … two piece?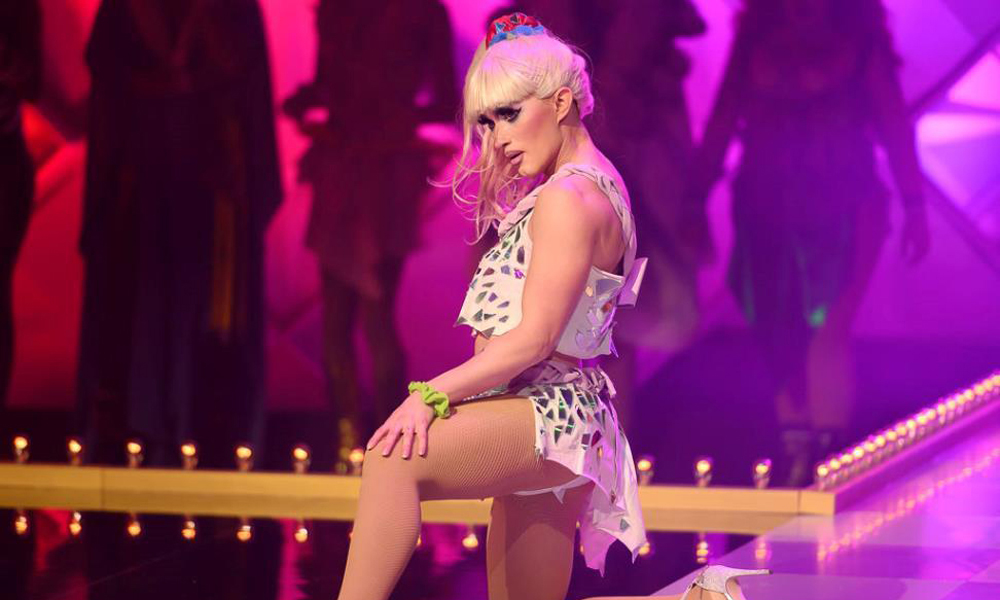 I've never made an outfit in my life and this looks like the kind of thing I could whip up if somebody gave me 20 minutes and five quid's worth of materials.
Drag Race UK Season 2 – Tia Kofi's Alan Turing look
Alan Turing turned in his grave when he saw that Tia Kofi went to Smiffy's, bought a novelty suit and had the audacity today she was dressed as him. It's so bad but hilarious. I'll remember it forever. And so will Alan.
Season 13 – Kandy Muse's… whatever the hell this is!
Kandy got SAFE for this look. She wasn't in the bottom two. Let that sink in for a while.
I have absolutely no clue what I'm looking at. The theme was beast, but I see no beast. I see Kandy in a green jumpsuit with a crash test dummy strapped to her back. What is going on? And why? Please, somebody tell me! I'm having sleepless nights.
Recommended stories by this writer:
• RuPaul's Drag Race: The best fashion moment from every season
• The ultimate ranking of every season of RuPaul's Drag Race
• Every Drag Race song that has verses from the queens ranked from worst to best