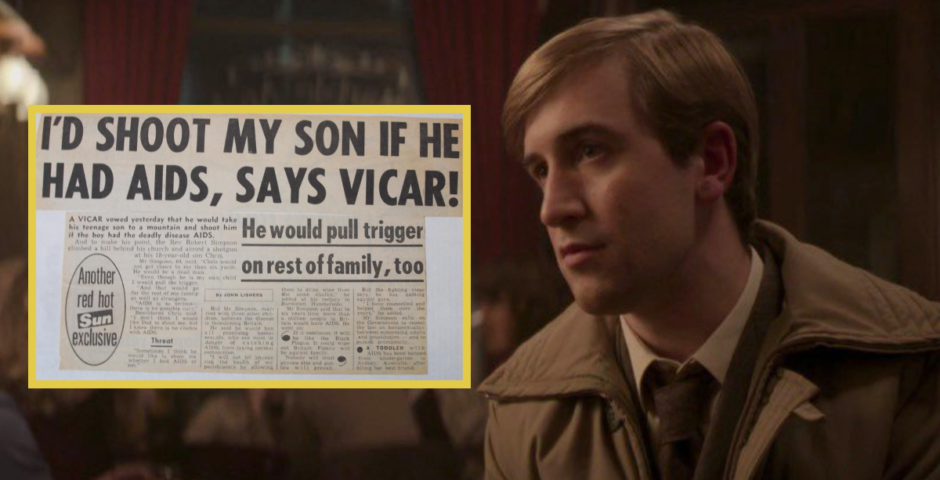 We need to talk about the gay shaming from tabloids during the AIDS crisis
The Sun changed its homophobic It's A Sin headline but that doesn't change its gay shaming in the 1980s
Watching It's A Sin was genuinely the best five hours of my life, there is no doubt about it. It's focused on a group of people who are hated by the world for being homosexual. The show is an emotional and educational watch, it has raised so much awareness surrounding the AIDS crisis and is also encouraging more people to order HIV testing kits. Unfortunately, like any other popular TV show, along with its positive impacts there are also negative ones. It's A Sin's sex scenes have also encouraged disapproving comments and outrage as well as provoking the return of homophobia to the front pages of tabloid media.
After the first episode dropped, The Sun published an article with this headline: "So much sex: It's A Sin viewers shocked by drama's explicit sex montage with raunchy threesome and oral sex" – which you might read and think is fine. People called this "homophobia" and it's actually incredibly problematic – let me explain why.
Just weeks before The Sun published its 'hot take' on It's A Sin, it wrote about the "hottest sex scenes ever" in Bridgerton. The sex scenes in It's A Sin are absolutely no more "explicit" than those in Bridgerton, but the only difference is Bridgerton involved sex between a man and a woman, so it's seen as "hot" rather than "shocking". I get it, talking about sex in mainstream media is guaranteed clicks and views but using the word "shock" to describe gay sex isn't okay and people were quick to notice.
After backlash, The Sun changed its headline, calling the sex scenes "liberating" and "wonderful", saying it had been writing "hugely positive stories" about It's A Sin. But the problem is The Sun still published the original headline anyway and this isn't the first time it has put casual homophobia on its front pages. Along with other tabloids, The Sun spent its time gay-shaming during the AIDS crisis.
The outbreak of AIDS gave the tabloid media an incentive to demonise gay and bisexual men in Britain. Regardless of homosexuality being partially decriminalised in the late 60s, thousands of LGBTQ+ people in the UK were treated like second class citizens.
Pink News did a quick look at some of the headlines tabloids published in the 80s, and it shows some disgusting results. The Mail on Sunday referred to the AIDS crisis as a "gay virus plague" and The Sun ran a story with the headline: "I'd shoot my son if he had AIDS".
Tabloids had a chance to report on the AIDS crisis with sincerity, spread awareness for public health and potentially save lives, but instead spoke as if the virus was something to be ashamed of.
Other homophobic headlines published during the 1980s AIDS crisis included "Gays in fear" and "My doomed son's gay plague agony". Huck reports The Sun also ran scaremongering headlines around the crisis, with headlines such as "Cough can spread AIDS, warns doc" and "Brutal truth about AIDS: No one's safe"
Mediawatch was a column that ran in Britain's Gay Times for almost 25 years. It was created by a man called Terry Sanderson, he spent 25 years documenting newspapers' anti-gay slurs and used his column to give a voice to LGBTQ+ people.
As a queer woman, I feel so let down by tabloid media. With its coverage of It's A Sin, The Sun had a real chance to change its views and approach to homosexuality but it decided against it. Headlines of "shock" such as The Sun's actively show a dislike against gay sex. Homophobic headlines create an anxiety amongst generations of queer people who have had to deal with the abuse their whole lives. It's upsetting and scary to see tabloids publishing content which shows a prejudice against one of the most loving communities.
In response to the criticism of its latest coverage, The Sun told PinkNews: "The Sun is a big fan of both Russell T Davies and It's a Sin. We've been positively writing up the show since first look last year, and we continue to write hugely positive stories about this brilliant show and the important spotlight it shines on the AIDS crisis in the 1980s.
"We regularly write stories about viewers' shock at explicit sex scenes in drama. That shock comes from the explicit nature of the scene and not from the sexuality being depicted. We do acknowledge that the original headline to this particular story didn't do it justice and we updated it yesterday afternoon." The updated headline now reads: "LIBERATING! It's a Sin viewers praise drama's 'wonderful' sex montage and say raunchy scenes came 'thick and fast."
The Tab contacted The Sun for comment 
Related stories recommended by this writer:
• It's A Sin star Nathaniel Hall has spoken out about contracting HIV aged 16
• The real Jill from It's a Sin has spoken about the 'fear and shame' of the AIDS crisis
• 'I'm healthy in every sense of the word': Young men on living life as HIV positive