Georgia Harrison says she's planning on taking Stephen Bear to court
It comes after she claimed he filmed her without her consent
Georgia Harrison says she's planning on taking Stephen Bear to court following her claims that he filmed her without her consent and shared the video with multiple people.
Stephen Bear has strongly denied the allegations. In a series of Instagram story posts last night Georgia said she would be getting him "knicked" and would "discuss it in court" following a voice note alleged to be from Stephen.
Yesterday Georgia shared a number of posts claiming Stephen had filmed the two of them in his garden and then shared the video with multiple people. Georgia then claimed she had received a number of messages that Stephen had put the video on his OnlyFans account.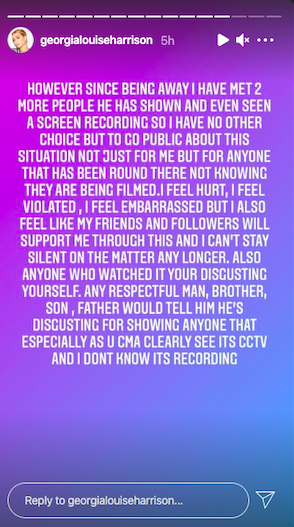 Yesterday, whilst in Dubai, Stephen denied the allegations whilst having some drinks with a few mates in a video posted to his Instagram story.
Georgia then responded to this video on her own Instagram story saying she has "protected him" for so long.
She said: "I have protected you for so long, I've been so nice to you."
Georgia claimed she had screenshot evidence and said: "I have got screenshots of where you've posted it, I've got three screenshots of where you've used a video of me, on a camera I didn't know was there to make money on your cheap OnlyFans website."
Following the videos on her Instagram story Georgia then shared a screenshot of a WhatsApp conversation that appears to be with Stephen.
Georgia plays a voice note allegedly from Stephen in which he says she blew "it up in her head."
He said: "What it is yeah, you blew up something in your head, and you convinced yourself that someone has wound you up so much."
Georgia then appears to reply to him saying she will get him "knicked" and they'll discuss it in court.
On his Instagram story last night Stephen addressed the allegations further and said he'd realised the extent to what's been said and the last time he was with Georgia was two years ago.
He said: "So it's actually sunken in what's happened, I've got back and I didn't realise the extent of what's been spoken about right now.
"Right so the last time I was with this girl saying my name was in Thailand two years back, had a really good time, and that was it."
Stephen said it is "complete lies" that anyone has seen a video of him and Georgia, and the girl in the video is not her.
He said: "So anyone that's trying to say they've seen footage of me and her now is complete lies.
"Please send me the video. I know for a fact when she's seen a video it's clearly not her, as I say the last time we were together was in Thailand."
Stephen said he was going to be taking a break from Instagram for his mental health.
The Tab has contacted Georgia and Stephen for comment.
Featured image credits via Instagram @georgialouiseharrison, @stevie_bear
Related stories recommended by this writer:
•Stephen Bear denies filming Georgia Harrison without her consent and sharing it
•Former Love Island contestants are posting cringe anti-vax content on Instagram
•Curtis says he feels 'betrayed' and 'stabbed in the back' by Chris and Maura