Stephen Bear denies filming Georgia Harrison without her consent and sharing it
She says she has received messages the video was posted on OnlyFans
Ex-Love Islander and TOWIE star Georgia Harrison has claimed Stephen Bear filmed her without her consent and shared the video with multiple individuals.
In a series of statements posted to her Instagram story, Georgia claimed Stephen had filmed the two together at his house, where he has CCTV. Georgia said he filmed her without her consent and said he claimed to not realise the CCTV was there.
She said: "So Bear has CCTV around his house, he purposely got me in a position where he knew it would be on CCTV quite a long time ago and after acted like he forgot the cameras were there (as you do when you have CCTV set up around private property going directly to your television and phone)."
Georgia then went on to say she has found out he has now shared the video with people whilst she is out in Dubai.
She said: "Since being away I have met two more people he has shown and even seen a screen recording. So I have no other choice but to go public about this situation, not just for me, but for anyone that has been round there, not knowing they are being filmed."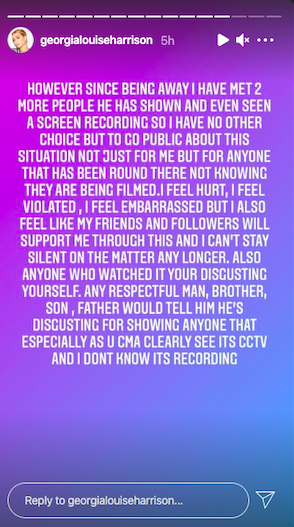 Georgia described at length the effect the video was having on her and said she felt hurt, violated and embarrassed.
The Tab has contacted Stephen Bear for comment.
On his Instagram story today after Georgia had posted the claims, Stephen recorded himself saying he had spoken to the "girl" and told her "stop making up silly rumours."
He said: "My DMS have gone crazy, I didn't want to talk about this it's so silly. I've spoken to the girl to stop making up silly rumours  so everyone's just got to calm down.
"Saying someone's name for clout is just dumb, so cheers to Dubai."
Before Georgia explained in detail her story on Instagram, she asked her followers what the penalty was for revenge porn.
She wrote: "So guys, we all know revenge porn gets a minimum three years right?"
Georgia went onto ask if the sentence is heavier if someone does it without the other person's consent. She said: "Do you think the sentence is worse when someone secretly films…without someone's consent?"
When she initially discovered their encounter had been filmed Georgia said she gave him the benefit of the doubt, but that she was also embarrassed.
She said: "Firstly, I had to give him the benefit of the doubt and hope he just would do the right thing, partly because I was ashamed and just wanted it to go away but tbh I have nothing to be ashamed about.
"I was on private property with someone I had been with multiple times and trusted/was in love with."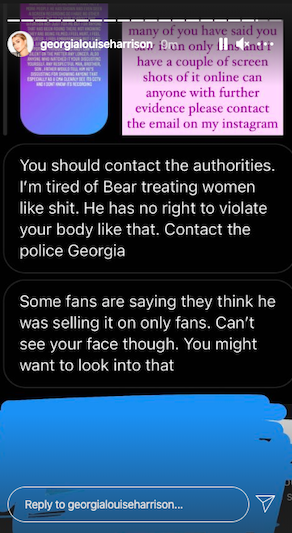 Since the allegations first came out earlier today, Georgia has been sharing messages from followers who claim to have seen the video on OnlyFans.
On her Instagram story Georgia said: "Many of you have said you saw it on Only Fans and I have a couple of screenshots of it online, can anyone with any further evidence please contact the email on my Instagram."
Stephen is also currently in Dubai. The two were first said to be dating in late 2018 and since then have had a rather turbulent relationship before they broke up.
Georgia previously accused Stephen of cheating on her and he said she threw a book at his head when she discovered he had cheated on her.
Featured image credits via Instagram @georgialouiseharrison, @stevie_bear
Related stories recommended by this writer:
•Vote: Let's finally settle it, which Love Island series was definitively the best?
•New Love Island USA starts tonight, so it's time to meet the insanely fit Islanders