So, there's a 'Netflix Christmas movie universe' linking all the films together
Netflix is adding even more cameos and crossovers this year and it is mind-blowing
In a wild turn of events, people are finding that Netflix has a secret "Christmas movie universe" and some of its most recent festive films contain hidden cameos and crossovers which link it to other movies.
Netflix revealed the so-called universe last year, and shared that pretty much all of its holiday films are somehow linked or mentioned within one another, existing all within the same reality. It's a lot to handle.
Here is a full explainer of how it works, you might want to sit down.
Within the Netflix Christmas movie universe, all the original films are somehow linked and intertwined
Netflix first introduced us to its cinematic Christmas movie universe (NCCU, yes it even has an official name) last year. In a tweet, it said: "Welcome to Netflix's Holiday Movie Universe, an interconnected world of eight films (and counting) where anyone could become a princess and your soulmate may be hiding in plain sight — or the past! Here's actually how these holiday faves became so entwined…"
Attached was a funky web showing just how some of its original films are linked together. And honestly, my mind is blown.
The links include A Christmas Prince being on the TV in the first The Princess Switch movie, the fictional kingdom of Aldovia from A Christmas Prince being mentioned in The Knight Before Christmas, Holiday In The Wild being on a TV in The Knight Before Christmas and Christmas Inheritance being watched in both The Princess Switch and The Holiday Calendar.
As well as this, A Christmas Prince takes place in the same universe as The Knight Before Christmas and in A Christmas Prince: The Royal Baby they talk about Belgravia – linking that to A Princess Switch. The movies all share realities and it is wild!!! 
But if you thought the universe was done and dusted last year, you're completely wrong. The Princess Switch 2 (Switched Again) has proved it is well and truly still going strong. Did you notice that the king and queen of Aldovia made a cameo and showed up at Margaret's coronation?!
Netflix went on to explain where it all began. In a tweet thread, it said: "It all started when producers needed to show a movie within 2018's The Holiday Calendar. 'It felt like a natural fit to show one of our other films available on Netflix,' said Amanda Phillips Atkins, EVP at MPCA, also behind the chosen film: 2017's Christmas Inheritance.
"MPCA not only produced 2017's Christmas Inheritance & 2018's The Holiday Calendar, but also all three Christmas Prince films, 2018's The Princess Switch, and this year's Holiday in the Wild & The Knight Before Christmas. Which was key to creating this interconnected universe!
"'That one seed of an idea soon turned into fun opportunity to tie the various worlds together with small easter eggs from movie to movie,' said Atkins. She, along with Netflix, tasked the producers, screenwriters, and directors with keeping an eye out for more opportunities…
"Three films seized on the chance to create something more significant than an easter egg. That's how The Knight Before Christmas (set in America), The Princess Switch (set in Belgravia), and The Christmas Prince (set in Aldovia) were inextricably linked forever.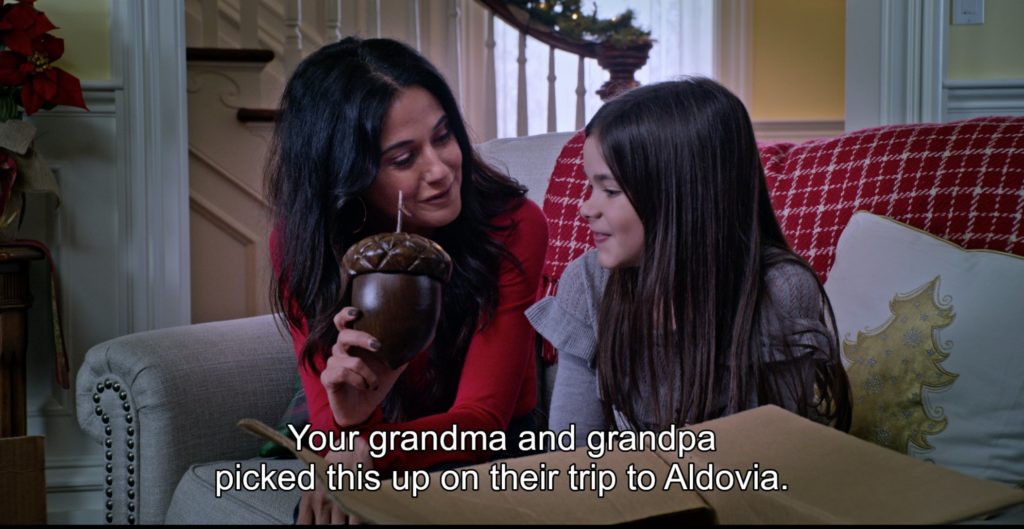 "First, In The Knight Before Christmas, Emmanuelle Chriqui's character mentions their family once visited Aldovia while holding *the* iconic acorn. Then, A Christmas Prince: The Royal Baby reveals that Aldovia and Belgravia are actually near one another on a map!
"'We planned to branch out from just having our characters watch each other on TV,' Atkins said of creating one world for three films. 'We thought it would be a great opportunity to build out a whole universe, not just for Aldovia but for the whole world of our Christmas movies!'
"With a Princess Switch sequel called Switched Again & Operation Christmas Drop coming in 2020, Netflix's Holiday Movie Universe isn't done yet! 'It's been so fun to watch the reactions as fans discover the tie-ins with each release,' Atkins said. And the best is yet to come!"
In all seriousness, people are losing their minds
What is next?!
For all the latest Netflix news, drops and memes like The Holy Church of Netflix on Facebook. 
Related stories recommended by this writer:
• Quiz: Which Vanessa Hudgens character in The Princess Switch 2 are you?
• Quiz: Which character from Holidate on Netflix are you?
• Stop Googling the historic events and enjoy these 41 memes about The Crown instead