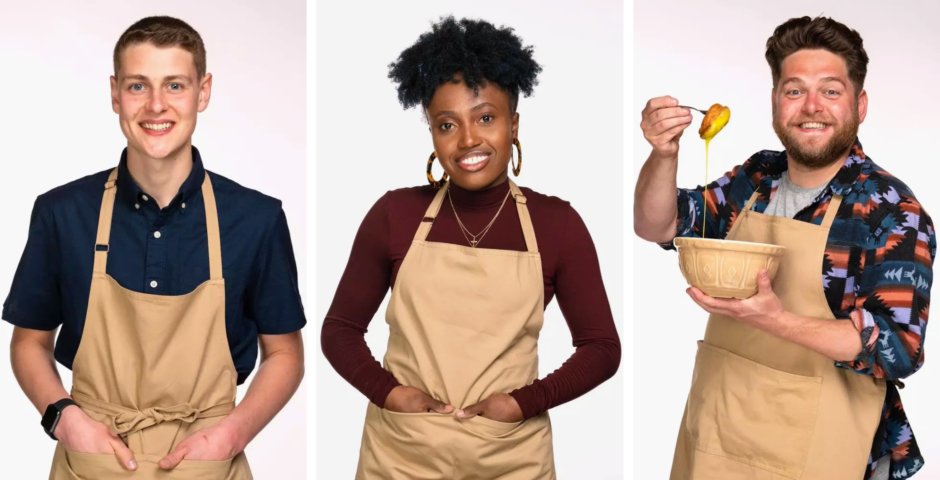 Meet the contestants of this year's Great British Bake Off
It's that time of year when we're provided with the pure excitement and escapism that is joining a tasty cross-section of the British public for several weeks of euphoric cake induced gluttony – otherwise known as The Great British Bake Off. In just a week we'll be watching people met with the sloppy disaster of icing their cake too soon out of the oven, watching Paul Hollywood give his approving handshakes and, let's face it, we're going to witness at least one soggy bottom along the way.
But who are the people who are going to be providing us with all this entertainment? Well, they've finally been announced (we've understandably been on the edges of our seats), so let's see who is taking part in The Great British Bake Off this year.
Marc
If you think the casting people had done their utmost in the previous seasons, you'll be super impressed by this year's cohort. Marc, who is from Cornwall, is a bronze resin sculptor (I know). He started baking bread as part of therapy after losing his leg in a motorbike accident.
If this doesn't sound impressive enough, he's also a single parent and support worker. He entered the competition to show his daughter that you can still take on new challenges when life throws obstacles in your way. I'm not crying, you are.
Mark
Thank god there's a distinction between Mark and Marc, not that that make's any difference when it's being barked across the tent by Mr Hollywood. But that's not important – what on earth are you holding, Mark?!
Mark is a 32-year-old project manager from Liverpool, but he's actually Northern Irish and first realised his love for baking at a pie shop in Edinburgh – Mr International! He visited every day whilst he was at uni because he loved their mac and cheese pie. Yum.
Dave
Dave is an armoured guard, which means he guards something with a weapon of some sort. By the looks of it, he already has some pretty impressive guns on either side (sorry).
He specialises in bread making pretzels, brioche and baguettes which, if you've ever tried to make any of those things before, you'll know how hard it is to do. He bakes once a week and lives with his girlfriend, and he likes listening to punk rock bands. Same, but you don't have to admit it, Dave!
Hermine
Hermine is an accountant who lives in London. Being born and raised in West Africa, her baking has a French touch and influence. First baking at the age of eight, she loves high-end patisseries and specialises in sourdough.
She considers herself very creative and knowledgeable in the kitchen: "My strength is my understanding of how ingredients work together and how to get flavours right."
Linda
Linda is a retirement living team leader, which means she'll thankfully have lots of elderly people cheering her on from their armchairs. Linda has always baked ever since she was a little girl and used to help out on her aunt's dairy farm.
She loves home comfort cooking such as sausage rolls, and she likes fishing! Let's hope there are no fish products used as ingredients in any of her bakes.
Loriea
Loriea is a 27-year-old diagnostic radiographer, which means as little to me as it does to you. Born in Jamaica but from Durham, she incorporates her Jamaican heritage into her cooking.
She loves cooking with big flavours like coconut, chilli and cinnamon, and she considers her strength as her calm disposition when cooking: "My strength is my cool and calm nature and my ability to work well under pressure. Outside of these, I think I have great strengths with blending untraditional flavours."
Laura
31-year-old digital manager Laura likes to bake flavours that "pack a punch". Laura likes to use citrus flavours (let's hope for a banging lemon drizzle cake) and she also enjoy making little decorations for her bakes, which could come to her advantage during the show stoppers.
She also spends her time as a volunteer with The Samaritans and claims that she does well under pressure and in situations where she needs to be organised.
Lottie
Lottie is a 31-year-old pantomime producer who found her love of baking like many of us did when she used to bake with her nan. She's a fast learner who taught herself many techniques before the show.
When she isn't baking, Lottie is a #gamergirl with her cousins, and she also enjoys yoga.
Makbul
Makbul is the second accountant in this season of Bake Off, and is from Manchester. He likes making pastries and believes he has the ability to measure ingredients by eye, which we cannot wait to see.
He's watched plenty of TV baking shows in preparation and attributes this to how he's being completely self taught. What are his strengths, you ask? "As a baker, one of my biggest strengths is that I'm not daunted by much. I will have a go."
Peter
Peter is this year's youngest contestant because he is still a student! The 20-year-old is an accounting and finance student from Edinburgh who was inspired to apply after watching the show with family.
His strengths are time management and planning, and he likes to cook with Scottish ingredients such as berries, whiskey and oats.
Rowan
Rowan is a 55-year-old music teacher from Worcestershire. Couldn't you tell from the waistcoat and tie?!
He loves French patisserie and likes decorating his bakes with flowers from his very own garden. He's also a fitness enthusiast being a keen swimmer, cyclist and occasional horse rider.
Sura
Sura is a pharmacy dispenser from London who likes to infuse her bakes with flavours from her heritage, which is from a range of countries like Turkey, Iran, Syria, India and Iraq.
She considers her strengths are in balancing flavours, and she also makes small and dainty bakes. However, her weakness if multi-tiered cakes. She likes improvisation, and in her personal time enjoys travel and architecture.
Related stories recommended by this writer:
• Here's what all the Great British Bake Off winners are up to now
• Ex-Bake Off contestant reveals what it's really like inside that steamy tent
• RIP The Great British Bake Off (2010-2019): You used to be so good