Where are the stars from Netflix's Love on the Spectrum now?
Michael is still single 🙁
Love on the Spectrum has done the near-impossible by managing to roll many of the desirables of a quality Netflix show into one. Whether it's making us laugh, cry or occasionally want to hide behind our pillows, their latest offering is one of the most revealing and fun shows about the struggles that people on the spectrum have with dating, without some of the more exploitative elements of series such as The Undateables.
However, we were left rather abruptly when the series ended with no real explanation as to what happened to some of the more notable faces on the show. Did Michael find true love? Did Thomas and Ruth end up getting married? Is Kelvin still obsessed with Manga?
Michael
Michael was by far one of the most entertaining members of the show, not only for his often peculiar outlook on life but his fundamental desire to find love. Watching him interact with his family (his mum in particular) was one of the nicest parts of the show.
Since appearing on Love on the Spectrum, Michael seems to have been living much the same. According to a Netflix update video, he told them that when he's not working he watches TV and practises acting in the hopes of becoming a voice actor one day.
He hasn't yet found love, but he is on a dating app and still searching, although he acknowledges that the hardest part of being on the show was keeping the conversation flowing. He told Netflix that his five goals for the future are buying a house, getting a cat, becoming a husband, becoming wealthy and establishing his career as a voice actor.
Michael also seems to be enjoying the celebrity status the show has gained him. He told ABC Illawarra that he loves the attention that he gets from people on the streets: "They complimented me about how wonderful I was".
Chloe

Chloe went on a couple of dates during the show, including both a particularly memorable one with a lady called Lotus in a sunflower field, but ultimately she didn't find love.
Speaking to Refinery29, she said that she had learnt a lot from the experience: "Being on the show made me realize what I'm looking for, and it's okay to be picky. You don't have to accept every offer you are given."
Unfortunately, nothing came of her romance with Lotus to the dismay of many fans, but she did address the date: "With Lotus, the conversation kept flowing and was hardly ever awkward. No one made me feel the same way as she did before. I kept smiling for hours after our date ended."
Since the show aired, she told Netflix that she'd decided to move in with her best friend Brodie but is still looking for love, referencing Jimmy and Sharnae from the show as an example of a good couple. She is still working on getting her dream job as a support worker and sign language interpreter.
Mark
Mark was probably the nicest guy on the show, and if you don't agree then you are wrong. Once the show ended, many wondered whether he ever got into a palaeontology-based career or find love, but unfortunately we can report that he is yet to find either.
Speaking to Netflix, he said that he's been spending time doing movie and book reviews since the show aired, and that he's still looking for love as, in the immortal words of Cheryl: "It's worth fighting for."
Speaking to Touchstone Magazine, Mark told them that going on the show proved to bullies that he'd come a long way: "I was always bullied at school and people made fun of me growing up. I was pretty down in the dumps for a while but I feel like now I've absolutely overcome that and proved people wrong through Love on the Spectrum."
He also revealed that unfortunately things didn't work out for him and Lauren, the lady he went to the zoo with for a romantic date of penguin feeding.
Kelvin
Kelvin was obsessed with manga over absolutely anything, and that played to his disadvantage when he went on a date with someone who exclusively preferred videogames to anything else. They even ended up playing Super Smash Bros at the dinner table whilst waiting for their food.
Kelvin is still drawing by the looks of his Instagram page, and he told Netflix that his next step is to get a job at Australia Post to gain more customer service experience.
Although it doesn't look like he's dating right now, he has seen Amanda (left) from the show several times at various comic book conventions. Maybe they'll end up being an item!
Olivia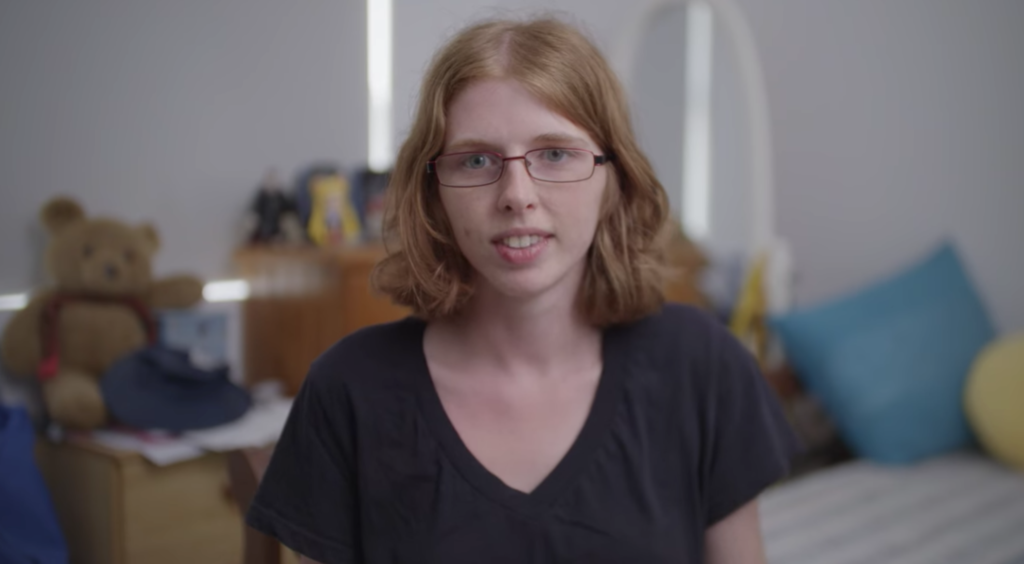 Olivia went on a couple of dates during the show, but ultimately it looked like she didn't find anyone in the end. According to Netflix, she wants to explore dating women for the first time as it wasn't shown on the show that she's bisexual.
She's still into acting, and has been having regular Zoom classes with her theatre company. She is focussing on working towards her dream of being a successful actress.
She is particularly active on Twitter, where she interacts with people who have watched the show as well as promotes her theatre work.
Thomas and Ruth
These two are absolute couple goals. From the start, their love for each other was nothing short of adorable, and you could really tell that they bounced off each other very well.
You'll be happy to hear that they have finally got married, and then moved to that railway house that Thomas said he'd like to get eventually. They still have their little pet snake, and Thomas has grown quite the impressive head of hair during lockdown:
Related stories recommended by this writer:
• Meet the cast of new Netflix dating show 'Love on the Spectrum'
• These 46 memes hit differently if you spend your life watching Netflix
• These are officially the most watched titles on Netflix ever