These are officially the most watched titles on Netflix ever
64 million people watched Tiger King
Netflix is famously very secretive with its viewing figures. You hardly ever know how many people are watching different series or what are the most watched Netflix shows and films. The top 10 ten list gives you a rough idea of things that are popular at any given time, but that's about it.
However, every now and then Netflix will release a small snippet of information about just how many tens of millions of viewers its original programmes have. Netflix released its top 10 watched films ever to Bloomberg this week and has also released some details of the most watched original shows and films. So we can finally find out, here they are.
Extraction – 99 million views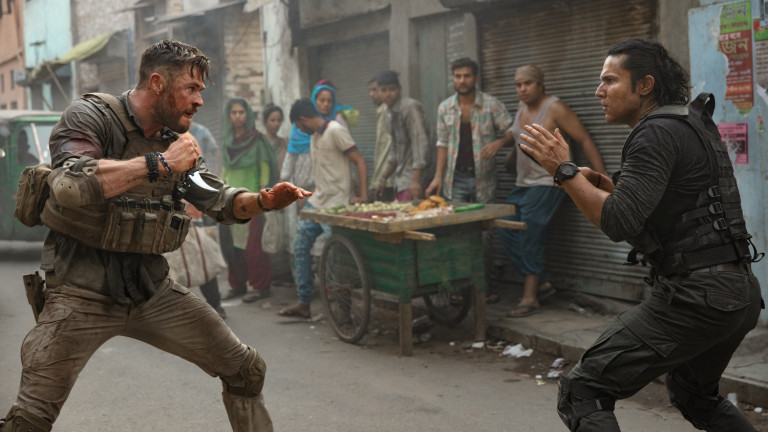 Extraction is the most popular Netflix film, having been watched by nearly 100 million people. The action thriller was number one in the Netflix top 10 list over the May bank holiday this year. Those 99 million views were recorded in just the first four weeks of its release.
It stars Chris Hemsworth and the synopsis says: "A hardened mercenary's mission becomes a soul-searching race to survive when he's sent to Bangladesh to rescue a drug-lord's kidnapped son."
Bird Box – 89 million views
Bird Box, starring Sandra Bullock, was all everyone was talking about when it was released in 2018. The sci-fi horror film got nearly 90 million viewers on Netflix in the first four weeks of its release.
The synopsis reads: "Five years after an ominous unseen presence drives most of society to suicide, a survivor and her two children make a desperate bid to reach safety."
Spenser Confidential – 85 million views
Spenser Confidential probably caught the eye of 85 million people in the first four weeks of release because its imagery showed off the cast which includes Mark Wahlberg and Post Malone. The Netflix original film follows a former police detective who returns to the criminal underworld to solve a twisted murder conspiracy.
6 Underground – 83 million views
6 Underground was released on Netflix in December 2019. It's no surprise it got so many views in its first four weeks, it does star Ryan Reynolds after all. The synopsis for the action thriller reads: "After faking his death, a tech billionaire recruits a team of international operatives for a bold and bloody mission to take down a brutal dictator."
Murder Mystery – 83 million views
Netflix film Murder Mystery got 83 million views in its first four weeks of release. The film, staring Jennifer Aniston and Adam Sandler, is all about a New York City cop and his hairdresser wife who scramble to solve a baffling murder aboard a billionaire's yacht.
The Witcher – 76 million views
The Witcher has become Netflix's most successful series, with it often being called Netflix's answer to Game of Thrones. The fantasy series, based on the novel series and video game of the same name, raked in around 76 million views.
Money Heist (season four) – 65 million views
The next most popular series is Money Heist, with season four getting around 65 million views. The creator of Money Heist, Álex Pina, is also the creator of other Netflix show White Lines. The series is set in the Mediterranean and all about sex, drugs and drama. The Netflix synopsis says: "Eight thieves take hostages and lock themselves in the Royal Mint of Spain as a criminal mastermind manipulates the police to carry out his plan."
Tiger King – 64 million views
Tiger King was released in March this year, and boy what a time that was. Remember when nobody knew who Joe Exotic was? Now we are all obsessed with the Tiger King himself and his showdowns with Carole Baskin. The series takes a look inside his zoo and focuses on his arrest for the murder-for-hire plot of Carole Baskin – which Exotic is now serving 22 years in jail for. 64 million people watched what is definitely one of the wildest true crime docuseries ever to be released on Netflix.
The Irishman – 64 million views
Equaling Tiger King, in the first four weeks of it being released, The Irishman had 64 million views on Netflix. The drama film is based on the 2004 nonfiction book I Heard You Paint Houses by Charles Brandt  The synopsis reads: "Hit man Frank Sheeran looks back at the secrets he kept as a loyal member of the Bufalino crime family in this acclaimed film from Martin Scorsese."
The Wrong Missy – 59 million views
The Wrong Missy is 10th in the list of most watched shows and films on Netflix – having had 59 million views in the first four weeks of it being released. The 2020 rom-com is all about a man who invites his dream girl to an island resort – but a previous blind date shows up instead.
These statistics are based on Netflix's new "two minute metric". This means that a "view" is classed as anyone who watched the show or film for two minutes or more.
For all the latest Netflix news, drops and memes like The Holy Church of Netflix on Facebook. 
Related stories recommended by this writer:
• Ranked: The best Netflix Originals series, according to Rotten Tomatoes
• This is how much it would cost to live in the most popular houses from Netflix shows
• This is how many millions of people watched your fav Netflix shows