We asked Year 13s what they think the stereotype of every uni is
One girl said she had 'literally never even heard of Sheffield uni'
As soon as you get to uni you become very well acquainted with your uni's stereotype. You gradually amalgamate a knowledge of other unis' stereotypes too, based on what other unis are close by, your rival uni, where your mates go and… let's be honest, Tab articles.
Some of these stereotypes are rooted in cold hard fact (like, come on, Durham is actually pretty posh) and some of them are just big ol' generalisations that people throw around just because everyone knows it and it's funny (Manchester omg sooo ketty lol) but regardless – there's usually a bit of truth to them. The weird thing is, your uni's stereotype precedes it. Even those who haven't made it to uni know a little about its perceived vibe. Yes, that means even the wee babies that are our current cohort of year 13s – aka your next wave of incoming Fresher's.
Before they hit your SU and start using words like "rah" far more often than they should, we caught them in their pre uni state to ask them what they think the stereotype of each UK uni is. Let me warn you right now: No uni is safe. Get ready, because you are about to get totally roasted by a bunch of 18 year olds. Here we go.
Bristol
"Bristol is where the kinda cool kids go to get really cool." – Chloe
"Apparently Bristol has the best social life out of anywhere else, but that's all I've heard about the university. I've heard that Bristol itself can be a bit of a dodgy area." – Isa
"That place where that dodgy statue got taken down. That'll take a couple years to blow over." – Evan
"Drugs, mega expensive vintage shops and full of clever people who just wanna party." – Annie
"Druggy but think they're edgy. Usually a clout chaser." – Archie
"Great uni, people are super chilled." – Caitlin
UWE
"Where the druggies go and if you're not a druggy when you start, by the end of the first term you will be." – Adam
Liverpool
"They all wear North Face puffer coats and cry over the Beatles, and you will definitely see everyone on your course in their pyjamas at the local Tesco on a Saturday afternoon." – Annie
"A solid choice, great night life, good uni, just the accommodation price will have you living off a tin of beans for all of first year from what I've seen." – Evan
"Apparently they campaigned to have litter police banned from campus which is kinda jokes." – Isa
"Never bothered to research about Liverpool University because I can't stand the accents." – Elisa
Manchester
"A wannabe indies wet dream." – Evan
"Full of clever science-y people." – Caitlin
"Seems like a good night out." – Chloe
"IMO just full of people who are more interested in 'the sesh' than anything else." – Isa
"They either really love Dark Fruits or they really love MD, you know you're in Manny when you see vintage Adidas and bucket hats on the tram at 10am." – Annie
"I went up there to visit my mate when he was in his first year and on the way to the student bar I was asked three times if I could lend my lighter out to random people, says everything you need to know about Manchester – great night life though." – Adam
Leeds
"For those too 'edgy' for Manc." – Evan
"All I know is that it's supposed to have a good night life, with a club of its own for the students, and they are a decent university in terms of studies and research." – Isa
"They all shop at Urban Outfitters with their student loan, you have to wear faded jeans or your not allowed in any clubs." – Annie
Sheffield
"Literally never even heard of Sheffield Uni." – Chloe
"I heard Sheffield is similar to Leeds for having fun but the students seem a bit pretentious." – Isa
"Has the best nights out, most of the guys model their personalities on Alex Turner, and you have to own Converse to go or they'll not let you into the uni." – Annie
Notts
"Look like they come out of an H&M magazine, they're definitely the quiet friend." – Annie
"Campus is wayyyy too big." – Caitlin
Newcastle
"Cheap ale and looks a proper good laugh." – Evan
"The night life is crazy, bunch of cheap booze and drugs." – Emma
"Best party city without a doubt, beautiful campus, but all the southerners come up for a good time and make Market Shaker full on a Friday night." – Annie
"Newcastle students only go to uni for a good night out but they're secretly super smart." – Archie
Glasgow
"Drugs." – Chloe
"Feel like it's kinda a forgotten uni." – Caitlin
"Literally miles away from where they actually come from, and for some reason lots of Harry Potter fans knocking about the streets in costume?" – Annie
"Suuuuper Scottish." – Archie
Cambridge
"The only chance a normal person has of getting into Cambridge is being good at rowing." – Chloe
"Mainly for upper class white folk. Not saying they're not smart cos only one or two can buy their way into a place like that but I think it can turn someone into a snob. I hear there's a whole load of coke going round in some social circles. Imagining it to be kinda how they portray it in the media. Also they got pretty butthurt about losing to Imperial in University Challenge, lol." – Isa
"Assuming that people there are snobbish and most likely posh (just because you have to be insanely smart to get in; which of course boosts your ego). Mainly focused on the educationals." – Elisa
"It's Oxford's posher older brother, they definitely got all A*s at GCSE and they're just that little bit more prestigious than Oxford in every way." – Annie
"No social skills." – Archie
Oxford
"Either daddy's cashed in some favours or you're a brainbox. There's no in between." – Evan
"Super pretty campus, like Hogwarts – very British." – Chloe
"Still super elite and not enough state school students." – Caitlin
"Same as Cambridge but with a bit more cocaine probably and higher proportion of white people. My cousin actually did her undergrad, masters and PhD at Oxford and she is an obnoxious snob, but that's only in part due to Oxford cos she's always been that way. I have heard of some weird social circles consisting of Tory white dudes that hold drug fuelled orgies but I don't know too much about that. I've heard of cringeworthy sports teams initiations too like streaking in the library and doing handstands with your head in a bucket of alcohol." – Isa
"Introverted posh students." – Adam
"A bit more liberal than Camby but definitely think they're better, is great for humanities but does mean they all put on a fake posh accent to try and fit in." – Annie
Durham
"Brightly coloured chinos and a passion for cricket or badminton (sports with bats in general)." – Evan
"I don't know much about Durham but it does seem like a place for posh people." – Isa
"Obsessed with rowing, the uniform is chinos and a blazer, definitely take their studies seriously and they all probably support Chelsea." – Annie
"Oxbridge rejects, rarely someone's first choice and everyone is very privileged." – Adam
Edinburgh
"Pretty much Durham just in Scotland with less cricket." – Evan
"Their daddies definitely pay for their shopping addiction at Harvey Nichols, most definitely all have second houses in France, and so many Americans!" – Annie
"Really flexible courses." – Caitlin
"I heard there is a significant portion of posh folk that go there which is surprising but they also have hippies as well." – Isa
"Edinburgh is for the posh Scottish people." – Chloe
"Posh rich kids or intellectual Scots." – Archie
Warwick
"For people who got rejected from Oxbridge." – Chloe
"Proper posh, they all probably play polo, squash or row and they're more than likely to be French in some way." – Annie
"It's for Oxbridge rejects so I'm assuming the students have some kinda chip on their shoulder and are competitive. Could lead to snobbish cultures maybe?" – Isa
"Too much work and no play." – Caitlin
"Dull as dishwater." – Archie
Coventry
"They can't have a good nightlife it is literally impossible, campus is quite dirty and ugly." – Annie
Lancaster
"Didn't even know this was a uni." – Isa
"The campus is great but I'd rather gauge my eyes out with a plastic spoon than have a night out there." – Evan
"Low key so sporty but also very boring." – Annie
Royal Holloway
"I had to Google Maps this uni I think it's near Thorpe Park? That's cool I guess." – Evan
"Apparently awful for nightlife and having fun, although it is somewhat of a prestigious university for its studies." – Isa
"Everyone who goes there always makes the point that they go to a London uni, even though it just isn't in London." – Adam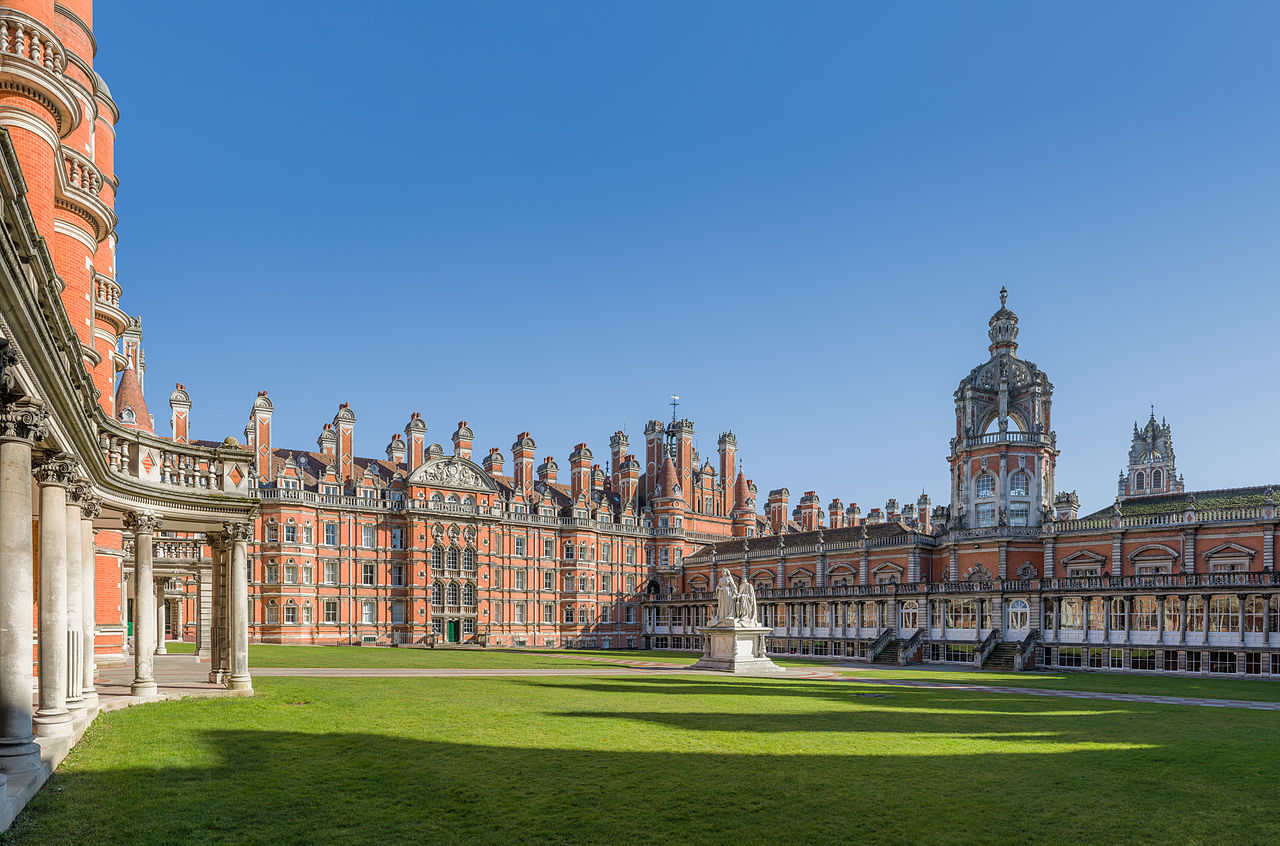 Exeter
"Another white private school orientated uni." – Chloe
"All probably very rich, just got back from spending the summer in Thailand with a family friend and it really 'changed their perspective'." – Annie
"Too far away from anything interesting." – Caitlin
"Where a lot of privileged people from the south go after they've got back from their gap year to Asia which their parents funded." – Adam
"Posh, sporty, good social life." – Archie
UCL
"David Attenborough went there so I'm pretty sure it'll be full of top geezers." – Evan
"Heard lots about UCL students and coke. So I'm assuming they're laid back." – Emma
"Very diverse and international." – Caitlin
"All they wanted to do was move to London and hated it as soon as they got there, definitely get a buzz over the fact Chris Martin went there." – Annie
King's College London
"Both UCL and KCL are just rip off versions of Imperial. I guess these two places are kinda like the Warwick to Oxbridge. Also heard there isn't much fun to be had in terms of extra curricular stuff and parties." – Isa
"A lot of London obsessed students who didn't get into UCL or Imperial." – Caitlin
"Heard that the people there are pretentious and judgemental." – Elisa
"They have a chapel in the gaff as if?" – Evan
"Soooo emo, they put so much more time into how they look than their actual course, all probably attend protests but will fully be late to them fashionably." – Annie
Aberystwyth
"Who the fuck knows where that is." – Archie
Loughborough
"Very sporty but apparently the night life is a bit dead. Any boy who doesn't take a sport related degree is only there to find fit girls." – Adam
Sussex
"Sussex is great because it's by the sea and Brighton is buzzing." – Chloe
"If Waitrose was a uni this would be it." – Evan
"The people are liberal and open minded but there's also a fair share of 'lads' and pretentious folk." – Isa
"Everyone at Sussex definitely identifies as a hippy, does regular yoga and meditation and has every IKEA plant available in their halls." – Annie
Brookes
"Oxford Uni if it wasn't Oxford uni." – Evan
"All I know about this place is that it's an easy way for someone to say they 'went to Oxford' without actually mentioning that it was Oxford Brookes." – Isa
"Quite snobby, will have definitely taken a gap-yah." – Annie
"One of the best old polys." – Chloe
York
"I don't know anything about York." – Isa
Photo by Toa Heftiba on Unsplash
Related stories recommended by this writer:
• These are officially the best uni halls in the country
• These unis are offering the fewest places to black students