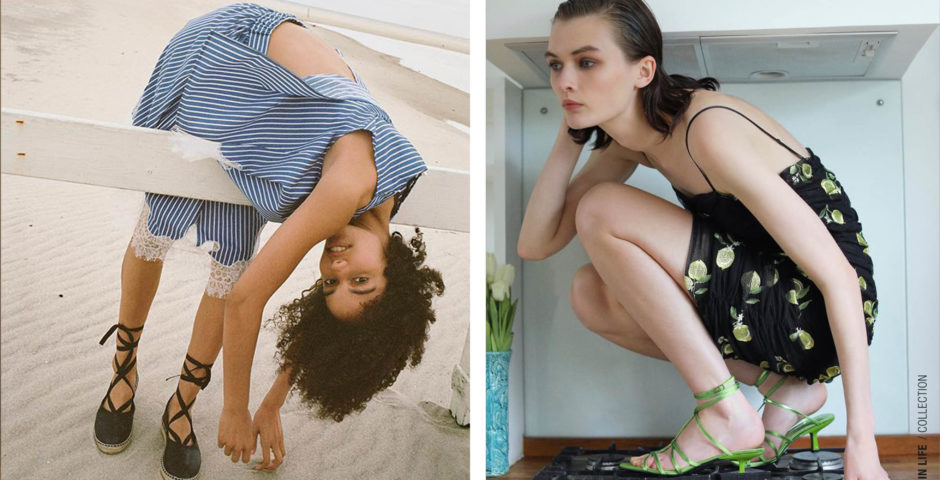 A deep dive into the archives of Zara's most ridiculous model poses
Look, I love Zara as much as the next guy. Don't get me wrong it's a great place to shop. Need a summer dress for a bottomless brunch? Zara. Need a camel coat and black flares to be accepted by your friends? Zara. Even a replacement of your everyday jeans? Zara.
Like I said, it's the holy grail, but oh from the heavens it tumbles when you go to shop on their website. Can someone please tell me who and what is the creative designer behind these shots? I'm no longer shopping for clothes, I'm flicking through an editorial shoot for Vogue Italia. Can someone please explain to me who thought: 'I know, let's have her lean over the fence' or 'let's have her doing a shoulder stand, that'll really show off the jeans'?
Standing on a stove, climbing on a bookshelf, holding a shoe above your head: Zara's done it all. The shocking thing is it's been going on for years and apparently they're not going to stop any time soon. People on Twitter and TikTok have started to notice, and it's caused a whole plethora of Zara pics to come out. So here's a round-up of the very worst of Zara. Strap yourself in, you're in for a ride:
Are you okay sis?
A fence. She's actually leaning over a fence. Not exactly the Instagram look I was going for, but nice to know it works.
Seriously?
It's not everyday I shoulder stand in my jeans, so I'm glad Zara has demonstrated that it works perfectly.
Health and safety are screaming
Heels, a dress and a stove. Never a winning combination. Now I may stumble in after a night out and head straight for the kitchen, but never have I ever mounted the hob. What does that say Zara?
Honestly just get down
Girl you're in the library, not Jungle Jane. Climb down and show me what the trousers actually look like.
What are you doing hun?
Lying down, in the sand, in a white dress. She looks like a sea urchin. WHO is the creative director for these shots? I cAn'T sEe ThE cLoThEs.
Surely that's not comfy?
Oh now come on. Is that a jumper around your neck? I'm losing the will.
Would rather see it on your foot tbh
Literally this shows me nothing. Can't see the earrings, can't see the jacket, can't see the top. Oh, and the shoe is on her head. A nice touch Zara.
Okay now we've just run out of models completely
Zara's website has become such a meme online that people are making up their own typical Zara photoshoots like these 'invisible man jeans'. It wouldn't even surprise me if Zara sack off the models soon enough. Who needs them?
At least it's got full coverage
I've actually got no words. All this tells me is that I could use it for shelter in the rain. So basically it's my school blazer I'm looking at. Great.
Is that right?
Seriously, who gave this the okay? This couldn't be further from the correct way to wear it. How many times Zara?
Yep, just pop the chair down now
If there was an award for unnecessary props, this would win.
I feel you girl.
Related stories recommended by this writer:
• Introducing 'jazz legs', the pose taking over your Instagram feed
• Love Island babies: These are all the cast members who have had children
• So, this is how much sex everyone else is having in lockdown