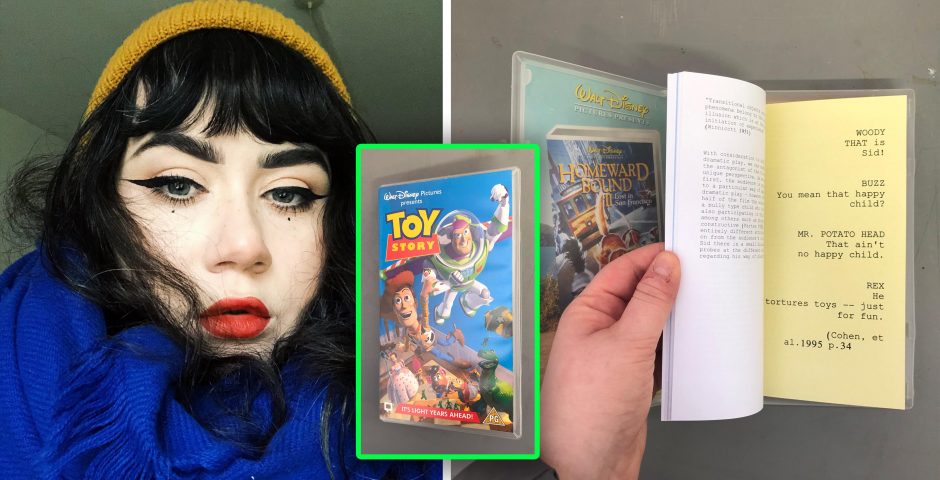 Your diss will never be as good as the Toy Story-themed DVD case this student made
Bet your diss is written in Calibri too
If you're a final year halfway through your dissertation you might want to click away from this article right now, because what you're about to witness truly is the diss to end all diss.
Robert Gordon University fourth-year Sarah found herself enjoying a moment of viral fame this week after tweeting a picture of her dissertation fresh off the printers. Sarah's piece takes the form of a video cassette case, complete with adverts for old Disney films on the inside cover. Opening the tape inside it reveals the dissertation, a study of "the parallels between childhood toys and Toy Story", interspersed with excerpts from the film's script.
Sarah told The Tab she had always considered writing her dissertation on Toy Story "as a joke." As for whether she reckons the elaborate plastic presentation will help, she said: "For my course, a considered presentation can really help your grade but it was just one of those things I just thought of randomly and it just went from there."
Tweeting the picture of her finished diss, Sarah said: "Got my diss back from the printers and I'm so fucking proud of myself look how cool this is."
Sarah told The Tab her dissertation supervisor has seen the photos of the finished product and was "impressed" by what she saw.
"She pointed out my style of writing is really academic and cites a lot of child psychoanalysis and anthropomorphism so the contrast of a kids film is pretty cool," she told The Tab.
Sarah collects and documents toys on her Instagram, telling The Tab: "It's just something I'm really into."
The dissertation features key moments from Toy Story's script, screenshots from the film, and photos of Sarah "as little kid with my favourite toys."
"I used Sid and Andy to exemplify different areas that can affect our attachments like how they play and sentimentality," she told The Tab.
"It's broken down into two chapters first one is the role of play, by looking at the way Sid and Andy play," she said. "I picked two scenes the opening scene of Andy dressed as woody and playing fantasy, and then Sid strapping the toy soldier to the rocket."
She continued: "The second chapter is about sentimentality and the value we place on toys, again after discussing my points I went on to take apart two scenes, Andys toys being a well cared for and his mood change when he "loses" woody and buzz and then the scene where Sid's toys crawl out from under the bed, obviously forgotten and not cared for."
Related stories recommended by this writer:
• This Durham grad wrote her dissertation in just EIGHT hours and still got a 2:1
• This Notts student wrote her dissertation from scratch in 14 hours, that's a new record!!
• This Northumbria third year smashed out her dissertation in 15 hours