These 56 A-level results day memes are so savagely tragic it hurts
Everyone is crying but it's fine
A-level results day is a whirlwind of emotions. Some people are chilled with their unconditional whilst others could get three As, but could also easily get three Us. The only thing that truly unites us all are the A-level results day memes.
They are a beautiful mix of tragic yet wholesome, savage yet laughable. Yes, you might have done utterly shite in your exams, but at least Twitter will give you something to laugh about when you cry into your free Nando's quarter chicken.
Here are the best A-level results day memes:
1. It's been a long old night
2. You hate to see it
3. The presents are shit and there's not even a roast at the end
4. JUST LET ME CRY IN PEACE
5. Congratulations! Your place at University of Memes M98 for Millennial Studies M65 has been confirmed.
6. You just never know
7. I DON'T CARE IF YOU'RE RICH WITH NO A-LEVELS
8. HaHa HA hA hahhahA help me x
9. I WILL BREAK DOWN THESE GATES WATCH ME
10. *Crying intensifies*
11. LET. ME. ON.
12. Why have I done this to myself
13. Loooool what's sleep??
14. It's happened now so let's just cry
15. Is there … hope?
16. What these were real? Hahahaha shit
17. Hear me out here
18. All that matters is that I really tried
19. Don't forget about me x
20. THREE TIMES MUM, THREE TIMES
21. I'm absolutely fine
22. I love yoU mUm I hope yoU know that x
23. The results weren't what I desired but it's called GRAFT
24. They're done with us all
25. I! Love! These! Feelings!
26. But at least I look 10/10
27. Sorry?? WHY would you do this to yourself???
28. No interviews please
29. Quit bitching at give me my 1/4 chicken
30. I've never hated a man more
31. HERE HE BLOODY IS
32. Honestly fuck off
33. I DIDN'T KNOW OK
34. Thanks UCAS, every cloud x
35. WOW I see how it is
36. I'm having a real tough time ok leave me alone
37. Don't wanna talk rn
38. I'm having so much fun 🙂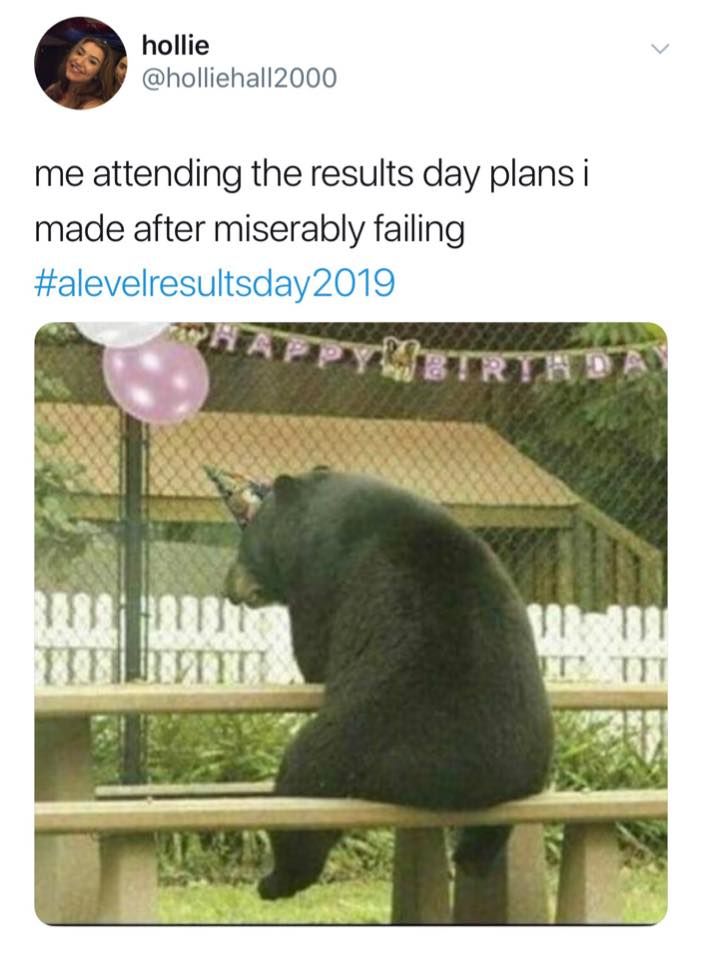 39. This is honestly so sad
40. Times really hit you hard
41. Seriously though
42. At this stage I'll take anything to be honest
43. I don't listen to nonsense
44. I'm not sure what I was thinking if I'm honest
45. I didn't want a degree anyway
46. Trust me mate, I have BRAINS
47. Good. Bye.
48. Yes I think you did!!!
49. 'Mate check out this guy got straight Us but wants to go to a Russell Group'
50. Shit me up
51. Good morning and good bye!
52. I woke up like this xxx
53. I just wasn't me x
54. Wow truth
55. I'm still claiming my free chicken
56. NEVER FORGET
If you've just got into uni, like The Tab's Facebook page for all the latest gossip on campus.
For the best uni memes and videos follow The Tab on Instagram.
Related stories recommended by this writer:
• The unis who work hardest on their degrees, in order of nerdiness
• UCAS is sending tampons and pads to prospective students