Remembering Reading Festival, the best and worst five days of your life
It's 8am and mum is frantically pacing up and down in a sweat. Dad doesn't know what day it is – it's just a Thursday to him. But it's not just any old Thursday. No, it's GCSE results day and your whole future (the next two years of your life) relies on you doing above average in the 11 exams you sat in May and June.
But for you, the nerves are over-ridden by the taste of freedom just around the corner: five whole days of no parents, no rules, warm cider, cheap cigarettes, awful sex, shouting "Alan?" at strangers and Enter Shikari on the NME stage.
If heaven is a place on earth it's Richfield Avenue, the home of Reading Festival, or at least it was when you were 16 years old. But looking back at it now, someone would probably have to pay you £200 to go. From hotboxing your mate's tent to getting in mosh pits, here's everything you'd probably rather forget about your time at Reading Festival:
SCREAMING ALAN! OR STEVE! ALL THE TIME
And never getting bored of it.
LITERALLY ONLY DRINKING WARM CIDER FOR ALL FIVE DAYS
Most likely Strongbow, these were in the days before Dark Fruits changed our lives forever, leaving you to sip on a lukewarm apple cider.
THE STATE OF THE PORTALOOS
Seriously how do people manage to shit like that?
AND WONDERING WHO ACTUALLY DECIDED TO COVER THEIR HANDS IN THEIR OWN SHIT AND RUB IT AROUND THE WALLS
Hope they got counselling.
GETTING INTO A MOSH PIT AND ACTUALLY ENJOYING IT
There's nothing fun about being caught between a punch and a sweaty topless man with a hairy back.
WHITEYING AFTER HOTBOXING A TWO-MAN TENT
Two-toke passing whilst Ellie Goulding – Starry Eyes Jakwob remix was playing in the background was too much for some.
GOING TO THE SILENT DISCO
And finding it hilarious when you took your headphones off and everyone was singing out of tune hahaha good times love you guys x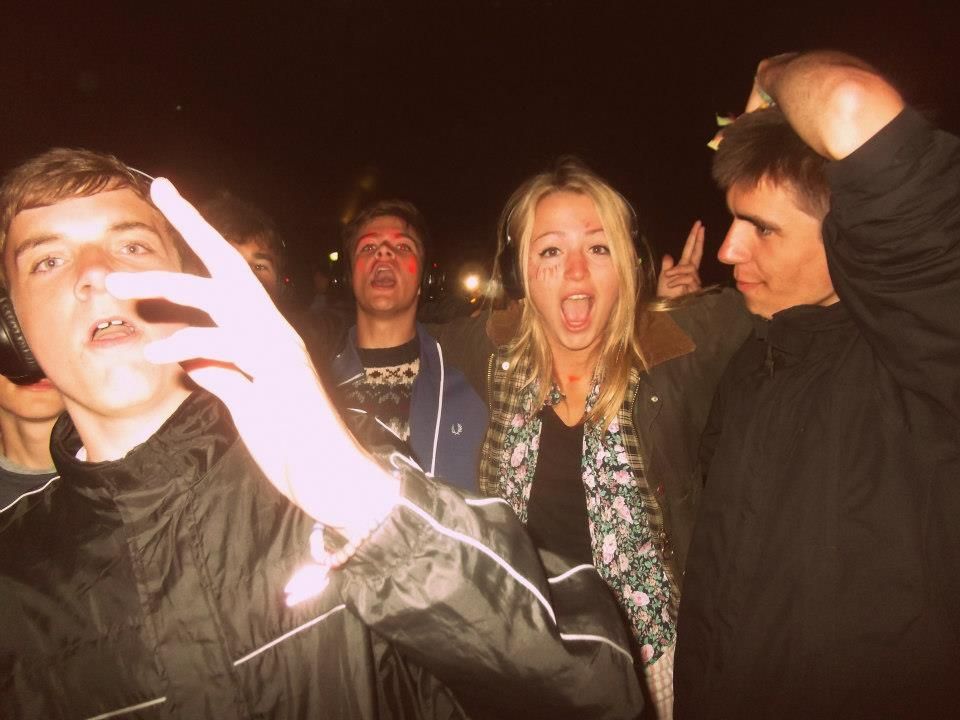 WALKING AROUND YELLOW, ORANGE, BROWN AND GREEN CAMPSITE FOR HOURS AFTER THE HEADLINER
Other than the silent disco, there wasn't any post-headliner activities. Unlike all other festivals, Reading left you to your own devices to have fun. And "have fun" either meant going back to your campsite and sit in a circle getting cold, or walk round the perimeters of the festival with a four pack of tinnies, chanting until it was time to go and see the newest shite indie band NME were wanking over at 11am on the main stage.
AND GETTING REALLY LOST
METICULOUSLY PLANNING HOW TO SNEAK IN ALCOHOL INTO THE FESTIVAL AND GETTING VERY STRESSED
Because if you didn't manage to sneak any in you would be…
….LINGERING OUTSIDE BIG TESCO BUILDING UP ENOUGH COURAGE TO ASK SOMEONE OVER 18 TO BUY YOU A CRATE
Not only that, but also building the courage to then ask them to carry it into the campsite. You sealed the deal by giving them a tenner and two tinnies.
GOING TO AN ENTER SHIKARI SET AND THOROUGHLY ENJOYING IT
Everyone clapping to 'Sorry You're Not A Winner' was the single highlight of your weekend.
TELLING THE STORY OF THE PERSON WHO GOT STUCK IN THE PORTALOO EVERY TIME YOU QUEUED FOR A PISS
"She literally fell down the portaloo and got shit all over her. No one's seen her since."
THROWING YOUR FRIEND'S TENT OVER A FENCE, OR SOMEHOW TRASHING IT
And unpacking everything in it so their pants are all over the campsite.
STEALING OTHER PEOPLE'S CHAIRS AS SOON AS IT GOT DARK
Just harsh really, isn't it? They cost money!!!!
FINDING A CONVENIENTLY LOCATED CAMP SPACE AND PATTING YOURSELF ON THE BACK BEFORE REALISING IT WAS ONLY FREE BECAUSE OF THE PROXIMITY TO THE LOOS AND THE SMELL OF SHIT THAT ACCOMPANIES THEM
Guess the smell of dehydrated piss and diarrhoea is us for the next five days!
USING ONE OF THE SHOWERS ON SITE
The rumours were true – they were gross and you felt more dirty coming out of them.
SOMEONE WOULD END UP SLEEPING JUST OUTSIDE THE TENT AND IT WAS ABSOLUTELY CLASSIC!
Dave! You passed out literally next to your tent mate! What were you doing! You were so wasted!
LOSING YOUR VIRGINITY OR HAVING REALLY BAD TENT SEX WITH SOMEONE YOU MET DURING CRYSTAL CASTLES
Regrets.
ALWAYS BEING REALLY FRIENDLY WITH SECURITY WHEN THEY'D COME OVER TO YOUR CAMPSITE
Unlike now when you're petrified they're going to find your drugs, back then it was all "can I have a picture in your high-vis mate!!!!!"
NOT TAKING A SHIT FOR FIVE DAYS AND KINDA BEING PROUD OF IT
It was worn like a badge of honour when going back to school and everyone knew about your non-existent bowel movements.
BRINGING ENOUGH FOOD TO LAST A LIFETIME
It was almost like you'd been informed the world was ending and it was essential to stock up on canned goods, a bit like the war. Beans, spaghetti hoops, Pot Noodle, Pringles, rice cakes, Haribo, apples – the shopping list went on.
GETTING THERE RIDICULOUSLY EARLY ON THE WEDNESDAY FOR EARLY BIRD, SETTING UP CAMP AND GUARDING THE AREA UNTIL FRIDAY MORNING
There is no fucking way someone is gonna pitch up a tent in the middle of our area!!!!
KEEPING THE WRISTBAND ON UNTIL SECOND YEAR OF UNI
"Omg I was at Reading 2011 too!!!" It's a unifying moment when you and a total stranger have been to the same festival, alongside another 150,000 people – funny that.
POSING WITH A TINNIE IN EVERY SINGLE PHOTO
People need to know I am consuming alcohol and I'm not even legal!!!!
…AND POSING WITH A CIGGIE FOR EXTRA POINTS
Facebook captioned "sorry mum!" or "don't tell mum x"
OR POSING WHEN CLEARLY BAKED
Why are these photos still on Facebook??
LIVING OFF SUPER NOODLES, CHIPS AND COLD BEANS
Because nutrition is not important when you have three crates of Brothers cider to plough through.
MAKING FRIENDS WITH TOTAL STRANGERS AND TAKING PICTURES WITH THEM, WHICH NOW ON REFLECTION HAS RUINED ALL YOUR PHOTOS
Honestly look back at photos and tell me you're not thinking who the fuck is that and why did I get a picture with them?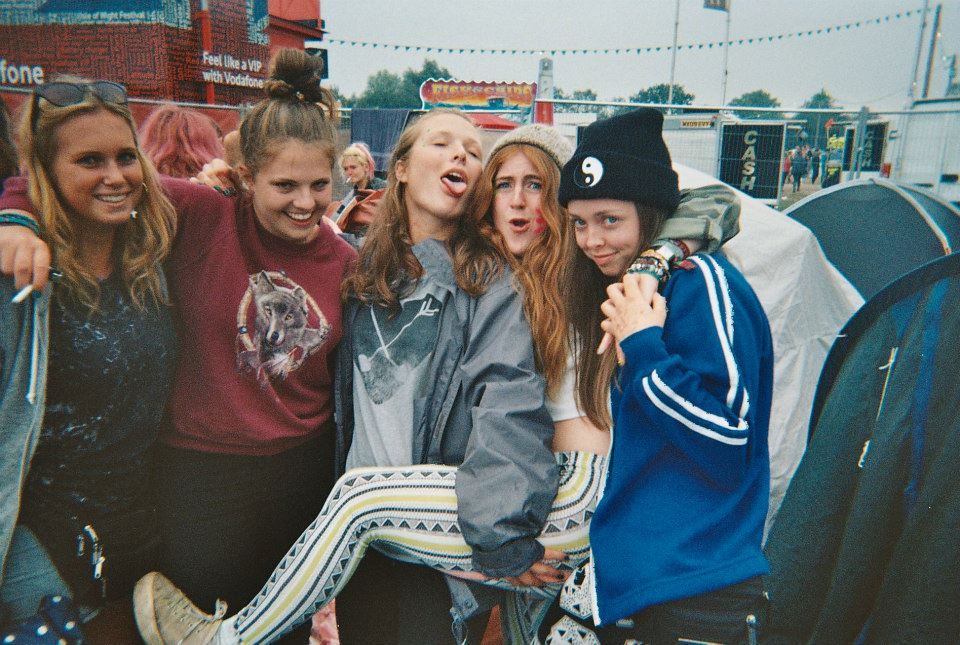 BEING OFFERED AN ASSORTMENT OF PILLS AND WEED LITERALLY EVERY FIVE MINUTES
Pills were too scary and unknown for you, but weed wasn't, weed was cool. Someone bought some, it cost £30 and turned out to be mainly crushed herbs but you acted high anyway.
THE LONG WALK TO TESCO AND THE EVEN BIGGER QUEUES ONCE YOU GOT THERE
I'm exhausted thinking about it tbh.
NOT PUTTING THE TENT UP PROPERLY AND GETTING FLOODED IF IT RAINED
And not giving one single fuck.
NEVER GETTING BORED OF THE MEXICAN WAVE OF SHOUTING WHICH WOULD CONSTANTLY RIPPLE ROUND THE CAMPSITE
GOING HOME AND WATCHING ALL THE HIGHLIGHTS AND TWEETING HOW "DEPRESSED" YOU WERE NOW YOU'RE HOME
Because that's how much spare time you used to have.
PEOPLE THROWING PISS IN BOTTLES
To be fair The Vaccines probably deserved it.
RUNNING TO SEE THE FOLLOWING BANDS:
Biffy Clyro, Crystal Castles, White Lies, Enter Shikari, Hadouken!, Two Door Cinema Club, Panic at the Disco, Paramore, Frank Turner, Foster The People, Chase and Status, Florence & The Machine, Knife Party and Muse.
GIRLS CUTTING ALL THEIR TOPS TO HAVE LOW ARM HOLES SO THEIR LA SENZA BRA SHOWED
Impressing all the boys with my 32As!
ALL THE BOYS WORE COLOURED TOPMAN ZIP-UP HOODIES OR FAIRAISLE WOOLEN JUMPERS AND IT WAS NOT A GOOD LOOK
You bought it with that £25 voucher Auntie Janet gave you for your birthday and you rarely wore anything else.
LITERALLY TRASHING THE PLACE ON THE MONDAY MORNING
Flying gas canisters in the air, throwing deodorant cans into bonfires, trashing the perfectly good three man tent dad kindly lent you (you told him it got "slashed" by a randomer and it definitely wasn't your fault.)
GETTING BLACK DUST UP YOUR NOSE AND IN YOUR TEETH WHEN COMING OUT OF THE DANCE TENT
And having to blow black bogies for about two weeks after.
GETTING STUCK WITH THE ONE MATE WHO DECIDED TO FALL IN LOVE WITH A RANDOM GUY IN THE CROWD
She wouldn't let you leave even though Fall Out Boy were about to start because she had to find out exactly where his tent was so they could meet up later.
ACTUALLY SEEING A FULL DAY'S WORTH OF MUSIC
Can you imagine going to Glasto now and having the stamina to go from 11am-10.30pm everyday? Absolutely not.
BEING OBSESSED WITH FIRE
Burning tents, burning clothes, burning the rubbish, burning chairs, just burn the whole fucking lot.
"READING'S BECOMING TOO MAINSTREAM" TO ANY ARTIST WHO WASN'T AN INDIE BAND
Imagine 17-year-old you looking at this year's lineup of Kendrick Lamar and Travis Scott – mortifying.
Other articles this writer recommends:
1) People confess their gross festival sex stories, confirming shagging in tents is nasty
2) How to sneak alcohol into a festival without getting caught