'I was so afraid that I just froze': Notts students share their experiences of sexual assault
Sexual harassment is part of daily life for women and girls living in the city
CW: discussion of sexual harassment/assault.
April is Sexual Assault Awareness Month and after the tragic incident regarding Sarah Everard which happened last month, Nottingham students have stepped forward to share their experiences.
Sarah Everard went missing on 3rd March while walking home from a friend's house in South London. Wayne Couzens, a 48-year-old Met Police officer, was charged with her kidnapping and murder on 13th March. Her story touched almost every woman's heart across the world, as it reminded us of the realities most of us experience almost on a daily basis.
For Sexual Assault Awareness Month and in honour of Sarah Everard, a small sample of students in Nottingham were brave enough to come forward and share their experiences with sexual harassment and assault, and times they have felt unsafe either on campus or elsewhere in Nottingham.
'We are all sort of accustomed to sexual harassment, I think the reason so many of us handle it so well is because we are used to it'
Vanessa, a recent International Relations graduate, recalls three instances of sexual harassment during her time living and studying in Nottingham. The first experience happened when she was waiting for her friend in Old Market Square, around 4pm when the town was busy with lots of people.
She describes how a man easily double her age approached her and asked if he could take a photo with her to make his ex jealous, "he stood right in front of me, grabbed my waist and asked 'can you give me a kiss for the camera?'".
Despite Vanessa repeatedly telling him no, the man was persistent and eventually Vanessa resorted to taking a pretend phone call in order to get away. "I should have been able to just stand in a busy place without being harassed," she told The Nottingham Tab.
'I remember being so afraid that I just froze'
Vanessa also recounts an experience in her second year. When coming home alone from a night out, a man in his 50s stood in front of the door to her halls, preventing her from entering.
The man asked Vanessa for "a little something" in exchange for letting her pass. "I remember being so afraid that I just froze, it was 3am and nobody was around," she said.
However, Vanessa's Uber driver had not yet driven off and upon witnessing this interaction, left his car and escorted Vanessa into the building.
'I'm very lucky that so far I've only had one experience whilst at Notts'
Sarah*, a first year Psychology student, tells us about her experience of sexual harassment which happened during this year's freshers.
When introducing herself to a group of boys she hadn't met before, the boys refused to call Sarah by her name and instead insisted on referring to her as "WAP".
This is just one example of how often women are objectified, leaving us feeling invalidated and disrespected. "It was vile, it honestly just made me feel disgusted and pissed off that they felt they had the right to call anyone that", Sarah said.
'It was the worst day of my life'
Tallulah*, a first year Biology student, shares her experience of sexual assault ,which happened in her first term of university.
Tallulah outlined how upon ending up alone with a boy in his room, after the police broke up their group for not socially distancing, he made unwanted and unreciprocated advances on her, including kissing and touching her inappropriately.
"I just froze as tears filled up my eyes. I felt so scared, uncomfortable and dirty. I felt like there was no way out", said Tallulah.
"It was the worst day of my life. He acts like nothing happened and every time his friends see me they all tease me to this day."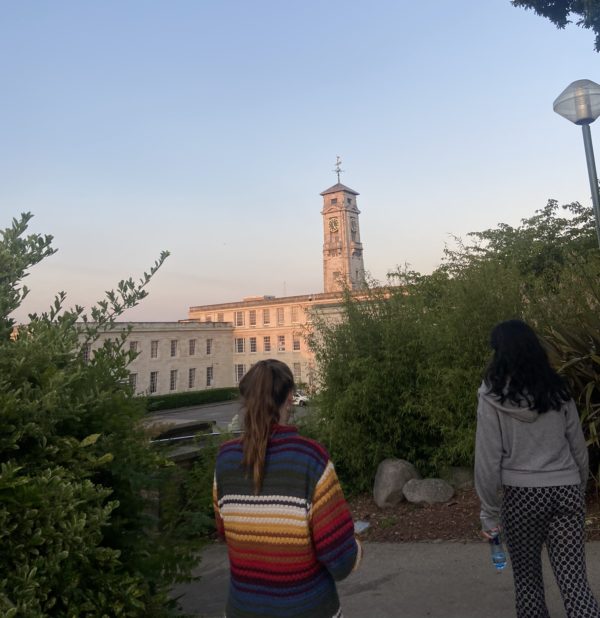 'Straight after I was so sexual because I just wanted to override the memory'
Lucy*, a Masters student of Gender and Sexuality, recalls the time she was spiked in a Nottingham student club and how she dealt with her assault.
Lucy was found by a housemate on her doorstop the next morning at around 6:30am. "I could tell automatically that I had been assaulted because I could feel tears inside and I had heavy bruising on my thighs and arms," she said.
Upon checking her past journeys, Lucy discovered she had booked an Uber from the alleyway behind the club she was at, this is where she believes the attack took place.
Recalling how she felt about the assault, Lucy said: "Straight after I was very sexual because I just wanted to override the memory so I was constantly shagging my boyfriend. But over time I've become more traumatised and properly freak out if someone even holds me in the wrong way".
Lucy has had other experiences of harassment and assault while on nights out in Nottingham, but claimed that these instances have just become "normal", and so feels as though she can't report them.
Below is a list of helplines which can provide support for victims of sexual harassment and/or assault in Nottingham:
Nottingham Sexual Violence Support
Incest and Sexual Abuse Survivors
Topaz Centre – Sexual Violence and/or abuse
Or you can text "SHOUT" to 85258, a free 24/7 texting service for mental health support
If you or someone you know has been affected by this story contact Refuge on their free 24/7 helpline 0808 2000 247 or contact Rape Crisis online for a free confidential chat helpline.
Names marked with an (*) have been changed on the grounds of preserving anonymity.
Related articles recommended by this author:
• What it's actually like to be a woman scared to walk alone through Lenton
• Students are three times more likely to be sexually assaulted than anyone else, new stats reveal
• All universities have been told to urgently review their sexual assault policies